This site contains affiliate links to products. We may receive a commission for purchases made through these links. However, this does not impact our reviews and comparisons.
Considering Brevo (formerly Sendinblue)?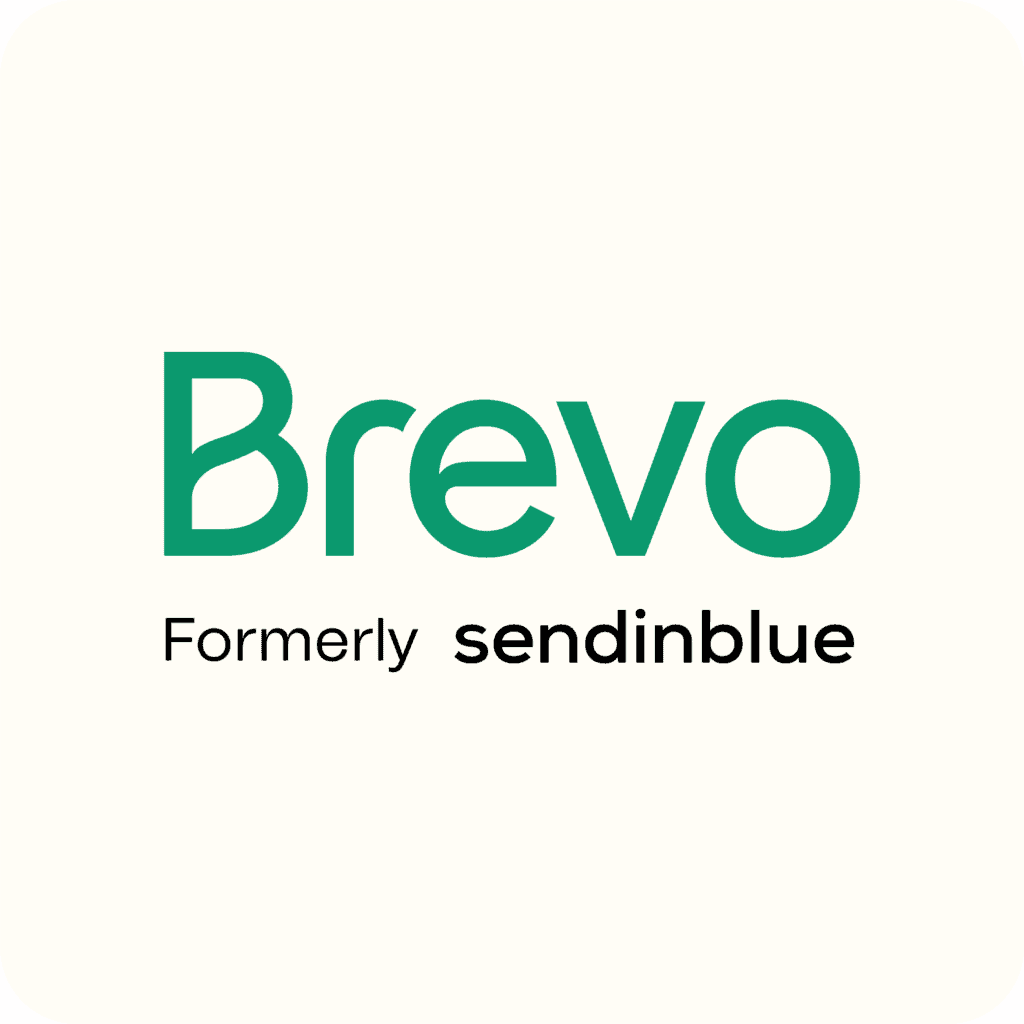 This is a complete Brevo review that evaluates all the areas you would consider before selecting an email marketing provider for your business. 
In our Sendinblue overview, we will cover pricing and billing options, features, and integrations with other business tools like e-commerce platforms.
We'll dive deep and go through every aspect ofBrevo, helping you understand howBrevo stacks up against other email marketing services. 
Finally, this completeBrevo guide is perfect for anyone considering switching toBrevo or interested in usingBrevo for the first time.
---
What's in This Guide?
---
What isBrevo?
Sendinblue is a cloud-based email marketing tool that has affordable email marketing features:
Task automation with Zapier
Strong deliverability with contact segmentation
A/B testing
Vast number or email templates
Drag and drop email designer
Landing pages
Popups that can attract the customer for a conversion
Moreover, its reporting makes it a competitive choice among its alternatives. And, adding to that, it is an effective solution for e-commerce businesses.
Furthermore, some advanced features include building and tracking emails, access to a vast number of automated tools, a variety of email templates with easy to use drag and drop functionality, and an economical price point, makingBrevo affordable for any organization regardless of its size.
---
History ofBrevo
SendinBlue is a cloud-based marketing communication software tool first found by Kapil Sharma and Armand Thiberge in 2012.
The headquarters are located in Paris, France and the company has three additional offices that are located in Delhi (India), Seattle (United States), and Berlin (Germany). The software was first launched in French, for the creation of newsletters and transactional emails.
After 2013 onwards, it reached a global expansion with the availability of many other SaaS services.
By April 2020 it had reached a community of over 80,000 users in more than 160 countries, sending over 100 million emails daily.
---
Brevo Pricing
Brevo provides competitive pricing options to select from. The lowest package is a free package while the highest is the enterprise package, where you have to get the prices by contactingBrevo. You can also choose annual plans or monthly billing plans.
RELATED: See our full breakdown of Brevo pricing here.
Brevo Monthly & Annual Packages
Brevo offers 5 packages targeting different sizes of businesses.
Each package has a unique feature to offer the customer. The packages and their features are as follows:
Free – This package is a great way to get your feet wet withBrevo for email marketing.
Lite – Perfect for new marketer. Once you are familiar withBrevo by using a free account you could consider upgrading to Lite to use a few more advanced features to market your business and products. 
Essential – Ideal for growing businesses. This is a good option for a new and small business to promote its branding using email marketing tools online, with excellent deliverability.
Premium – This option offers tools like machine learning to monitor and reduce your unsubscribe rate. It is also customizable to either 120,000 mails/month or 350,000/month with each providing different features and for different prices.
Enterprise – As your business grows you are likely to look for a personalized package. To be sure, this is the best package for a considerably large business. When your requirements are more specific, this option matches your business.
Pay As You Go
In the Pay As You Go package, you purchase pre-paid credits, allowing you to truly pay for what you need.
This benefit is available for both email and SMS marketing. This option might be ideal if you're not sending many regular emails or messages to your customers or you haven't yet identified your email marketing requirements.
This gives you time to research withBrevo in order to determine which fixed package you'll need.
With pay as you go, you are eligible to use all the features available in the Essential package along with advanced reporting and ad-free emails.
In this option, you are granted email credits that can be used while using a monthly package, and these credits have no expiry date. Pay as you go is affordable and provides maximum flexibility for users.
Brevo also offers you customizable SMS plans that can be used together with pay as you go. The SMS plans start with 100 messages for just $1.14 allowing you to send messages to more than 100 different countries. Charges will vary depending on the country you select and obviously the number of messages you choose to send. 
---
Brevo Billing Options
Brevo accepts credit card, PayPal, and Direct Debit payments. Specifically direct debit payments are allowed only for European customers who tend to make payments in European currencies. 
For a more secure payment experience all debit cards or direct debit payments are made via the international payment provider Adyen and GoCardless.
Assuring further securityBrevo doesn't save any customer payment details in their databases. Adyen takes the responsibility to save your bank details in an encrypted and secure format to make future payments quick and easy. 
You are allowed to use more than one payment method to make payments. At the time of your purchase, one of the payment methods will be selected as your default payment method to be used for future renewals.
When payments are made via PayPal, you have to provide only the email address associated with your PayPal account.
Using your PayPal account activates an option known as a 1-click payment method that allows you to cancel or modify your plan without having to enter PayPal information again.
---
Brevo Features
Brevo as an Email and SMS Campaign Creator
Create automated email marketing campaigns usingBrevo email creation tools and drag and drop email creation tools.
Tracking Campaign Results withBrevo Reports
Campaigns are the building blocks of your email marketing efforts. Accurate and detailed reporting and analysis tools inBrevo helps to further improve your campaigns.
Email List Creation and Segmentation
Once your contact lists are added to yourBrevo account, you can categorize and segment your customers according to their behavior. This helps increase engagement with your email efforts when you know the individual needs or interests of each subscriber.
High-Quality Deliverability Checks
Brevo has the ability to track bounced emails, emails added to spam emails list by the customer and the mails that are left unopened.
Brevo & Zapier For Further Automation
Zapier connectsBrevo accounts with more than 2000+ integrated apps. This will allow you to automate repetitive actions across a variety of online apps.
A "Zap" has the capability to monitor a trigger and perform actions automatically that captures the behavior of customers and any new data coming in.
Customers &Brevo Landing Pages
Call to action buttons and landing pages help to convert customers. They are more interactive with these units andBrevo helps to offer the right customer with the right landing option.
Versioning Campaigns via A/B Testing
Creating A/B versions of your campaigns can take you to the next level of email marketing. This allows you to test different messages, subject lines, etc with a small portion of your audience and then send the winning version to the remainder of your audience.
---
Brevo Landing Pages
Custom landing pages are included withBrevo and their drag-and-drop landing page creator makes it simple to build your own design.
How To Use a Landing Page
There are different reasons or goals for a business to use a landing page but eventually, the aim is to convert the customer. A few of them are listed and briefed below.
Signup
A signup landing page is targeted at making the visitor sign in for an account, newsletter, or product.
Event Promotion
Event promotion can be done with the use of a landing page, where any changes that need to be done to the post are easy to change.
Resource Download
Proving the customer with downloadable resources in exchange for their information.
Online Shopping
Allowing the customer to purchase a preferred product with the help of a call to action button on a landing page.
---
Brevo Email Templates
Brevo has a built-in feature that offers more than 60 customizable email templates.
These help you to create an email campaign in less time than the time spent on designing or coding an email and starting the campaign.
Pros of UsingBrevo Email Templates
Saves money – If you had to hire an email template developer you have to invest a lot of money. UsingBrevo's ready-made email templates saves money as they come free with your account.
Saves time – If you need to launch an email campaign quickly, use a prebuilt email template to get your email out as speedily as possible.
No need for knowledge of coding – Anybody can edit the template with zero knowledge of coding, as it is all drag and drop.
Cons of UsingBrevo Email Templates
Making Changes – If you want to change the footer of 50 automated emails, you have to change 50 times.
Incomplete Design Options – Templates and designs seem to be a bit basic, and the options are more amateur.
Limited Templates – Availability of a limited variety of templates might cause problems when trying to create a campaign in less time.
Where Can You GetBrevo Email Templates?
SometimesBrevo might not provide the right email template to match your design requirements. In such cases, you can look for outside help. There are a variety of providers who facilitate you with the option of extra creativity and an unexpected variety of email templates, which can be exported easily within a few steps.
Here are 9 sites where you can get freeBrevo email templates.
Brevo – 60+ Responsive email templates
Stripo – 300+ HTML email templates
Email on Acid – 6 Free email templates
Litmus – 36 Free email templates
Dyspatch – Free open source email templates
BEE – 200+ Email templates
99Design – 45 Free responsive email templates.
Antwort – 3 Free email templates
Pixelbuddha – 15 Free email templates
How To Customize aBrevo Email Template
From theBrevo dashboard select the Templates option. You will be navigated to the email templates page.
Here you can either search for active templates or design your templates. Click on the New Template button to create a new template.
Next, you are navigated to a page where you can set up your campaign. Here you have to fill the given form with the relevant details about the template. After the details are filled click the next step button.
Next, you are navigated to the Design page where you can select a method to design the template. There are four options you can use.
In the design tools option, there are three editors to edit your template, either you can use the Drag & Drop Editor, Rich Text Editor, and Paste Your Code.
Using the My Template option you can search and use for any templates you have already created.
You can use the Template Gallery to select a template among more than 60 templates. Other free template providers provide templates compatible to be used in theBrevo platform.
Finally, you have the import template option which can be used to import a template from another platform with the use of a shared URL.
Once you have selected a method to design your email template it's very easy to make your desired changes.
Once you have completed editing your template and saved it, it will appear under email templates.
---
Brevo Segmentation
This process identifies the customers unique preferences. It is more effective to send emails to a targeted set of subscribers rather than sending it to the entire database.
Benefits of Email Segmentation
Brevo Segmentation is a method of categorizing the contacts that you have uploaded to theBrevo platform according to similar behaviors, actions, or other characteristics of the customer receiving the mail. 
Greater Email Engagement – By identifying the specific needs of your customer and sending email content that is relevant to solving her problem will increase open rates and click thru rates.
Strengthens Loyalty of Customers – When you are sending only content relevant to your targeted customer, you will increase the customer's trust in your business, promoting your brand further.
Increases Deliverability of Emails – The more often your subscribers open your emails, the greater will be your sender reputation. A solid sender reputation is paramount to getting your emails in the inbox of each subscriber.
Dynamic Segmentation
Brevo helps to create dynamically updated categories of email contacts based on metrics such as email engagements, website behaviors, customer interactions, etc.
Brevo offers marketing automation workflows that can automatically create dynamic segments for you.
---
Brevo Deliverability
Every email marketing campaign is aimed at the deliverability of the emails you send, which is the measurement of the success of your campaign. This is the reason behind the constant monitoring of the sending servers are done by the engineers.
But when deliverability is the case, there can be some unavoidable cases whereBrevo cannot guarantee that all the emails are landing in the inbox.
Factors AffectingBrevo Deliverability
Customer Request – There can be situations where the customer is not interested in receiving emails and says to stop or mark your emails as spam. The deliverability of your mails can be improved by identifying customers who are not attentive to your mail and by blacklisting or removing them. When customers are blacklisted they are cleared from your statistics.
Bouncing – Emails that get bounced are identified byBrevo and automatically blacklisted.
Electronic Authentication – Electronic authentication system and routing of the emails. (SPF, DKIM and DMARC)
Email Content – The content included in your email can affect the mails reaching the inbox or spam mails. Content can include wording, links, subject, and quality of your HTML.
Domain Reputation – Your domain name with more positive engagements with the subscriber can give your emails a reputation that will lead your emails to the inbox.
---
Brevo Pop-ups
ABrevo popup can be used for different purposes, but the main purpose is to encourage sign-ups for your mailing list. You can use a popup form to ask a reader to subscribe to a newsletter, create accounts, sign into accounts, and navigate to another page.
Some third-party software pop-up solutions allow you to integrateBrevo. Here's a few:
---
Brevo Reports, Stats & Analysis
Brevo provides different reporting features in different packages. Basic reports (opens / clicks) are provided in Free and Lite packages. There are excellent features such as geography reports, click-map insights, heatmaps, device reports, and in-depth click and open reports in the Essential Package and upwards.
These reporting options contain data filtering ability based on campaigns, date range, etc.
Reports are important to make decisions and changes in campaigns by monitoring the behavior of the customers. This helps to further improve the interaction of the mail with the customer.
---
How to Log IntoBrevo
Before you useBrevo the very basic step is to create an account. It's really easy, there are two options provided.
You can either select a Gmail account to sign in, or you can use the form provided to fill in the required details to log in.
You are not required to provide your card details unless you purchase a service.
Once you have created yourBrevo account successfully you will be automatically logged-into the account. You will be navigated to the following dashboard.
---
UsingBrevo for Business
Who isBrevo right for ?
Brevo is suitable for organizations of any scale, small to large scale and distributed across any industry.
If you wish to maintain a closer relationship with your customer by sending them trigger-based and transactional emails,Brevo is a solid platform to choose.
Anyone looking for a cost-effective way of accessing automation, advanced segmentation, and dynamic personalizationBrevo is readily available.
If you are looking for eCommerce integration,Brevo is for you. Ecommerce is easier to make more interactive with your customers with the use of transactional emails.
Who isBrevo not right for?
Need multiple users?Brevo offers multi-user access from its premium package and upwards.
The Premium package starts with $66/month and $59.40 annually.
If you are a small business looking for multi-user access for a cheaper rate, then this might not be a solution for you.
How Bloggers and Content Creators UseBrevo
RSS emails – This is an automated email campaign used by content creators to keep subscribers updated about new blog posts.
Selecting the ideal time to post – Data driven! Email campaigns can be automatically sent based on the best times to reach your readers.
Landing pages – Create a signup landing page to convert readers to the blog into email subscribers.
Segmenting to identify the right recipient – UsingBrevo segmentation will help bloggers to send their content to the right recipients based on interest.
Easy Email Templates – Helps bloggers and content creators easily prepare their newsletters in no time.
---
Brevo & Ecommerce
An eCommerce business needs to maintain a great customer relationship, while brand awareness is the key to the success of the business. Effective email marketing will help a customer to keep your brand top of mind and bring them back for repeat sales.
How to UseBrevo with Ecommerce
Ecommerce Email Marketing – Carry out transactional and promotional email campaigns.
Strategy Planning – Provides a collection of email plugins to integrate with eCommerce platforms together with the ability to build a strategic plan to manage and serve the customer in a better manner.
Email Templates –Brevo provides customizable templates with the use of drag and email editors, ensuring that you need not have the skill of coding.
Email Automation –Brevo will track your customers who did not buy anything and left the site. This option is called the abandoned cart emails. Welcome, personalized promotion, order confirmations, thank you, survey or review emails are some other automated emails.
Real-Time Analytic Tracking – Used to ensure that the emails are delivered to the recipient.
Email Plugins –Brevo provides email plugins for a variety of well-known eCommerce platforms.
---
Brevo and Zapier
Zapier allows you to automate any task of a variety of popular web apps you use in day to day business activities. Moreover, it is a tool used to automate workflows that are repeated. To do this it is not necessary for the user to know to code or spend money on developers. The process is extremely easy and just a few steps away.
How Zapier Works
Zapier uses Triggers and Actions to allow you to easily connect with more than 2000+ integrated apps with yourBrevo account. 
'Zap' is a connection between two apps created using Zapier. Zaps consist of two parts: a trigger and an action. Moreover, a Zap is created with a Trigger event. An action is also an event which is performed by a Zap.
For example: When a new customer subscribes or enters details and creates an account it will be Triggered and the trigger will be followed by Action which is adding the new customer details to a relevant campaign list.
What You Can Do With Zapier
Zapier has made workflow creation easier by allowing you to integrate with a huge number or apps. Hence making lots of difficult tasks easily executable in no time. Let's have a look at few workflows you can create:
Creating a zap can sync your contacts automatically.
Alerts you with a mail or a message when a customer subscribes your page.
Monitors and syncs your reports regardless of any changes in your email campaigns.
AvailableBrevo Triggers and Actions
Triggers
A zap is started when any of the following events are triggered.
A workflow is triggered when a campaign is updated.
A workflow is triggered when a contact is created or updated.
A workflow is triggered when a contact is added to a contact list.
Actions
Following actions will be performed by a zap when any of the named events are triggered.
Add new contacts and update one or several contact attributes.
Sending transactional emails automatically.
List ofBrevo Integrations
WordPress
WooCommerce
Shopware
Shopify
BigCommerce
PrestaShop
Magento
nopCommerce
Optinmonster
Zenkit
Convertful
GetSiteControl
LeadSync
appyReward
MailOptin
JTL-Shop
JRC Contact
Translate Exchange
Lytics
SugarCRM
Microsoft Dynamics
Thrive Leads
Mailpoet
Nosto
Ninja Forms
Outlook
Zoho
Wufoo
TypeForm
SumoMe
Stripe
Streak
Pipedrive
MailChimp
Intercom
Live Help Now
Facebook Lead Ads
EventBrite
Jimdo
Privy
NiftyImages
Zapier
Everwin CXM
PayPal
Wix
Gleam
Gmail
Salesforce
Project manager
Google Analytics
Migrating toBrevo
You might be someone looking for an email marketing strategy for your new or growing business, or you might be fed up with your existing email marketing service provider and looking for more benefits for a cheaper rate.
Brevo provides you with maximum support during the migration process.
Creating aBrevo account
Creating a Sendinblue account is as easy as creating any other accounts. There are two ways to do this; you can use your gmail account to Sign In or you can create a new account filling in the details required.
Once the process is complete you are in front of yourBrevo dashboard and now you are ready to start.
Importing or Adding Contacts
Once you have created your account, you are ready to add or import email contacts to yourBrevo contact list.
You can either use the Contacts tab at the top of your dashboard or you can use the activation steps.
Step 1
Go to the contacts page and click on the Import Contacts button at the top beside the Add Contact button.
Step 2
You will be navigated to the Import options page. Select whether you want to upload a file or you are going to copy and paste the email contacts in the text editor provided byBrevo. Here, we are ready to upload a text file with a list of sample email addresses, names, and the date the email was created.
Step 3
Once you have selected the "upload a file" option you will be navigated to a page where you can drag and drop your file. When you drop the file it will automatically create a table and show the existing fields with data of the file you uploaded. Confirm the file if the details seem to be correct.
Step 4
After confirmation, select the attributes to match your data and confirm mapping.
Step 5
Select the list and confirm.
Step 6
After you confirmed your list you will be navigated to the page where finally you can finalize your import.
Here you can check the contact management options and select anything which you might be required to be done.
Next, you have to tick the checkbox to agree with the opt-in Agreement. Confirm your import one last time and you are done.
The uploaded list of email contacts will be displayed as follows. Now it is ready to be segmented or to create a campaign.
As shown in the above steps it's extremely easy to import your contacts toBrevo and use them to create a campaign.
---
Conclusion
Like any other service provider,Brevo has a vast number of features for you to run a hassle-free email campaign.
I hope you've found this comprehensive guide ofBrevo's features, uses and pricing useful.
READY TO GIVE IT A TRY?
Before committing to a subscription, you can tryBrevo at no cost up to 300 emails/day and 9,000/month.