This site contains affiliate links to products. We may receive a commission for purchases made through these links. However, this does not impact our reviews and comparisons.
As you search for the best email marketing tool for your business, you're likely to come across two of the biggest services: MailerLite and Mailchimp.
Which is best for your business?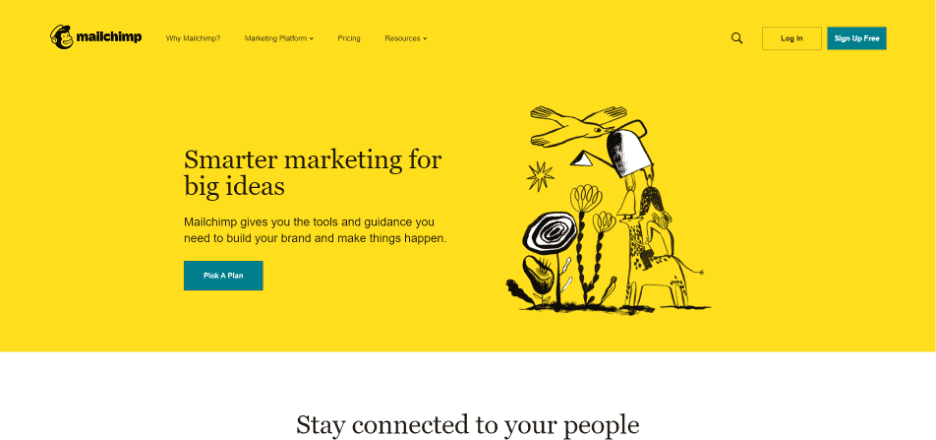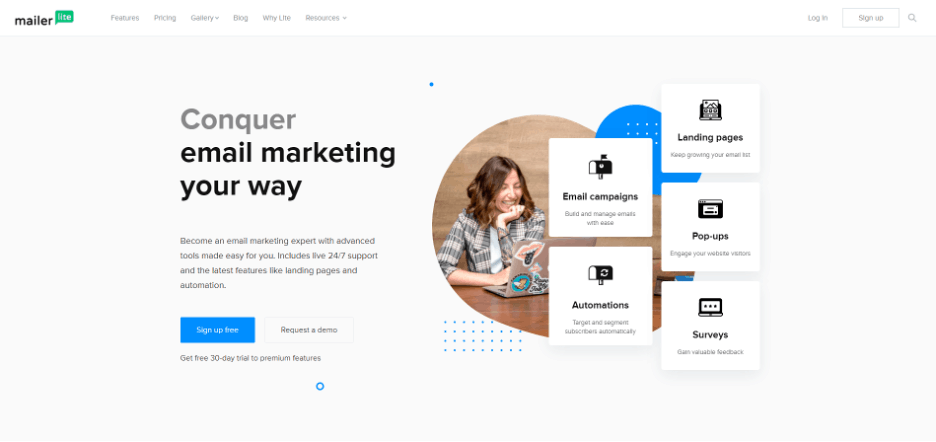 Today, I'll try to simplify your decision-making with a side-by-side examination of two popular email marketing tools in this MailerLite vs. Mailchimp comparison.
READ THESE FIRST:
– MailerLite Review & Guide
– Mailchimp Review & Guide
---
MailerLite vs Mailchimp: Setup
Ready to go through the setup phase and get to emailing your loyal subscribers?
Let's see if we can come up with a winner under 'setup' for the Mailchimp vs. MailerLite comparison.
Setting up Mailchimp for the first time is just as easy as signing up for a social media platform. It's going to ask you for some information about your business and whether you're like to import lists. You should be in your account within minutes, and this is the dashboard you should see.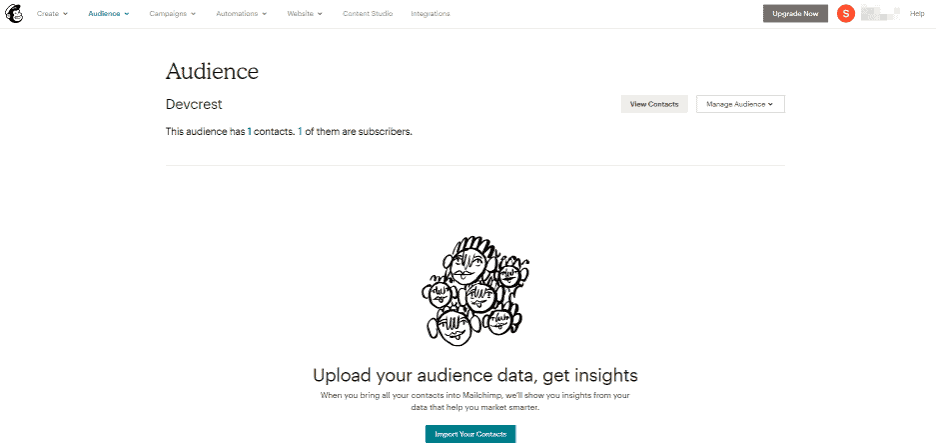 MailerLite isn't as straightforward. You'll have to wait for them to approve your request, and only then can you start sending emails. MailerLite gives you the option to configure 1,000 subscribers. Anything above it, and you'll have to send out an email to them so they can make sure you're not a spammer.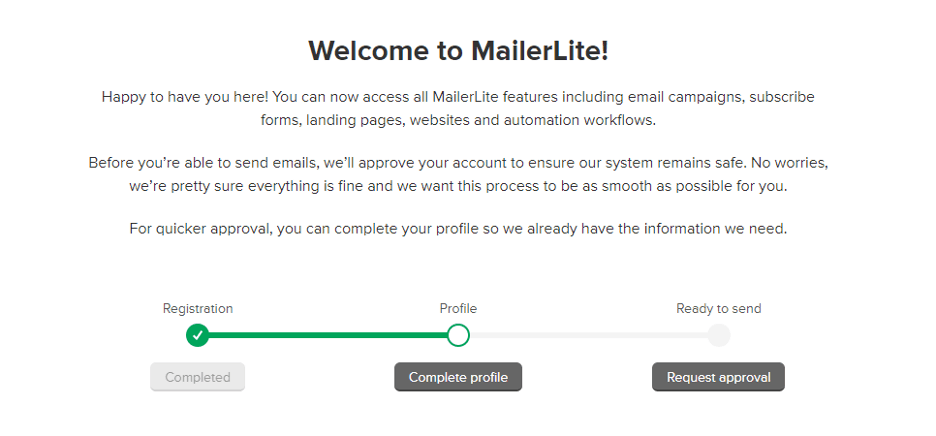 ---
MailerLite vs Mailchimp: Ease of Use
You don't want to have to read a manual to learn how to go through an email platform. It should be easy to use and make it easier for you to send out emails in bulk. With that said, MailerLite and Mailchimp both market themselves as the "easiest" tools to use.
MailerLite presents a cleaner, much functional interface to its users. Everything is clearly labeled and put forward for you to make use of. That's especially important if you'd like to quickly send out a newsletter to your followers, without the fuss of hard to navigate screens. It's straightforward, and you have everything you need from start to finish.
On the other hand, Mailchimp might seem a little less intuitive from the get-go. There's no particular reason for it – it's just that a marketing tool has tons of features for you to interact with. Sometimes, you'll be lost within the navigations to find it. Though Mailchimp has an interactive help bar and a tooltip with every feature – with which you can explore the platform.
---
MailerLite vs Mailchimp: Deliverability
MailerLite's a new contender in the email marketing ecosystem. Despite all this, they've done a tremendous job of improving their deliverability. If your email lands in the promotion tab or junk, it's pretty useless as your business won't get the desired engagement.
Here's an excellent resource on how to improve your deliverability on MailerLite:
In comparison, Mailchimp has been in the industry for quite some time now. Their current deliverability rate is around 80%. This is a tad bit lower than MailerLite, and a few of their emails can turn out to be in the Promotions or Updates tab, rather than the primary inbox.
---
MailerLite vs Mailchimp: Templates
Do you have a beautiful email template ready for your business? If not, you can use free templates that come with Mailchimp or MailerLite.
Mailchimp's template library is quite vast, with designs varying from simple to complex. You can use and adapt a template to your business, or use it as is.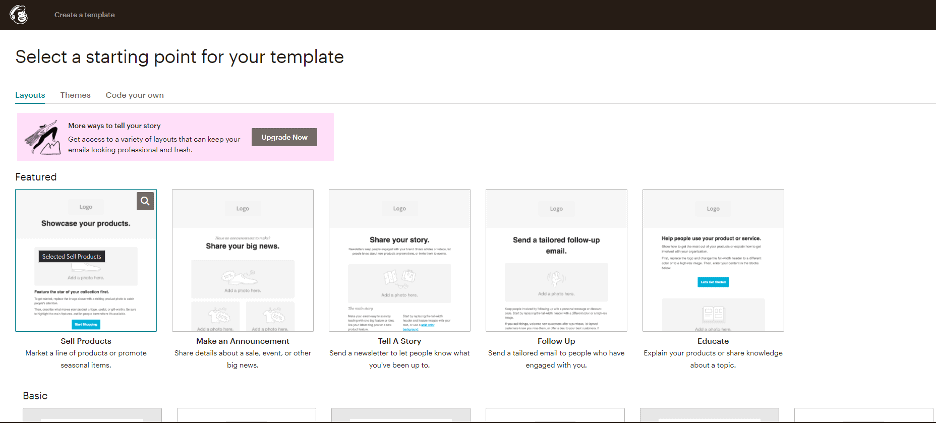 MailerLite's email templates aren't any behind either and they definitely get the job done. Though they're not included in the free plan, you can use their design editor to create a template quickly. It's just as easy as dragging and dropping elements into your email.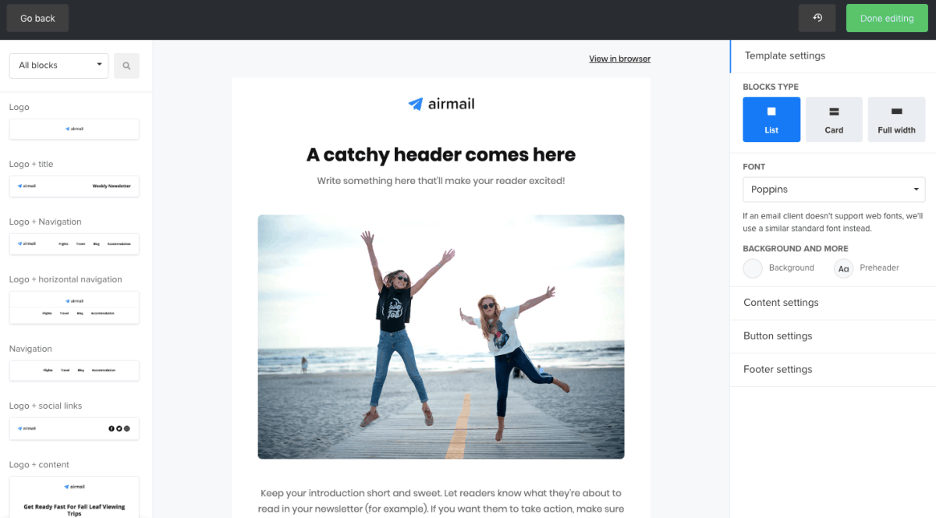 Both MailerLite and Mailchimp provide support for landing pages as well.
---
MailerLite vs Mailchimp: E-Commerce
If you run an online store, integrating your users and using them as contacts should be a possibility, right?
Luckily e-commerce integrations are a thing, and you can easily track sales from a particular user or contact on your desired tool.
Mailchimp utilizes the e-commerce data to connect your online store to your Mailchimp account. It's easier for you to have a collection of revenue from a single platform.
Unlike Mailchimp, MailerLite is still getting started on its ability to integrate several platforms into one. That said, their e-commerce integration is still maturing and might require a little more time. You can read more about the MailerLite ecommerce features in my detailed guide for MailerLite.
---
MailerLite vs Mailchimp: Integrations
Email marketing tools are more powerful when you can amplify their features by integrating your tool with tons of your typical business applications as well. Whether it works or not depends on whether the tool supports or "integrates" that application or not.
Mailchimp has support for over 200+ integrations with other apps.
On the other hand, MailerLite doesn't support as many integrations but does provide a mailer API to developers to code their integrations with services.
Integrations include the following applications:
WordPress
WooCommerce
Zapier
Hubspot
Wix
Etsy
PayPal
---
MailerLite vs Mailchimp: Automation
Email automation can be a real powerhouse of a business looking to make a mark among its followers. Luckily, both MailerLite and Mailchimp give you the ability to automate your emails to make ongoing communications seamless.
Mailchimp allows you to setup automated workflows.
What are workflows?
"Hey computer, if this happens, do this, else, do this!"
Some of this automation is pre-made for you to use out of the box as well. A little downside? They're a bit technical and require you to tinker around to get the hang of it. As you go up the pricing ladder, you'll unlock more cool features that need more research – event-based triggers, onboarding, nurture campaigns, etc.
Here's a quick video for you to get started with email automation using Mailchimp:
MailerLite gives you the chance to automate your workflow as well.
With MailerLite, you can use easy drag and drop functions to decide the steps you want to add. Whether it's a user click or a subscription button pressed, you can easily automate your email – that too for free.
Looking forward to automation?
Here's a MailerLite guide on how to use automation:
---
MailerLite vs Mailchimp: Technical Support
The email just won't go through? I feel the stress you're under, but hey, there's a ray of hope as both MailerLite and Mailchimp have excellent technical support staff.
Professional help is available in the following ways:
Knowledgebase (documentation)
Email-based
Live chats
MailerLite gives you access to the first two methods in the free plan. A live agent-based chat is for the paid plan only. Mailchimp, on the other hand, gives you a free pass to email-based help for the first 30 days of your trial plan. After that, you can consult their documentation to see if it can help you out.
Thing is – reading this documentation can be quite time-consuming. You can easily invest this time in your business and resolve an issue. If we talk about the agent-based help for the two, MailerLite was the quickest to respond. Mailchimp will first point you to the knowledge base to see if the question has been covered; otherwise, connect you to an agent.
---
MailerLite vs Mailchimp: List Management
Ready to import bulk emails? Whether you have Excel sheets available or are manually going to add all that data in – your email subscribers go into 'contact lists.' Importing emails into these lists are how you can add in one or thousands of your contacts, and your desired platform will send the mail away.
Mailchimp is a little sluggish in this arena – your customer lists can't have overlapping contacts.
Here's what it means:
When you start sending a mail, you create a campaign. A campaign can have several lists of customers – for example, your premium users, and primary users.
However, you can't use two contacts in two files. Let's say you decide to add an individual subscriber to your emails in two lists. You'd have to pay twice!
List management can be a little technical on Mailchimp as well – as you'll have to equip yourself with knowledge about tags, groups, lists, segments, and audiences.
In comparison, MailerLite offers a more straightforward method to manage lists in campaigns.
You can also segment these lists based on factors, but you can also automate this transfer of subscribers from one file to another.
The cherry on top?
MailerLite counts one contact in several lists as one contact only and won't be charging you twice!
---
MailerLite vs Mailchimp: Reporting
Just hitting the 'Send' button on a campaign isn't enough.
Through robust campaign reporting, you can learn so much about your campaigns. Metrics are based on your campaign's overall activity, subscriber interactions, engagements, viewership, and so much more.
Mailchimp has more enhanced analytics to report back engagement on your campaigns. Though this feature is dependent on their plans, you can quickly get to know about your ROI and recommendations to optimize your experience even more.
MailerLite also offers quick insights into campaigns. Using the same metrics, you can decide to continue your email marketing strategy or make modifications to make it more effective. Point being – it's all on a single screen for natural reviews.
---
Pricing Comparison
We've kept the most exciting factor as the last one – the pricing between these two contenders.
RELATED:
– MailerLite Pricing Breakdown
– Mailchimp Pricing Breakdown
As far as freemium plans are concerned, both MailerLite and Mailchimp offer those.
The difference between the two comes up when you compare contacts and the number of emails per month.
Mailchimp offers 2,000 contacts and 10,000 emails per month. On the other hand, MailerLite provides 1,000 contacts and 12,000 emails per month.
If you aren't satisfied by the basic freemium plan by Mailchimp, you can also upgrade your plan to one of these pro plans:

Similarly, MailerLite also offers you an increase in your contact count or upgrade your plan with a little increment in pricing.
Here's more to their pricing structure: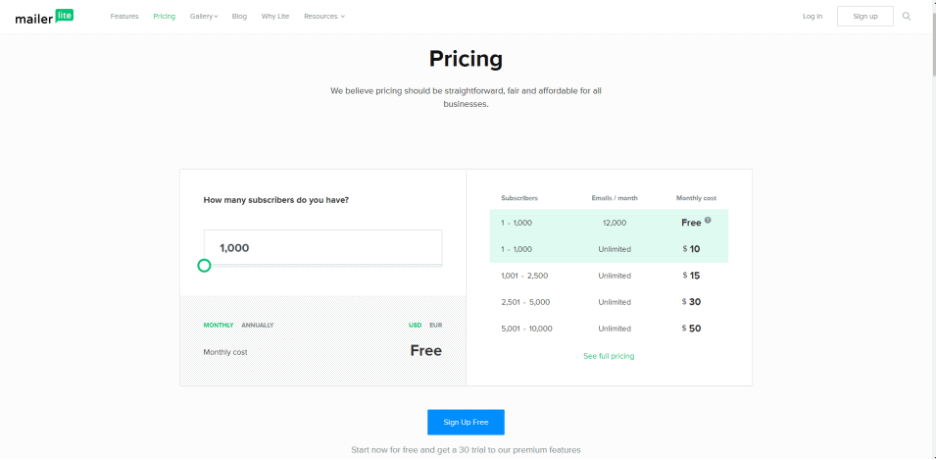 ---
Final Words: Which One Should You Choose?
This brings me to an end on the MailerLite vs. Mailchimp debate. Which one's the winner?
Well, they're both technically sound platforms and can be considered equals in the industry.
If you talk about the pricing structure, Mailchimp might be a little more costly for a small-scale business. On the other hand, MailerLite can be quite limiting for large companies as they'd like more advanced functionality to interact with their customer base.
If you own a substantial following and can support the expense of marketing tools and the expertise of technicians, go for Mailchimp.
If you'd like a clear-cut, easy to use, and slightly economical solution, go for MailerLite.
With that out of the way, both platforms are equally amazing and worth your bucks. What do you think? MailerLite or Mailchimp? Let us know!