This site contains affiliate links to products. We may receive a commission for purchases made through these links. However, this does not impact our reviews and comparisons.
Thinking about signing up for ConvertKit?
Subscribing to any email marketing platform is a major time and financial investment, so it's important that you know what you're signing yourself up for.
And ConvertKit is no exception to this.
In this detailed ConvertKit guide, you'll learn:
Feel free to use the links above to skip straight to any of the sections.
I hope you'll find this massive ConvertKit overview useful. Let's dive in!
---
What is ConvertKit?
ConvertKit is an email marketing platform targeted at creators.
By "creators", ConvertKit refers to bloggers, photographers, podcasters, Instagrammers and so on.
ConvertKit includes features for:
Collecting email subscribers
Sending bulk emails with high deliverability rates
Automating the process of engaging with your subscribers
Managing and organizing your subscribers based on their demographics, location, interests, etc.
Tracking and analyzing the success of your email campaigns
And more.
(I cover ConvertKit's features in detail in a later section of this guide.)
---
Overall ConvertKit Review
ConvertKit is a email marketing platform for creators and non-creators alike (including small business owners.)
Full disclosure: I'm a ConvertKit fan.
Here's why.
For over a decade, I have used many email marketing platforms. From enterprise email systems to entry level choices, I have had the pleasure to experiment with many platforms.
For my own purposes, and for most of my clients, I have settled on ConvertKit for this reason:
It is the best combination of powerful email automation features + simplicity of use.
ConvertKit has all the features I need to build, manage and monetize an email list. This includes integrations with other software platforms, stats, and e-commerce functionality.
It also serves up those features through an intuitive interface. (Especially if you're used to WordPress…I find there are a lot of similarities.)
ConvertKit's deliverability rate is 99%, the available automation options are endless, and list segmentation is made easier. All of these are must-haves for the way I do email marketing today.
ConvertKit offers a limited Free plan which excludes email automations. While its full-featured Creator plan can be more expensive compared to the competition, ConvertKit's ease-of-use and powerful features definitely makes it worth checking out.
Try ConvertKit for free using one of the following options:
---
ConvertKit: A History of the Company
ConvertKit was founded by Nathan Barry in 2013.
At 22 years old, Nathan was already a successful writer and publisher of several books and courses. But he wasn't satisfied with the email marketing platforms available then to help creators build an audience.
So he started his own.
ConvertKit began as just a side project. It was earning enough to barely cover its own expenses. While Nathan loved the product, it wasn't doing well from a business point-of-view. He considered putting it on "auto-pilot" to focus on selling his books.
But a call to a friend and fellow author, Tim Grahl, changed his mind. Nathan doubled down on ConvertKit, spending 80% of his time on and investing $50,000 of his own money in it. Since then, the company has taken off.
From an initial team of one and less than $5,000 in monthly recurring revenue, ConvertKit now has:
57 team members across 48 cities
$1.9 million in monthly recurring revenue
More than 30,000 active customers
In 2019, ConvertKit was rated #23 on the Inc. 5,000 list of fastest-growing companies.
---
How Much Does ConvertKit Cost?
RELATED: Read my full ConvertKit pricing guide here.
ConvertKit has 2 pricing plans and 1 paid add-on:
1. Free plan
As the name of ConvertKit's Free plan suggests, this plan is free.
The Free plan includes the following:
Management of up to 1,000 subscribers
Unlimited Forms and Landing Pages
Email Broadcasts
Subscriber tagging
This free plan stacks up nicely against all other free email marketing services available.
2. Creator plan
The Free Plan might be a good option if you intend to send your subscribers only ad hoc Broadcasts.
But if you need email automations, you'll need the Creator plan. This plan starts at $29/month for the management of up to 1,000 subscribers.
With the Creator plan, you'll unlock visual automations, plus the following (and more):
Reporting
Integrations
Premium support
If you opt for annual billing, you get 2 months' worth of subscription for free.
For example, if you opt for annual billing for the Creator plan for up to 1,000 subscribers, you'll pay just $29 x 10 = $290/year.
(Pro tip: When Cyber Monday rolls around, contact support to ask for the Cyber Monday discount. In years past, this discount gave you 12 months of subscription for the price of just 9 months.)
3. Creator Pro
The Creator plan will be good enough for most users.
But for experienced users with more sophisticated needs, ConvertKit also offers a Creator Pro option with advanced features.
These features include:
More detailed deliverability reporting
Link redirects (in case your Broadcast went out with the wrong links)
Integration with Facebook Custom Audiences
Priority support within 15 minutes
---
How Will You Be Billed for a ConvertKit Subscription?
Payment for a ConvertKit subscription is made by credit card.
Also, if you're upgrading to a higher-tiered plan, your bill will be pro-rated.
For example, let's say that:
You signed up for the Creator plan for management of up to 1,000 subscribers on 1 January.
You also signed up for annual billing, so you'll be charged $290/year to cover the period of 1 January to 31 December.
Then 6 months later on 1 July, you exceeded 1,000 subscribers. When this happens, you'll be upgraded to the next pricing plan, which is $490/year.
Your bill will then be pro-rated as follows:
The remaining 6 months' worth of unused $290/year subscription will be refunded to you.
You'll be charged for the upcoming 6 months' worth of subscription on the $490/year plan.
The amount in (2) will be offset by the refunded amount in (1), so the difference is what you'll eventually be charged.
This will happen to the credit card that you have on file automatically, so you don't have to worry about a thing.
Just look out for a notification email from ConvertKit when such billing changes occur.
---
ConvertKit Features
ConvertKit is packed with the features users need to grow their audience through email—with many more in the works.
Here's a rundown of the main features:
Forms and Landing Pages
The Free plan and Creator plan both come with unlimited Forms and Landing Pages.
Both of these help you collect email subscribers. The main difference is that Landing Pages are standalone pages hosted by ConvertKit, while Forms are to be used within existing webpages.
RELATED: Read my step-by-step guide on how to build landing pages with ConvertKit.
For example, if you don't already have a website, you can set up a Landing Page, hosted by ConvertKit, and direct subscribers there to sign up.
On the other hand, if you want to offer a content upgrade to readers of your blog, embed a ConvertKit Form in your blog posts.
This allows your readers to seamlessly sign up without leaving the webpage.
Types of Forms
Four styles of Forms are available—inline, modal (i.e. pop-up), slide in and sticky bar:
Here are some ways you can use Forms on your website:
Offer content upgrades to readers of your blog posts
Help visitors subscribe to your email newsletter
Encourage sign-ups when visitors interact with your website (this is especially for the modal form!)
Deliver a printable or downloadable in exchange for an email address
Landing Page Templates
On the other hand, there are currently over 40 Landing Page templates for you to choose from:
Landing pages are great for the following uses:
Delivering lead magnets to your followers
Promoting upcoming products
Collecting course sign-ups
After choosing either a Form or Landing Page to start with, customize it to fit your needs. You can change its text and colors, insert images, add custom fields and more.
Here's a video from ConvertKit that shows you how to customize a Landing Page, for example: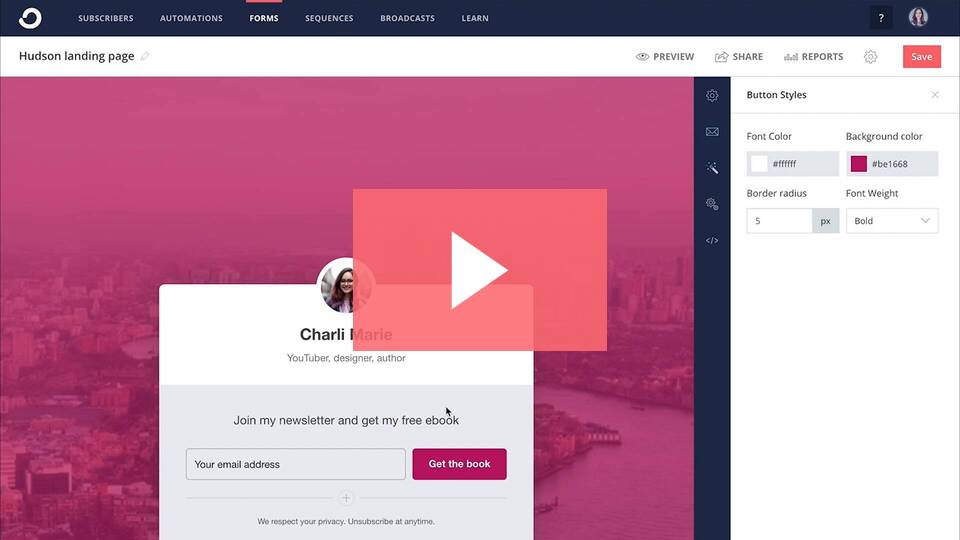 Once you're done with the customization, your Form or Landing Page is ready for the world! Just grab the share link from your customization dashboard.
For Forms, you also have the option of embedding them using:
The WordPress plugin
HTML
JavaScript
Unbounce integration
Email templates
Unlike what other email marketing platforms offer, ConvertKit's range of email templates may seem rather limited.
After all, you're given only three free ones to work with:
The email templates may also seem rather plain.
This is intentional, though—ConvertKit believes that emails should be kept simple to keep deliverability rates high.
Email designer
Once you've chosen your preferred email template, use ConvertKit's email designer to customize it and make it your own.
This video from ConvertKit shows you how, using the Card template as an example:
(If you find the email designer too limited in functionality, you have the option of coding your own template using HTML.
Watch this video from ConvertKit to learn how to create custom HTML templates.)
Writing the email itself is also a breeze.
For a distraction-free writing experience, the menus are hidden by default. To format your text, highlight it and the text formatting options will appear.
On the other hand, to add certain content types to your email, click on the "+" sign that appears to the side of each line.
You'll then be able to add content such as:
Images
Buttons
Videos
Blockquotes
If you need to add custom HTML to your email, you can do so using the HTML Block option.
Sequences and Broadcasts
ConvertKit has two types of emails: Sequences and Broadcasts.
Sequences are used to automatically send one or more emails in a specific order.
Within each Sequence, each email is separated by a pre-determined amount of time. You can set the timing of each email in hours or days.
For example, you can have the first email in your Sequence sent immediately when a new subscriber is added.
Then, you could send the second email in the Sequence one day after the first one.
You can also choose the sending days for your Sequence. This could be handy if you don't want any emails going out on weekends, for example.
On the other hand, Broadcasts are meant for one-off email blasts, for which you can schedule a sending day and time.
Here's an example of when you might use Sequences and Broadcasts:
First, when a subscriber signs up to your email list, you may want to send them a series of five daily nurture emails.
You'd do so by creating a Sequence of five emails, and connecting this Sequence to a form in a Visual Automation (more on this later).
At the same time, let's say you also want to send them a monthly e-newsletter.
As your monthly e-newsletter is a one-off email blast, you'd use a Broadcast for this instead of a Sequence.
Still unsure of the difference between Sequences and Broadcasts? Check out this video from ConvertKit: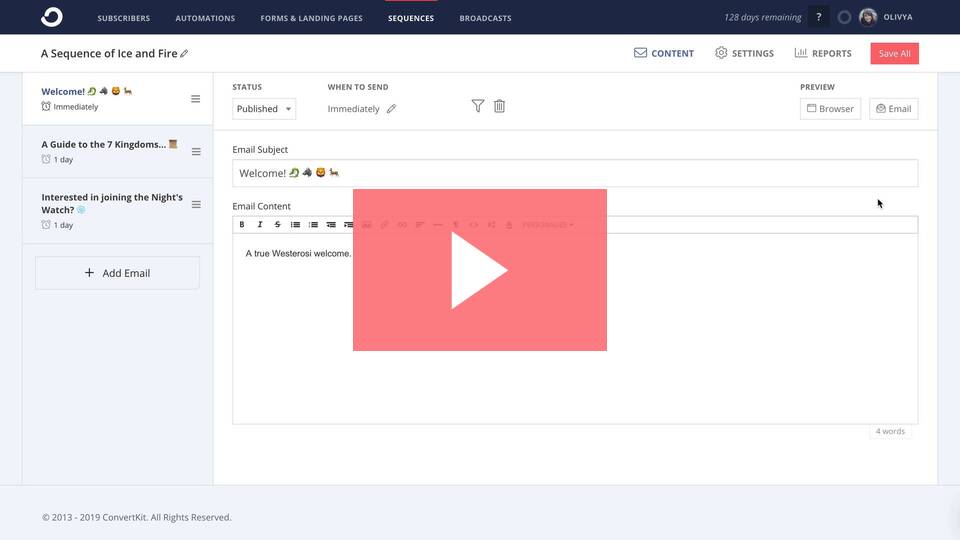 Tags and Segments
Many email marketing platforms are list-centric.
In other words, your subscribers are stored in different lists based on which Form they used to subscribe.
ConvertKit is different: it's subscriber-centric, and your subscribers sit in just one big list. This is regardless of which Form they used to sign up with you.
So how do you organize your subscribers?
By using Tags and Segments.
Understanding the differences between Tags and Segments can take some getting used to. Think of it this way:
Tags are for grouping subscribers based on some common criteria.
For example, you can tag all subscribers who are to receive your newsletter with a Tag called "Newsletter".
You can also tag subscribers based on which Form they subscribed through.
On the other hand, Segments are for organizing your Tags, Forms and Sequences (and the subscribers associated with these).
For example, you can create a Segment containing all your Tags, Forms and Sequences relating to specific topics (such as "Beginner Film-Making" or "Cake Recipes").
You can also create a Segment for all your subscribers from a certain country.
With Tags and Segments, you get way more flexibility in managing your subscribers compared to if they were fixed in separate lists.
This ConvertKit video explains the differences between Tags and Segments in greater detail:
Visual Automations
Using ConvertKit's Visual Automations, you can connect your Forms, Sequences and Tags to create automated email funnels.
You can send subscribers through funnels based on:
Actions they've taken, such as signing up through a Form
Events that occur, such as when a certain date is reached
Conditions fulfilled, such as where a subscriber has (or doesn't have) a certain Tag
Visual Automations can be extremely powerful, and the possibilities for use are endless.
Here are just a few examples:
Deliver to subscribers their requested lead magnets
Survey your subscribers' interests for sending them specific nurture email sequences
Automate your webinar or product launch email sequences
Send value-added emails to prospects before pitching them your services
If you aren't confident of building your own Visual Automation from scratch, take advantage of ConvertKit's Visual Automation templates.
Currently, six templates are available for use cases such as an evergreen newsletter, evergreen product pitches and product launches.
Using these templates will add the required Forms, Tags and Sequences to your account. All you have to do is to edit their contents to fit your needs.
Automation Rules
Automation Rules allow you to trigger certain actions based on how your subscribers interact with your Forms and emails.
For example:
If a user subscribes to a Form, subscribe them to your "Nurture Emails" Sequence
If a subscriber completes your welcome sequence, remove the "Welcome Sequence" tag from their subscriber profile
If a subscriber is tagged with "Beginner User" tag, subscribe them to your "Beginner User" Sequence
If you try out ConvertKit's Visual Automations, you'll realize that all the above actions can be done in a Visual Automation. Visual Automations makes it easy to visualize the "path" that your subscribers will take once they've entered the automation.
However, there is one thing that Automation Rules can do that Visual Automations (currently) can't:
Link Triggers
Link Triggers are actions that will occur when subscribers click certain links in your emails. They are useful when you want to:
Survey your subscribers for sending them specific Sequences based on their interests
Let subscribers indicate their interest for an upcoming product launch, so you can email only those who have expressed interest
Let subscribers unsubscribe from specific Sequences, but not from your email list entirely
This video from ConvertKit demonstrates how to set up an Automation Rule: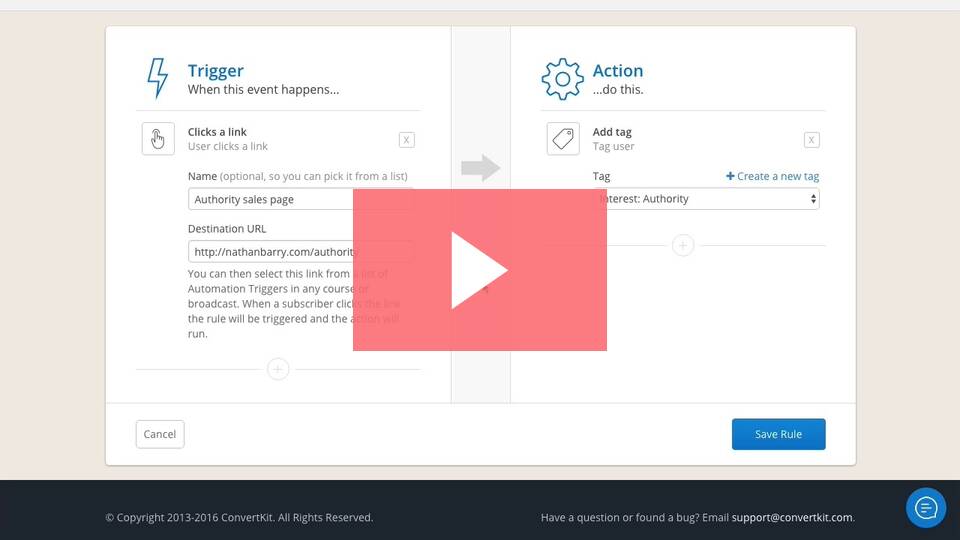 Reporting
When you log into ConvertKit, your dashboard will show a chart of the number of sign-ups you've gained on a daily basis.
(You can also display the same data on a weekly or monthly basis, and change the time period of such data.)
Apart from that, you'll also be able to view the lifetime totals for your:
Current subscriber count
Average open rate
Average click rate
Total number of emails sent
Performance reports for individual Forms, Sequences and Broadcasts are also available.
Here's what Broadcast reporting looks like, for example:
Use these reports to track how well your email campaigns are doing, and make adjustments as needed.
ConvertKit Deliverability
Deliverability rates are an important performance factor for any email marketing platform.
After all, what's the point of sending emails that never reach your subscribers?
For transparency purposes, ConvertKit publishes a deliverability report every month.
You can check out the reports here.
The deliverability report shares the month's stats for the:
Total number of emails sent by all ConvertKit users
System-wide deliverability rate
Deliverability rates for each of the top five domains used by subscribers
Average open rate
System-wide complaint rate
In June 2020 for example, ConvertKit's system-wide deliverability rate was 99%, with an average open rate of 30.3%.
These numbers are generally higher compared to those of other email marketing platforms.
For example, Constant Contact reports an average system-wide deliverability rate of 97%.
Of course, your own deliverability rate might not match up to ConvertKit's system-wide deliverability rate.
If you're having trouble with deliverability, ConvertKit's Deliverability Defined podcast helps email marketers improve their deliverability rates.
Listen to the podcast and subscribe here.
---
ConvertKit Free Offer
As mentioned above, ConvertKit has a Free plan which you can try here.
But if you're looking to try ConvertKit's Creator plan for free, a free 30-day trial is available.
Just click here to get started!
---
How to Log Into ConvertKit
Logging into ConvertKit is easy.
From the ConvertKit homepage, click the "Log In" link at the top.
This will bring you to the login page:
Alternatively, you can use this link to go directly to the login page: https://app.convertkit.com/users/login.
---
Using ConvertKit for Business
Who is ConvertKit right for?
Users with sophisticated subscriber targeting needs
ConvertKit markets itself as email marketing for creators, but this doesn't mean it is right for only creators.
It is a great option for users (even non-creators) who want to be able to send their subscribers highly targeted emails.
This is thanks to ConvertKit's subscriber-centric model, which offers countless options for organizing your subscribers.
For example, do you want to email only the subscribers who:
Have signed up for a particular freebie; and
Are from either the United States or the United Kingdom; but
Have NOT bought your product before?
Using ConvertKit's Tags and Segments, narrowing down this specific group of subscribers is a piece of cake.
With other email marketing platforms on a list-based model, emailing such a group of subscribers might involve creating yet another list that is a subset of your "main" list.
Repeat this process enough times and you may start having more sub-lists than you can keep track of!
Users who want fairer billing practices
ConvertKit's subscriber-centric model also results in fairer billing practices.
This is especially for users whose subscribers tend to sign up to multiple email lists.
Why? Because ConvertKit charges you for each subscriber only once, no matter how many of your email lists they've signed up with.
For example, let's say Rachel uses one email address to subscribe to three different sign-up forms on your website.
As she had used the same email address for all three sign-ups, ConvertKit would count her as only one subscriber in your account.
On the other hand, if your email marketing platform is list-centric, Rachel would be counted as three separate subscribers because her email address sits in three different lists.
If this happens to many of your subscribers, it's easy to see how your email marketing bill can quickly get inflated.
What's more, some platforms continue to charge you for unsubscribed users (unless you've cleaned them from your account).
ConvertKit doesn't—so you pay only for subscribers who still have business value to you.
Who is ConvertKit NOT right for?
Users who need bold, flashy emails
As mentioned above, ConvertKit has only three email templates and these can be rather plain.
The email designer also has limited features. You don't get to drag and drop in various text and media blocks, unlike what other email marketing platforms may offer.
That's not to say that designing more complex email templates is impossible—you can code parts of, or even entire email templates, using either HTML blocks or the HTML editor respectively.
If you have limited HTML knowledge, you may need to hire an email designer to code your template for you.
Users on a tight budget
While ConvertKit has a Free plan, this plan doesn't include automations—an important part of many email marketing strategies.
For that, you'll need the Creator plan which starts at $29/month. It can be more expensive compared to the entry-level paid plans of other platforms.
For example, AWeber's paid plans start at $19/month for up to 500 subscribers (billed monthly).
Users on a limited budget may therefore find the Creator plan less attractive, especially if they're just starting out.
That said, ConvertKit can be well worth the additional investment. If you're unsure, I'd recommend trying the 30-day free trial of the Creator plan before deciding.
How bloggers and content creators would use ConvertKit
If you're a blogger or a content creator, one of your top goals is probably to gain a following.
After all, chances are you don't just want to blog or create content—you want others to see your work too.
ConvertKit makes this possible by helping you build an audience using email.
First, offer a lead magnet to entice people to sign up to your email list.
Once they've signed up, start them on a welcome email sequence so they can learn more about you and your work.
Also, use regular email newsletters to keep your subscribers updated on what you're up to.
Over time, you'll build a group of fans who will follow, promote, and even buy your work!
Take food blogger Tanya Harris, for example.
Tanya uses email to stay in touch with her 9,000 subscribers, get inspiration for new recipes and blog posts, and even promote products based on her subscribers' interests.
You can read Tanya's story on the ConvertKit blog.
How to use ConvertKit with ecommerce
Running an ecommerce store isn't simply about setting up an online store and filling it with products for people to buy.
To encourage sales (and even repeat sales), you'll need to engage with potential customers—and ConvertKit can help with this.
An effective way to attract email sign-ups from potential customers is offering a special discount code to subscribers.
For example, your sign-up form could say that if a person subscribes to your email list, they will receive a discount code for 10% off their next purchase.
After they've gotten onto your list, email them offers and promotions they might want to take advantage of.
Or if they've bought a product, use ConvertKit to send a thank you email. Then, follow up with another email a few days later asking for a review.
For an example of a business that uses ConvertKit with ecommerce, check out The Housewife Modern.
(Note: Check that your ecommerce platform integrates with ConvertKit! Popular platforms that ConvertKit integrates with include Shopify, Gumroad and WooCommerce.)
ConvertKit Commerce
Additionally, ConvertKit now offers a free, built-in ecommerce service called ConvertKit Commerce.
The idea is to make it easy for creators of digital products and services to use the familiar ConvertKit platform to easily make online sales. Without having to invest in learning another third-party application for their ecommerce shopping cart.
READ: My full review of ConvertKit Commerce here.
How to use ConvertKit for a service business
If you're running a service business, your priority would be generating new, qualified leads for your services.
Typically, you might manually respond to every enquiry you receive. This could mean many back-and-forth emails until the prospect agrees to engage you.
With ConvertKit however, you can automate this entire process.
To do so, set up a sign-up form on your service business' website. If a prospect is interested to learn more about your services, they'll sign up with their email address.
When they've done so, they'll start receiving automated emails about your services, past works and rates.
In your final email, add a link for prospects to book a call with you to discuss further. You could do this using Calendly for example.
The beauty of this method is that as prospects read your emails, they'll decide for themselves whether your expertise and rates match what they're looking for.
If at any point in time they don't think you're a good fit, they'll drop out of the nurture sequence—saving you time from having to manually screen them yourself.
Productivity consultant Paul Minors is an example of someone who uses ConvertKit for a service business.
Paul's funnel is more sophisticated than the one described above, though—you can watch this video to learn how he uses ConvertKit for his consulting business:
---
ConvertKit Alternatives
Not sold on ConvertKit?
There are many other email marketing platforms that you can consider.
Here are a few:
All these have their own pros and cons. Be sure to do your research before committing to any one of them!
---
ConvertKit Integrations
ConvertKit has over built-in 90 integrations with other apps.
These include:
ClickFunnels
Shopify
Stripe
Teachable
WordPress
For a full list, check out the ConvertKit website.
ConvertKit and Zapier
If you need this feature, use Zapier.
Zapier is an app that helps you connect various apps together for automated workflows (called "Zaps").
One thing that ConvertKit currently doesn't offer is email notifications for new subscribers.
To set up a Zap for email notifications for new subscribers, add both your ConvertKit and Gmail accounts to Zapier.
Then, customize the email fields (From field, subject, email body, and so on) for the email that you'll receive when a new subscriber signs up.
ConvertKit has a detailed tutorial for setting up this Zap, which you can read here.
When you're done, be sure to test your Zap to make sure that it works!
Using Zapier, you can also connect ConvertKit to other apps to do cool things such as:
Adding ConvertKit subscribers from a Google Sheets spreadsheet
Adding new leads from Facebook Lead Ads to a ConvertKit Form
Tag your PayPal customers in ConvertKit
As of writing, there are over 750 apps that Zapier can help integrate with ConvertKit. Some of these apps offer multiple integrations with ConvertKit too.
With this much choice, you're bound to discover some Zaps that will extend ConvertKit's usefulness for you!
---
Get Started With ConvertKit
I hope you've found this comprehensive guide of ConvertKit's features, uses and pricing useful.
After all, ConvertKit is an amazing email marketing platform that I use extensively and highly recommend.
READY TO GIVE IT A TRY?
Here are two ways to try ConvertKit:
Sign up for the Free plan to try out ConvertKit for yourself, at no charge. (Note: the Free plan excludes Visual Automations and Sequences.)
The Creator plan starts from $29/month, but you can use my link to sign up for a 30-day free trial of it here.
---
RELATED RESOURCES: