This site contains affiliate links to products. We may receive a commission for purchases made through these links. However, this does not impact our reviews and comparisons.
Considering ActiveCampaign for your email provider, but wondering about the price?
In this guide, you'll learn everything you need to know about ActiveCampaign costs to help you determine if ActiveCampaign is right for you…and your budget.
We'll go over the pricing models of ActiveCampaign and see what features they offer in those models.
Also, we'll explore how to take advantage of the ActiveCampaign free trial – without even entering a credit card.
Here we go.
RELATED: Read my full review of ActiveCampaign here.
---
What is ActiveCampaign?
ActiveCampaign is a marketing tool which is helpful in flourishing small to mid-sized businesses. Brought to light by Jason VandeBoom in 2003, it is now a cloud-based software. The headquarters of ActiveCampaign is Chicago, Illinois.
ActiveCampaign currently boasts users across 161+ nations and a whopping total of 120,000 businesses or more. It does so by providing the customers an optimized experience via automation. That's not it though – it's the continuous evolution and efficient marketing strategies which make them a market-leader.
---
Is CRM ActiveCampaign's Advantage?
CRM allows merchandisers to establish relationships with the company's customers in order to sell goods online.
CRM is an abbreviation for customer relationship management.
Currently the top organizations of the world including Apple, Coca-Cola and Amazon have already implemented some kind of CRM. As a matter of fact, it is something that is a basic requirement for any company – whether you are customer facing or not.
Wondering if an email marketing tool like ActiveCampaign can offer CRM? Well, it does but packages it nicely with a bunch of other complementing features. Apart from top-notch automation, high deliverability ratios, drag-drop features – ActiveCampaign is also swiftly climbing the ladder in CRM rankings.
Most businesses – small and large alike – prefer an all-in-one suite and if that is something, you're after, head to our pricing discussion next and see if it's worth your money.
---
ActiveCampaign Pricing
ActiveCampaign offers four packages:
Lite
Plus
Professional
Enterprise
ActiveCampaign Plans – A Quick Summary
1️⃣ Lite offers 500 contacts and costs $15/mo if you are paying monthly or $9/mo if you are paying yearly.
2️⃣ Plus offers 500 contacts and costs $70/mo if you are paying monthly or $49/mo if you are paying yearly.
3️⃣ Professional offers 500 contacts and costs $159/mo if you are paying monthly or $129/mo if you are paying yearly.
4️⃣ Enterprise for 500 contacts costs $279/mo if you are paying monthly or $229/mo if you are paying yearly.
ActiveCampaign billed yearly is cheaper than ActiveCampaign billed monthly. The cost varies with the number of your contacts.
What is an ActiveCampaign Contact?
Contacts in ActiveCampaign are synonymous with email subscribers.
It goes beyond just the email address, however, as you can add a great deal more information to your contact details, such as:
Phone
Address
Account
Tags
Tasks
Lite Plan – (small-sized businesses)
The features provided in the Lite version are for beginners and can work well for small sized-businesses.
Lite version is limited doesn't offer the full suite of ActiveCampaign
You can, however:

send unlimited emails
use marketing automation, and
implement subscription forms

Lite supports more than 300 integrations
Plus Plan – (small-sized to mid-sized businesses)
The features provided in the Plus version are an upgrade of the Lite version.
The Plus plan includes every feature from the Lite plan along with some new features including:

removing the ActiveCampaign logo
contact and lead scoring
SMS
Facebook custom audiences

The Plus plan also uses CRM to track the leads and events
Also, the Plus plan includes a map which reminds you of your workflows and automations.
Professional Plan – (mid-sized businesses)
The Professional version offers the full capabilities of ActiveCampaign.
Professional includes all the features of Lite and Plus plans
Additional features include:

Predictive Sending
Predictive Content
Split Automations
Site Messaging
Extensive 1st play support

The Professional plan also includes machine learning to help you communicate with your leads at the right time.
The Professional plan also includes training sessions.
The most appropriate plan for mid-sized businesses.
Enterprise Plan – (mid-sized businesses to larger businesses)
The Enterprise version includes features of the top-level present on the tool.
This plan is suitable for mid to large sized businesses.
If you're a small business owner and wish to subscribe to this package – I'd advise you not to do so.
Features included in this plan could be used to conquer much bigger lands and are truly built to power large organizations and helping them convert leads. You'll receive custom reporting, domains, design services, and social data enrichment. Phone support is another feature of the Enterprise Plan.
Apart from all this ActiveCampaign offers a cancellation policy as well. If and when you feel like cancelling your account, all you have to do is visit your Billing and Upgrade page in your Profile. Before you cancel it, you can also schedule a short session with their support team or skip it and head to cancellation if that's what you really wish to do.
So, if you think you'd like to move on or feel the services aren't satisfactory – you can easily do so.
Talking of services; let's also brush upon the services offered by ActiveCampaign…
---
ActiveCampaign Features
If you aren't sure ActiveCampaign should be your choice or simply wish to compare to a different tool you use right now – here you go:
Contacts
In ActiveCampaign there are three primary ways to group your contacts: Lists, Tags and Custom fields.
Lists in ActiveCampaign are broad, basic and big which means this list has the most in common, the attributes between the contacts on the list does not change very much. Hence, it is big broad grouping of basic attributes.
Tags are fast they can be applied or removed which makes them flexible, not only that tags will help you to become more dynamic.
Custom fields are specific containing your details such as name, gender; which makes them slow but on the other hand provides them with the upper hand of being more reliable than the previous two.
Automation
The automation feature of ActiveCampaign provides you in such a way that you could get an employee without even worrying about their workspace.
To make automation handy, a drag and drop builder has been provided to create an automation without any trouble. The tool actually offers various automation recipes or you can build from scratch.
Dashboard – A Unique Touch
The dashboard is a panel where you have almost all the features of the tool you are using, providing you the conveniency to use whatever feature you want depending on your requirement.
---
Who should use ActiveCampaign?
ActiveCampaign might be an excellent addition to your marketing arsenal if you fit the following:
You'd like to test the tool first and only then decide to buy it. ActiveCampaign offers a 14-day trial for all customers
If you'd like to invest in a cost-effective solution from the get-go rather than spending thousands of bucks
If you know which scale of business do you like in (small, medium, or large). You can wisely spend on the proper package. Like Lite plan is good for small businesses, whereas Plus plan is suitable for small to middle businesses, Professional plans are best for middle businesses. Enterprise plans are good for larger businesses.
If you prefer a user-friendly application
If you'd like to add a CRM to your organization to establish a relationship between merchandiser and customer.
If you want a reliable deliverability rate.
If you are looking for strong email marketing automation.
---
Try ActiveCampaign for Free
I hope you've found this guide to ActiveCampaign pricing useful.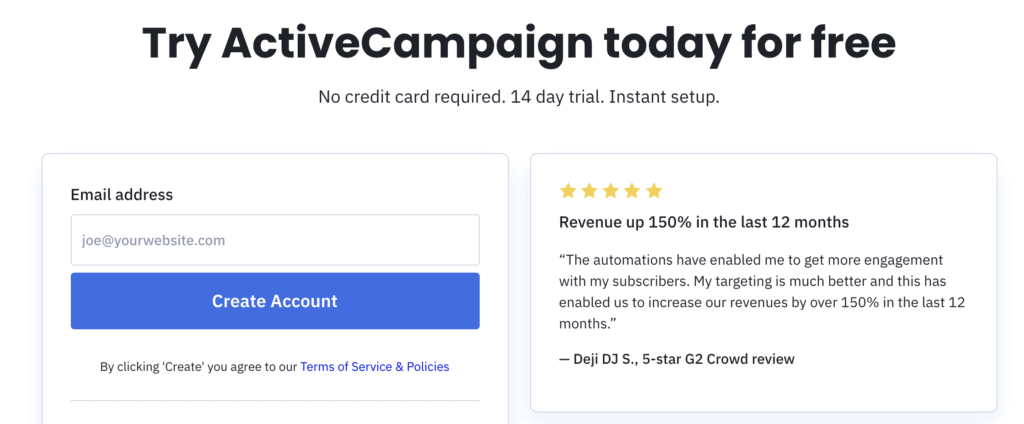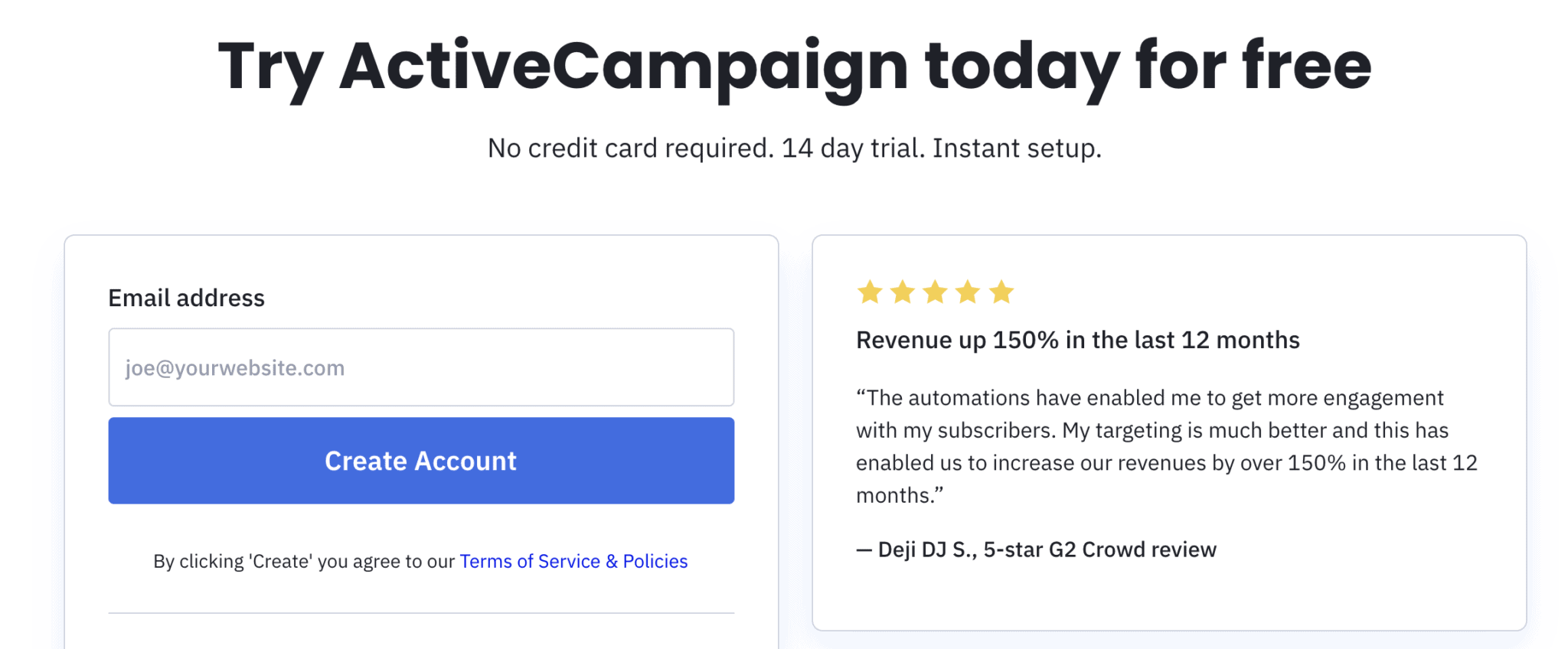 If you're ready to try ActiveCampaign basic features without any upfront investment, you can sign up for a 14-day free trial here (no credit card required).
---
RELATED RESOURCES: