This site contains affiliate links to products. We may receive a commission for purchases made through these links. However, this does not impact our reviews and comparisons.
Email marketing is the REAL DEAL for digital marketers that are looking to facilitate their adverts without breaking a bank.
Deciding which email marketing service is right for you is a big decision.
Before you invest in an email marketing platform, naturally you want to know if it's the right fit for your business.
Is AWeber Right for You?
This article will provide you with a complete AWeber review to help you to compare to other email platforms.
Also, it can be used as a beginner's guide for new AWeber users, educating you on most of its essential features.
---
What's In This Guide?
---
What Is AWeber?
First things first – let us understand the idea behind AWeber and why it suddenly became popular with digital marketers.
AWeber is an email marketing service provider that helps you market/promote your products and services via emails.
---
AWeber Overall Review
AWeber is an all-around email marketing software with a long list of features, including robust email marketing templates and autoresponders that automate emails.
AWeber serves over 100,000 small businesses/startups all over the world.
---
Company History
A little insight into the background of the company backing AWeber will help you understand how far it has come.
AWeber was founded 2 decades ago (precisely in 1998) by Tom Kulzer. At the time, the idea was to leverage AWeber as an automated web assistant that will help business owners to increase their customer support and sales leads using the automated response software provided by AWeber.
Today, AWeber has risen through the ranks to become a formidable email automation software provider with interests in autoresponders and newsletters emailing.
---
AWeber Pricing
One of the major reasons why digital marketers are interested in using email marketing software is because they want to save costs. When you nurture and grow an email list with thousands of engaged subscribers, it will be easier for you to make sales without necessarily needing to set up digital ads or rely on traffic from a social platform.
RELATED: See our detailed breakdown of AWeber pricing.
Before we show you AWeber's current pricing plans, there are some things you must know.
AWeber has a free option. AWeber allows you to maintain up to 500 subscribers/contacts without time restrictions.
Or you can decide to use either of the monthly or annual payment options.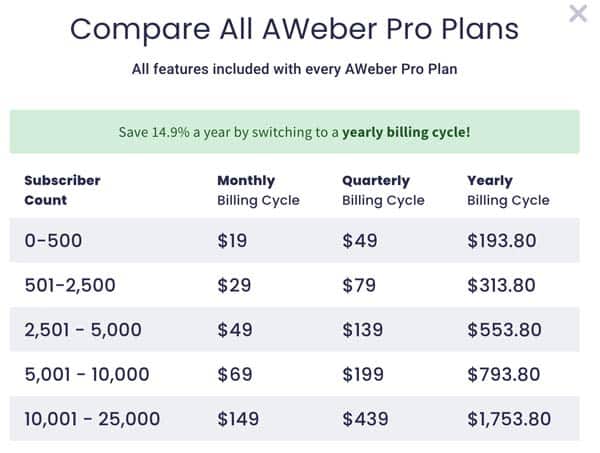 Monthly Option
If you want to pay for your AWeber email marketing subscription on a monthly basis, here are the per-month pricing plans:
0-500 Subscribers: $19
501-2500 Subscribers: $29
2501 – 5000 Subscribers: $49
5001 – 10000 Subscribers: $69
10,001 – 25,000 Subscribers: $149
Quarterly Option
AWeber also allows you to pay for your subscription on a quarterly basis, i.e. every 3 months. If this is the option you like, below is a breakdown of the number of subscribers and how much it costs to maintain them on AWeber every 3 months.
0-500 Subscribers: $49
501-2500 Subscribers: $79
2501 – 5000 Subscribers: $139
5001 – 10000 Subscribers: $199
10,001 – 25,000 Subscribers: $439
Annual Option
Finally, it will favour you the most to use the annual payment option. Currently, AWeber offers you up to 15% off if you decide to subscribe for the annual plans instead.
0-500 Subscribers: $193.80
501-2500 Subscribers: $313.80
2501 – 5000 Subscribers: $553.80
5001 – 10000 Subscribers: $793.80
10,001 – 25,000 Subscribers: $1753.80
---
AWeber Billing Options
AWeber has dedicated payment structures designed to help you settle your bills in the most convenient way.
Currently, it offers two billings options:
The Pro plan that allows you to pay for a specific number of subscribers/contacts every monthly, every 3 months (quarterly), or yearly.
The High Volume Accounts plan that allows you to request for a quote for more than 25,000 subscribers.
AWeber Main/Pro Pricing Plan
AWeber Large Accounts Pricing Plan
---
AWeber Features
The properties or features of email marketing software are what make it to stand out of the crowd.
Without much ado, let us look at some of the features that AWeber put together to bolster your email marketing campaigns.
Email Newsletters
This is undoubted one of the first features you look for in an email marketing software and AWeber happens to have it in abundance.
AWeber email newsletters are designed to help you create and send unlimited emails.
Features include:
Availability of newsletter templates with drag-and-drop functionality.
List segmentation so you can segment or divide your email list based on the activities and interactions of the target audience.
Gives you access to over 6,000 free stock photos you can use to engage your subscribers the more.
Easy-to-read analytics so you can have insights into the success of your AWeber email marketing campaigns.
Landing Page Builder
AWeber makes building a landing page for your product or service easy.
This feature allows you to build a highly-converting landing page using the variety of templates that you are provided with.
Designed to work in a way that people who sign up via your landing page will be automatically added to your email list.
Features tracking and analytical tools, including Facebook Pixel and Google Analytics.
Supports videos so you can integrate videos into your landing pages.
Drag-and-drop functionality makes it easy for you to design your landing page in minutes.
Email Automation
Have you always wanted to automate the emails you send?
The AWeber email automation makes it easy for you to set the time that you want to send emails to your subscribers.
Seamless integration with many products/services, including Interact, Unbounce and OptinMonster.
Triggers email campaigns based on the actions taken by the recipients.
Multiple automation tools, including product launch series, drip campaigns and welcome emails.
AWeber for eCommerce
AWeber makes it easy for you to drive more sales to your sales funnel using the AWeber for Business service.
Through a dedicated interface, you can grow an audience that is likely to buy from you.
Allows you to send shopping cart abandonment emails so you can close more sales.
Easily integrates with notable e-commerce solutions, such as PayPal, WooCommerce and Shopify.
Analytical tools empower you to track and target potential buyers using the data obtained from their shopping habits and interests.
Email Sign-Up Forms
Generating new leads from subscribers has never been as easy as AWeber email sign-up forms make it to be.
With these forms, you are confident of getting more interested persons to subscribe to your email list. And when you have an offer to make, you already have an audience to push it to.
Flexible display options making it easy for you to design the forms in different ways. Some of the options include fade in, embedding to your website, and pop-over.
Grow your AWeber email list on the go (even without an Internet connection) by using the AWeber Atom App.
Ready-to-use templates allow you create professional sign-up forms in minutes.
This video will help you add a pop-up or lightbox opt-in form with AWeber:
---
AWeber Landing Pages
AWeber landing pages as the point where your potential subscribers will visit first before they subscribe to your email list.
With the easy to customize landing pages provided by AWeber, you won't have trouble creating one in a few minutes.
How AWeber Landing Pages Work
AWeber did an excellent job at ensuring that the landing pages it creates are patterned in a way that the users will be fixated when on the page.
Of course, you have to know that the AWeber URL extension tends to be added to the name you used for the landing page. You might want to subscribe to the Pro plan so you can create the domain name/URL of your choice.
Also, have in mind that the AWeber landing pages have a drag and drop functionality that makes it simpler to customize a landing page of your choice.
You might want to watch the video below so you will gain more clarity on how to use your AWeber landing page(s):
Most Popular Landing Page Templates
Whether you are looking to sell an online course or you want to create an opt-in form, AWeber landing page templates have you covered.
Besides, you are sure of finding a landing page that fits into the product or service you are trying to market.
Some of the AWeber landing page categories include:
Simple Sign Up
Consultation
About Me
Sell an Online Course
Blog Sign Up
Book Promotion
Thank You
Coaching Consultation
Personal Promotion
Link List
Virtual Class Schedule
Sell a Product
Sell Exclusive Content and
Newsletter Sign Up
Below are screenshots of some of the most popular AWeber landing page templates that you can use now to design a landing page for your product or service.
---
AWeber Email Templates
You already understand that you can use your AWeber account for different things. You can use it to send emails, create landing pages and drive leads via your sign-up forms.
Email marketing is one of the most effective features on AWeber and we are sure you will like to know what it takes to use the AWeber email templates. These templates are already customized for use, and with a few tweaks here and there, your email will start flying straight to your subscribers' inbox.
Without much ado, here are some of the things you need to know about the AWeber email templates:
Pros
You will like to use the variety of AWeber email templates because of the flexibility and multiple use cases they offer.
The additional benefits are:
The reliability and ease-of-use makes it flexible for you to use the email templates for everything you need to do.
Drag-and-drop email design for faster customization
The intuitiveness makes the AWeber email templates ideal for beginners.
Great email deliverability
AWeber integrates very well with third party tools and services.
Excellent customer service support to render assistance when you need it.
Super integration with other top tier digital marketing tools
Cons
On the contrary, AWeber is yet to address some nagging issues that users have serially faced when using the email templates.
Some of the challenges are:
AWeber is a bit on the expensive side, especially for beginners who want to build an email list.
Sending out bulk messages can cause a good number of those emails to be filtered out as spam.
You might not find it easy to import subscribers you bought from third parties.
Many of the email templates need to be overhauled and/or customized to work for you.
How AWeber Email Templates Work
The basic idea is that there are different ways you can interact with the AWeber email templates available in your account.
Worthy of mention is that you have 3 different email templates formats to select from.
The screenshots below walk you through the process of locating the email templates in your AWeber account:
Here, you can see that there are 3 options before you to create your email templates on AWeber.
Of course, if you don't have time or your hands or if you don't have a previous email template; it is imperative that you use the first option – Start with an AWeber template.
Below is the breakdown of the 3 email template management options you have access to from your AWeber account:
1. Start with an AWeber Template
We assume that you are a new user of the AWeber email marketing software. Hence, you still need a bit of walking around until you master how to use the software.
Having said that, the first thing you want to do is to consider using the already built email templates on AWeber. There are many customization options that you can always use to design the email to your taste.
So, consider using the Start with an AWeber Template option to create your first set of emails on AWeber.
2. Import a Template
Maybe you have a template that you previously used on another email marketing software. If that is the case, you might want to import the template using this AWeber email template management option.
The idea here is that your existing email templates can be imported into your AWeber account.
3. Code Using AWeber's Theme Language
This is for you if you have a background in email marketing template design.
AWeber has availed you with a variety of tools and theme languages that you can use to code the right email template that will meet your needs.
If that is what you are looking for, consider leveraging this third option to do that.
Where You Can Get Free AWeber Email Templates
For some reason, you may not like the email templates available on AWeber. You don't have to jump from AWeber to another email marketing software just so you can get email templates that will fit into what you want.
There are many resources out there that you can search on to get more (free) AWeber email templates. Some of these platforms are:
Colorlib
Envato Elements
ThemeForest
Tutorial of How to Customize an AWeber Email Template
Customizing the email templates is another hurdle you must scale. Let's face it – AWeber already designed those templates with placeholders and generic content.
So, here are the steps you must take to put a ''human feeling'' into your email marketing campaigns.
Step #1: Select an Email Template
You must select the AWeber email template that you will find easiest to use. For the purpose of this tutorial, we will select from the available AWeber email templates.
So, click on the "Start with an AWeber Template" and proceed to the next step.
Step 2: Mastering the Elements
AWeber email templates have drag-and-drop functionality. So, you will continually drag the elements from the left-hand side and dropping them at the middle of the page where the elements will be edited.
Here are the things you need to know about the elements:
Headline: You can use this element to add a title for your email.
Paragraph: This allows you to add spaces between the elements you are adding to the email template.
Article: This is the major element you need to add text to your emails.
Image: Add images or pictures to your email.
Video: Mostly, the video element allows you to embed YouTube videos into your emails.
Button: The essence of the button is to help you include Call-to-Action (CTA) or prompting statements that will cause your subscribers to do what you want them to do.
Follow Me: Add this element in your editing page so you can add the links to your social media profiles.
Product: This element works best for people who are into e-commerce. It allows you to add products and/or services you are marketing.
Coupon: Add a coupon code or coupon button so your subscribers can get a decent cut out of the original cost of your product or service.
Logo: This element allows you to add the logo of your business.
Signature: Allows you to add your signature, which is an excellent way of adding a personal touch to your emails.
Share: Encourage your subscribers to share your emails.
Row: Add more rows to your emails.
Carousel: A carousel is simply a collection of pictures and products.
Step #3: Editing Your Email Template
It is time to edit your AWeber email template. You can always drag and drop the elements from the left-hand side of your PC screen to the middle where you can edit the same.
Now, let us get into the swing of things by customizing your AWeber email template:
Name Your Template
The first thing you must do is to name your template. This will help you save the template for future use.
You can do that by just entering your preferred name in the space shown below:
Edit the Elements
When you must have done that, take a look at the screenshot below to learn about the steps you can take to customize your new AWeber email template.
You can see what the email template looks like by clicking on "Preview & Test."
Desktop View:
Mobile View:
---
AWeber Segmentation
AWeber segments are a great way of tracking the activities of a particular group or set of people that took different actions from the emails you sent to them.
To add segments to your AWeber account, follow the steps below:
Go to the Subscribers tab and select Manage Subscribers from the drop-down menu.
Add your first set of subscribers by either importing them using the Add Subscribers option or generate new leads/subscribers by clicking on Create a Sign Up Form.
After importing/attracting new subscribers, use the search button on the page to select the type of segment you want to create. It could be people who Clicked a link in your email or those that Opened your email.
Save the segment with any name of your choice.
---
AWeber Deliverability
It is one thing to send out email marketing campaigns. It is another thing for the email to convert or get to your subscribers.
AWeber is one of the leading email marketing software providers with an excellent delivery rates.
According to the AWeber team, the software (AWeber) has consistently maintained higher email deliverability because:
AWeber blocks users who tend to send spamming emails.
The AWeber email marketing software has relations with major ISPs, and that is why most of the emails are not blocked. AWeber also adheres to the ISP opt-in email management standards.
---
AWeber Pop-Ups
Would you like to get more people to join your email list?
One way is to use AWeber pop-ups/forms that allow you to create and design different forms to help you capture the data of potential subscribers to your AWeber email list.
To do that, navigate to the Sign Up Forms tab and either create a new form or use the integrations below the page to embed your AWeber forms to your social media accounts.
---
AWeber Free Offer
As much as AWeber is a bit expensive, it is still generous enough to allow you use some of its features for free.
The most outstanding is the free plan that allows you maintain up to 500 subscribers. When you exceed that number, you will have to subscribe to the AWeber monthly or yearly/annual plan so you can enjoy advanced email marketing features.
Below is a screenshot that details additional features that the AWeber free plan has to offer you:
---
AWeber Partner Offers
The companies/brands partnering with AWeber also have some offers to make to you.
Some of these are:
---
AWeber Reports, Stats & Analytics
While you are sending your emails, ensure that you are also tracking the same. The essence of tracking your email marketing campaigns on AWeber is that it empowers you with data on how your subscribers interacted with the emails you sent to them.
You can locate your AWeber reports and analytics by navigating to the Reports tab.
Below is a table that details the different analytics tools on AWeber that you can use to see how your emails are faring:
---
How Do You Log Into AWeber?
You must have an AWeber account before you can utilize its features. It all starts with signing up for a new AWeber account since this is your first time of using it.
Here are the steps to follow to create your AWeber account and log into it too:
Visit the AWeber website.
Click on the signup button.
Enter your correct details
Check your email for the verification email sent by AWeber.
Click on the "Get Started" button in the verification email.
Create a new password
Verify that you are not a robot
Select the Free plan for now
Enter your details, as required
When you have done all that, click on ''Next''
Customize your email list:
Customize the message new subscribers will receive after subscribing to your email list:
Click on "Complete Setup" and you are good to go:
---
Logging into Your AWeber Account
It is pretty easy for you to log into the new AWeber account you just created. To do that, follow the steps below:
Enter your email address and the password you created. Then, click on ''Log In.''
---
Using AWeber for Business
AWeber is a solid email marketing software option for small business owners and individuals who are looking to take their email marketing to the next level.
Of course, there are different sets of people that will benefit from using the AWeber email marketing software.
Who Is AWeber Right For?
AWeber is right for you if you are looking for drag-and-drop powered email marketing software that lets you create new email templates, design landing pages and get new leads via the pop-up forms.
AWeber is also great for people who are looking for an excellent customer support and instant delivery of their emails.
Who Is AWeber Not Right For?
On the other hand, you may not be particularly pleased with AWeber because it lacks some of the tools that could have made it all-in-one email marketing software.
That is in addition to the limited automation features. AWeber is reputed to only send out automated emails only when a tag is applied and when a subscriber is newly added to your AWeber email list.
---
How Bloggers and Content Creators Can Use AWeber
No matter the industry you are in, the chances are high that you will love the features that AWeber is ready to integrate into your business to move it from where it is to where you want it to be.
In the case of bloggers and content creators, they stand to benefit the following from using the AWeber email marketing software:
You will also benefit the following as a blogger/content creator using AWeber:
Segment your subscribers/blog readers based on the link or blog post they engaged with on your blog.
Easily embed sign-up/pop-up forms to your blog to get more subscribers.
---
How to Use AWeber with E-Commerce
If you run an e-commerce business maybe on Shopify or WooCommerce, you can also use AWeber in the following ways:
Easy integration with popular platforms, including WooCommerce, BigCommerce, Shopify, Weebly and Etsy.
Track purchase behaviors via the analytical tools.
Send out automated emails reminding your subscribers of the carts they didn't check out/dumped.
---
How to Use AWeber for a Service Business
Businesses have many things to benefit from using AWeber for their email marketing needs.
Some of those benefits include:
Follow-up series so your subscribers will automatically start getting new emails you send out.
AWeber allows you to add some JavaScript to your website so you can track sales.
An array of email list management tools so you can keep your email list(s) simple and organized.
---
25 AWeber Tips / Secrets / Hacks / Tricks
AWeber avails you many other tools and features so you can make the most out of your email marketing campaigns.
Some of the lesser known tricks and tips about AWeber are:
Create a hierarchy of information so that the information in the emails will build up to the Call-to-Action (CTA).
Ensure every email you send provides value to the subscribers and not just prompting them to buy from you.
Use the AWeber Facebook Leads Form to create a lead form that you can use to collect leads/subscribers from Facebook.
Customize your sign up and CTA buttons.
You can share a campaign of emails, one at a time.
Consider using headings and bullet points to shorten the content of your emails.
You can always repurpose successful email campaigns.
Run split tests on your sign-up forms so you can see what works and what doesn't.
Make special offers using the Thank You page and Download page templates.
AWeber allows you to automatically turn each of your blog posts into an email.
Use more than one email list for a niche.
It is possible to have a potential subscriber email AWeber before getting confirmed to be added to your email list.
Use the automation feature to automatically subscribe and unsubscribe people from your email list.
Incorporate storytelling into your email marketing strategy.
Write and save your email drafts until you are sure it meets your expectations before sending.
Ask your subscribers in one of your emails so you will know the problems they are having.
Do not use more than 50 characters for your subject lines.
Ensure that you create a brand voice and maintain that in all your emails.
Use the time-box writing hack to create the first draft of your emails within 20 minutes.
Add relevant links that will make the emails more presentable.
Make sure your Call-to-Action (CTA) is clear so your subscribers will be in a better position to take the desired action.
Endeavour to use proven writing frameworks, such as positioning the less salient information at the bottom/end of the email and the most important information/main point at the beginning of the email.
Try as much as you can to answer the subscribers' questions or provide a clue to the problem they have at the beginning of the emails you send to them.
A/B Tests are a powerful way of selecting the best content to send to your subscribers.
You may want to use AWeber as a Customer Relationship Management (CRM) software as a beginner using the analytical tools.
---
AWeber Alternatives
Maybe AWeber doesn't provide you with all the tools you need to run a successful email marketing campaign. It might also be that you want to test your waters before you settle for a sea.
Whichever is the case; there are lots of AWeber alternatives you might be interested to try. These include:
---
AWeber and Zapier
Without writing a single line of code and in a few minutes, you will seamlessly integrate your AWeber account with Zapier for smooth workflow.
The benefits are awesome and it makes sense that you know about what the AWeber-Zapier has in store for you:
Automatically synchronize and send information between Zapier and AWeber.
Set one of the apps as a trigger that will kick off your automated emails.
Select the expected outcome/resulting action from the app you selected.
---
Full List of AWeber Integrations
You can use AWeber anywhere and anyhow you want it provided you can integrate the software with other third party tools and services.
Some of the third party apps, tools and services that can allow for AWeber integration include:
---
AWeber to Migration – How Easy/Hard Is It?
You will find it a lot easier to move from one Email Service Provider to AWeber if you will adhere to the steps below:
Download the current subscribers, contacts or email list you have from your Email Service Provider (ESP).
Follow the steps we previously discussed to sign up for an AWeber email marketing account.
Import the contacts or email lists you downloaded to your Aweber account in the form of a CSV or TXT file.
Create a new email list audience.
Create your first emails on Aweber and send them.
Segment the contacts based on their activities (i.e. those that opened your emails and those that clicked any of the links you added to the emails).
---
Putting It All Together
AWeber is impressive email marketing software you can rely on to communicate with your email subscribers in real-time.
READY TO GIVE IT A TRY?
Before committing to a subscription, you can try Aweber at no cost through a free trial.
RELATED RESOURCES: