Disclosure: This BirdSend guide contains affiliate links. Read full Disclosure Policy.
This is the ultimate guide to the BirdSend email marketing platform for 2022.
This in-depth BirdSend review will help you determine if BirdSend is the email service provider that's right for your email marketing needs.
What's in This Guide?
---
What is BirdSend?
BirdSend is an email marketing service software designed specifically for content creators who want a simple system for cranking out emails in record time.
An affordable, user-friendly email marketing option for content creators, BirdSend is designed to be easy to use.
It is a no-frills platform that offers creators the ability to create emails and track conversions, click rates, and more at a glance.
---
Company History
Welly Melia, creator/owner of BirdSend, also owns and operates Zaxaa which is a sales funnel shopping cart platform. Zaxaa BEATS was originally the email marketing arm of the Zaxaa platform.
After a few years, the creators of Zaxaa BEATS decided to completely rebuild it from the ground up and move it into a separate portal of its own.
At that time Melia rebranded Zaxaa BEATS to what we know today as BirdSend.
Birdsend launched in April 2018.
---
BirdSend Pricing
BirdSend Free Trial
Before committing to a subscription, you can try BirdSend at no cost through a 7-day free trial.
If you're planning to migrate your mailing list from another email service provider, BirdSend is happy to assist you with the migration for free.
After the 7-day free trial, you can email your list for as little as $9.00 per month (and as little as $7.20 a month on the annual plan) for a list size of up to 1000 subscribers.
Monthly option
| | | | | |
| --- | --- | --- | --- | --- |
| | 1000 contacts | 2500 contacts | 5000 contacts | 10000 contacts |
| | $9 | $14 | $19 | $29 |
| Track Revenue From Every Email | Yes | Yes | Yes | Yes |
| Track Lifetime Value | Yes | Yes | Yes | Yes |
| Track Average Lifetime Value | Yes | Yes | Yes | Yes |
| Email Marketing Automation | Yes | Yes | Yes | Yes |
| Unlimited Email Sends | Yes | Yes | Yes | Yes |
| Import Contacts | Yes | Yes | Yes | Yes |
| Unlimited Custom Domains | Yes | Yes | Yes | Yes |
| All Features | Yes | Yes | Yes | Yes |
| Free Migration | Yes | Yes | Yes | Yes |
Annual plan
When you purchase the annual plan, you get 15 months for the price of 12.
| | | | | |
| --- | --- | --- | --- | --- |
| | 1000 contacts | 2500 contacts | 5000 contacts | 10000 contacts |
| | $7.20 | $11.20 | $15.20 | $23.20 |
| Track Revenue From Every Email | Yes | Yes | Yes | Yes |
| Track Lifetime Value | Yes | Yes | Yes | Yes |
| Track Average Lifetime Value | Yes | Yes | Yes | Yes |
| Email Marketing Automation | Yes | Yes | Yes | Yes |
| Unlimited Email Sends | Yes | Yes | Yes | Yes |
| Import Contacts | Yes | Yes | Yes | Yes |
| Unlimited Custom Domains | Yes | Yes | Yes | Yes |
| All Features | Yes | Yes | Yes | Yes |
| Free Migration | Yes | Yes | Yes | Yes |
Billing Options
BirdSend's billing options include Paypal and most major credit cards. A credit card is required to sign up for the free trial, but you will not be billed during your 7 day free trial.
---
BirdSend Features
A/B Split Testing of Subject Lines
BirdSend offers split testing of subject lines in just a few clicks.
You can do an A/B subject line test on your broadcast mailings.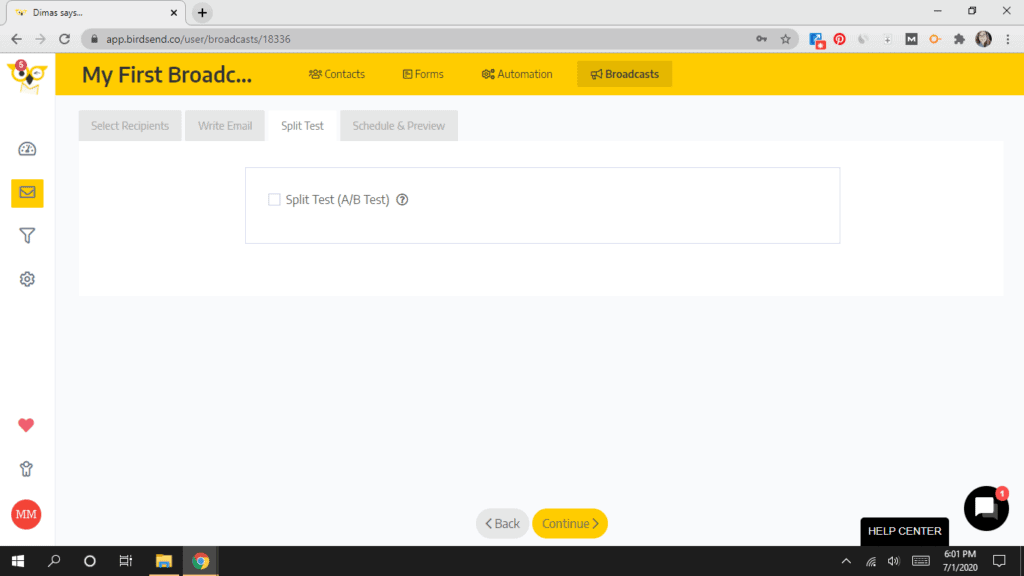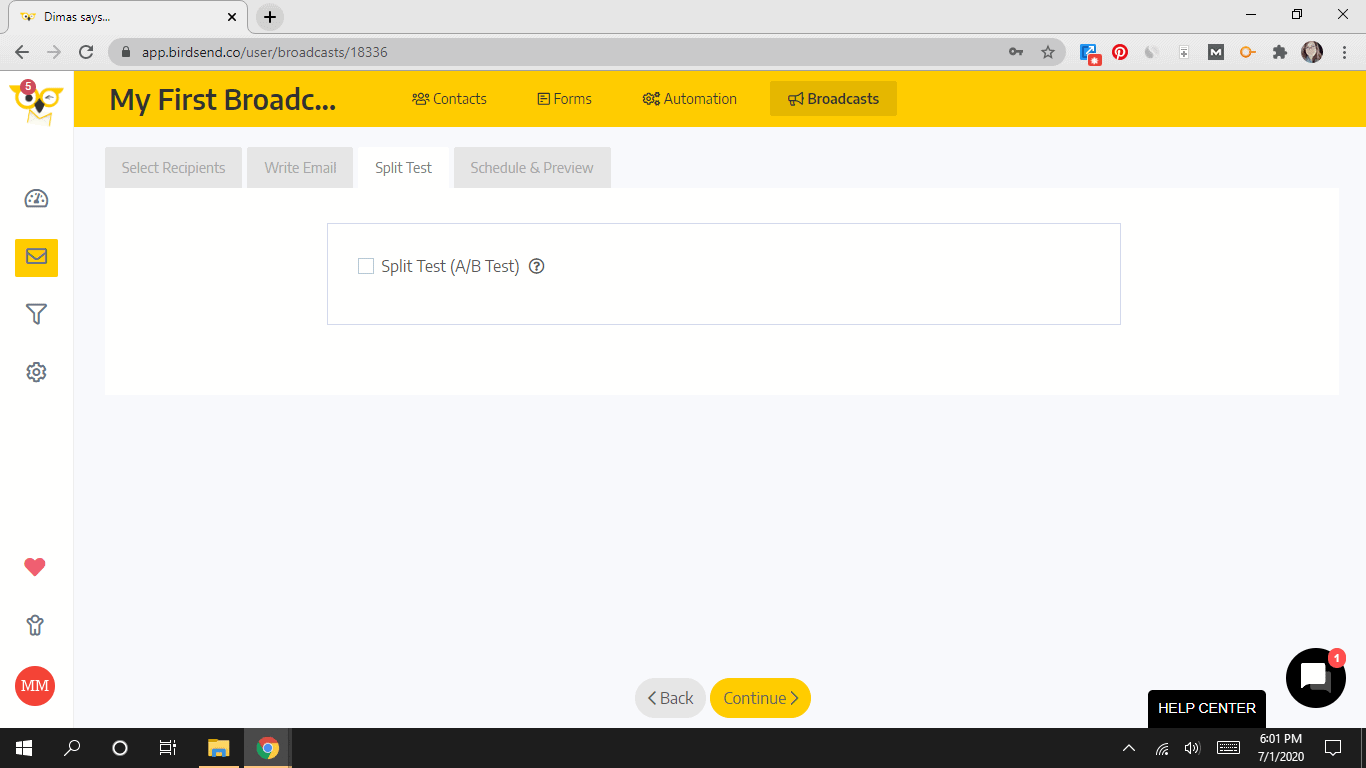 Here's how:
Select Split Test (A/B) in the Split Test tab of each Broadcast and then follow the easy instructions for setting up the split test.
Set another subject line for the test and let it compete with the original subject line.
If you want the automatic winner of the two subject lines to be sent out to the remainder of your subscribers, you can select "automatic winner."
Choose the percentage of subscribers to receive the original subject line. For instance: 30% (it can be any number)
Then choose the percentage of subscribers to receive the second subject line. For instance: 30% (it can be any number)
You then wait a few hours (that's customizable too) and then send the remaining 40% (in this example) of readers the winning subject line.
When you choose to have this done automatically, there's no extra work for you. Simply set it and forget it.
Split Test A/ B Headline Examples:
How to Feed Your Family Without Breaking the Bank
This One Simple Trick will Save You Hundreds
Too Many Toys? Here's what I did.
How to Organize All the Toys
Wanted: Cute and Affordable Fashions for Summer
My Favorite Summer Fashions from Target
Send a Test Email Preview
Sending a test email to yourself to preview before you schedule or send it out to your subscribers is a great way to catch problems before they happen.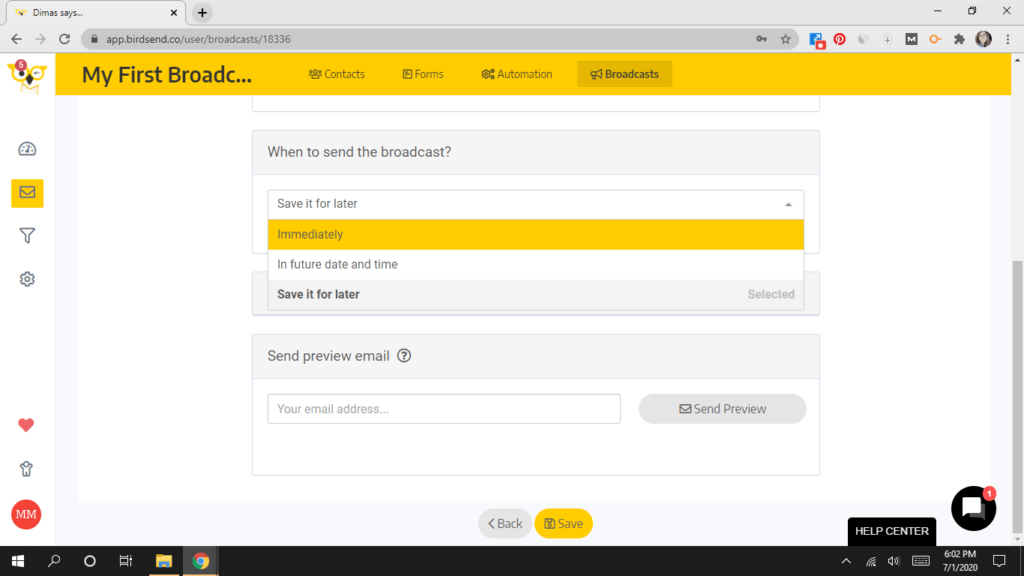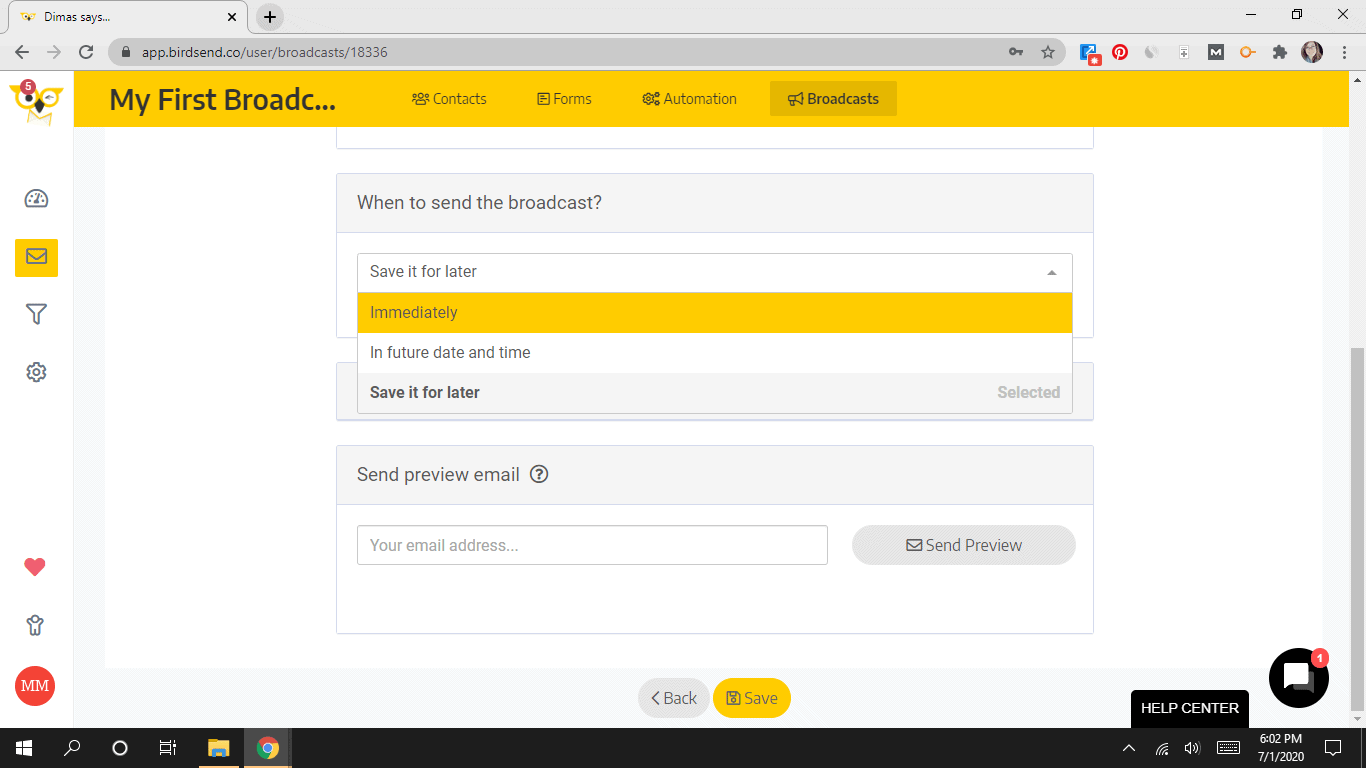 With BirdSend, sending a test email preview is as simple as typing in your email address and clicking "Send Preview."
Go to your inbox and review the email. Then, go back to BirdSend to make edits, schedule your email or send it immediately.
This is helpful for things like:
Catching typos
Discovering you added the wrong link
Making sure there are no format issues
Checking that your emojis look right
Noticing that your subject line gets cut off on mobile and needs to be shortened
Your email getting flagged for spam
Footer Customization
One of the more unique features you'll find at BirdSend is the ability to fully customize your email footer.
Instead of simply offering your readers the ability to unsubscribe (that's important) you can also add other important information you'd like your readers to know.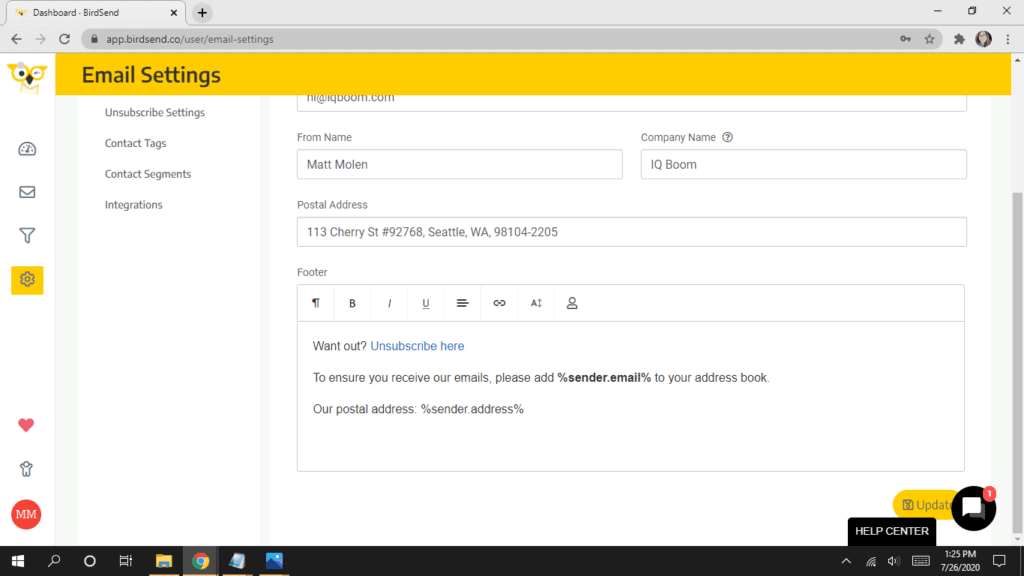 The email footer is created in a text box in settings, but you can also change the footer in individual emails and automations.
Things you can add to the footer:
Unsubscribe link
Link to your subscriber resource library
Password to your subscriber resource library
Links to important pages on your website
Funny or inspiring quotes
Add BirdSend logo with your referral link
Resend to Unopens
In BirdSend, you can resend a broadcast email with a new subject line to those readers who did not open the first email.
It's as simple as opening the sent email, clicking the "Resend" box, choosing a new subject line and hitting send.
Reasons you might resend an email:
Poor open rates
Try a new subject line
The email content is really important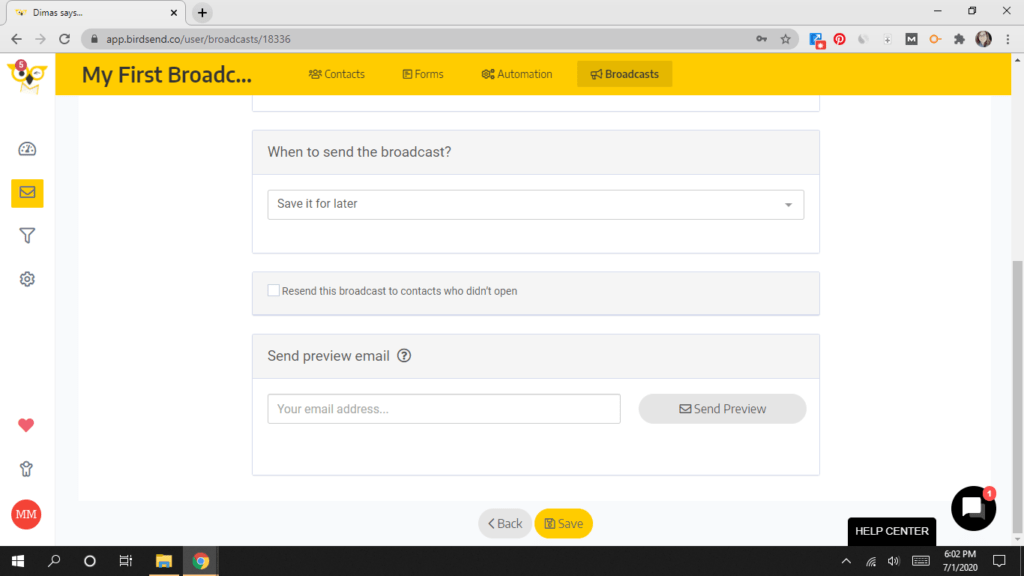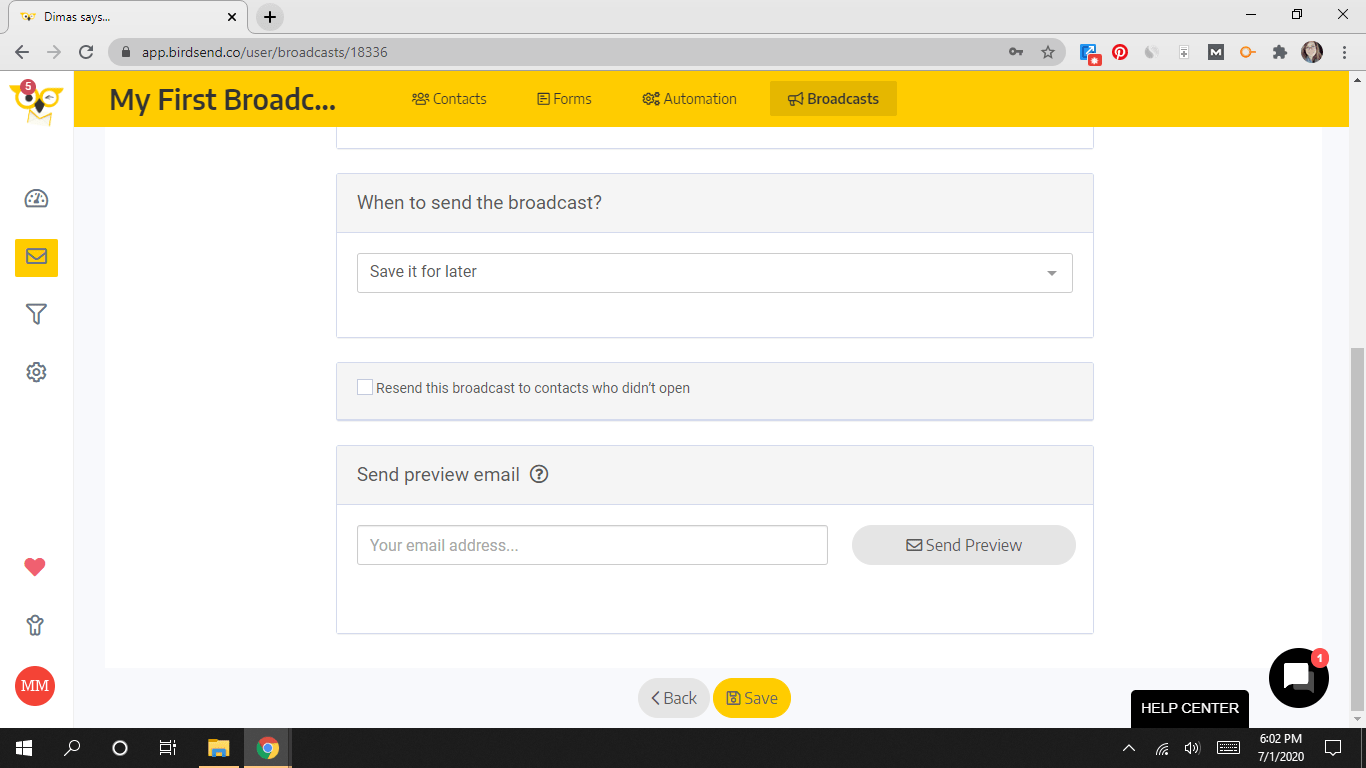 Conversion and Sales Tracking thru BirdSend Pixel
According to BirdSend:
"If you don't know exactly how much revenue you earn from every email you send, you're not in business. You're having fun. With BirdSend, not only will you know your open and click rates, you'll also know your revenue the instant the page loads. No more cobbling together multiple different tools and spreadsheets."
Through the BirdSend pixel, you have the ability to track sales conversion rates when a subscriber clicks through an emailed link and makes a purchase.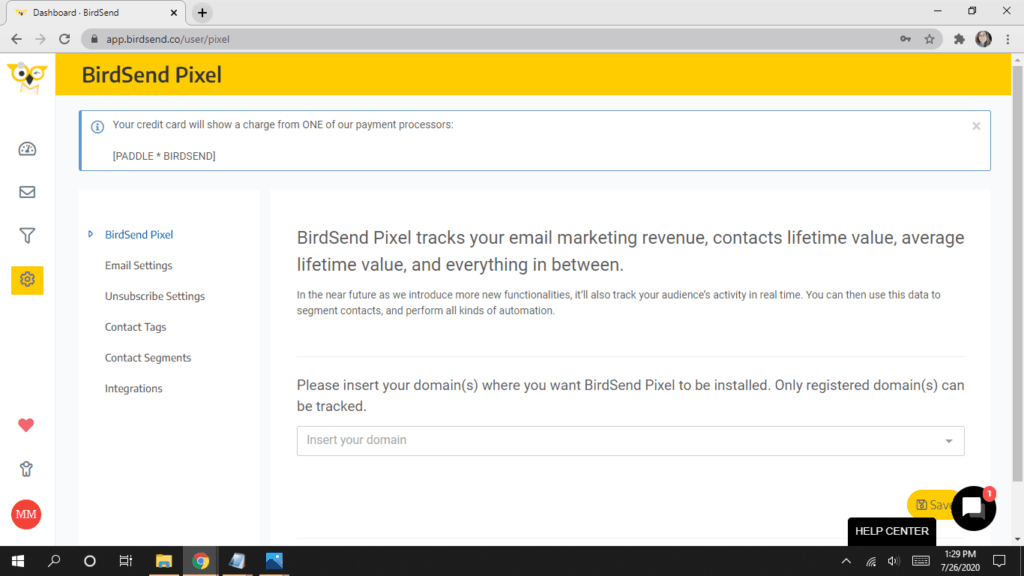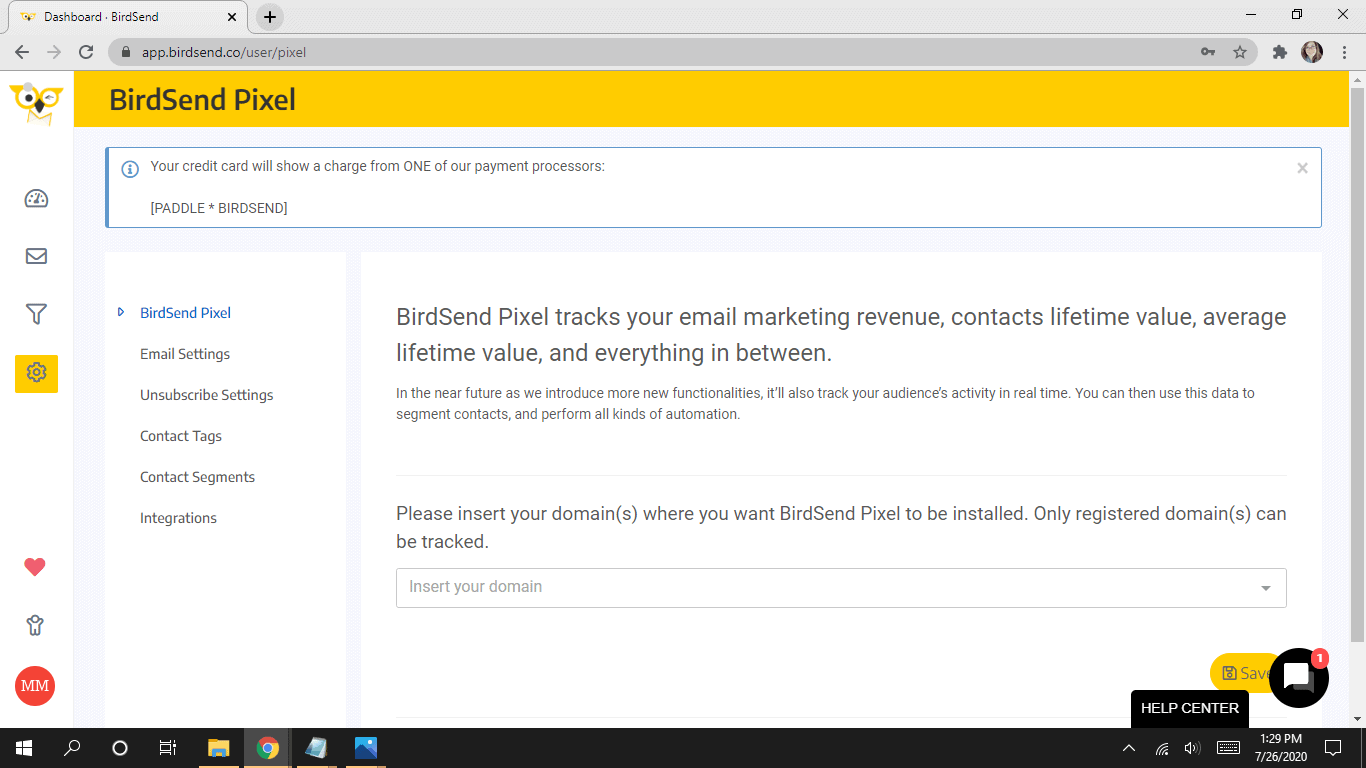 For example, you sell a course for $97 through Teachable. A reader subscribes to your email list, receives a lead magnet, makes a small purchase through your tripwire and then you move that subscriber into your automated sales sequence.
Next, you send out a series of emails designed to lead your customer to make the purchase. They click on your call to action link in your sales email, landing them on your Teachable course page. When they purchase course through your link, that conversion will be tracked and you'll be able to see the sale in your BirdSend account under Conversions.
Note: Other sales will not show up in your BirdSend stats – only conversions tracked from links in your email showing you how profitable your email was/ is.
---
Using Landing Pages with BirdSend
BirdSend does not offer landing pages. If you want to use a landing page with your BirdSend forms, you'll need to use a third party landing page and connect it with Zapier.
When you create a form in BirdSend, you'll be provided with raw HTML code. This code can be utilized with third party landing page providers.
You can, however use your forms on their hosted page.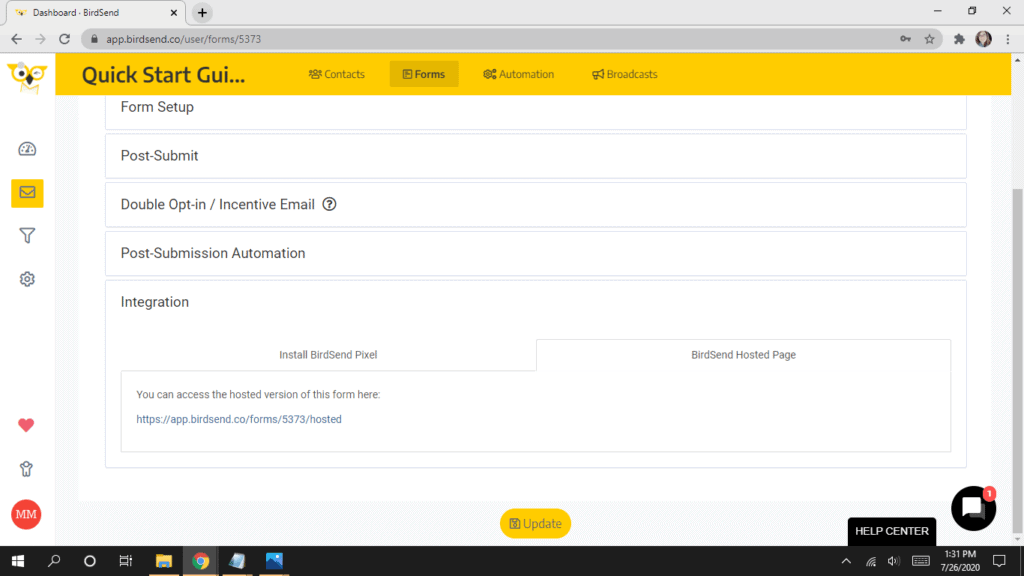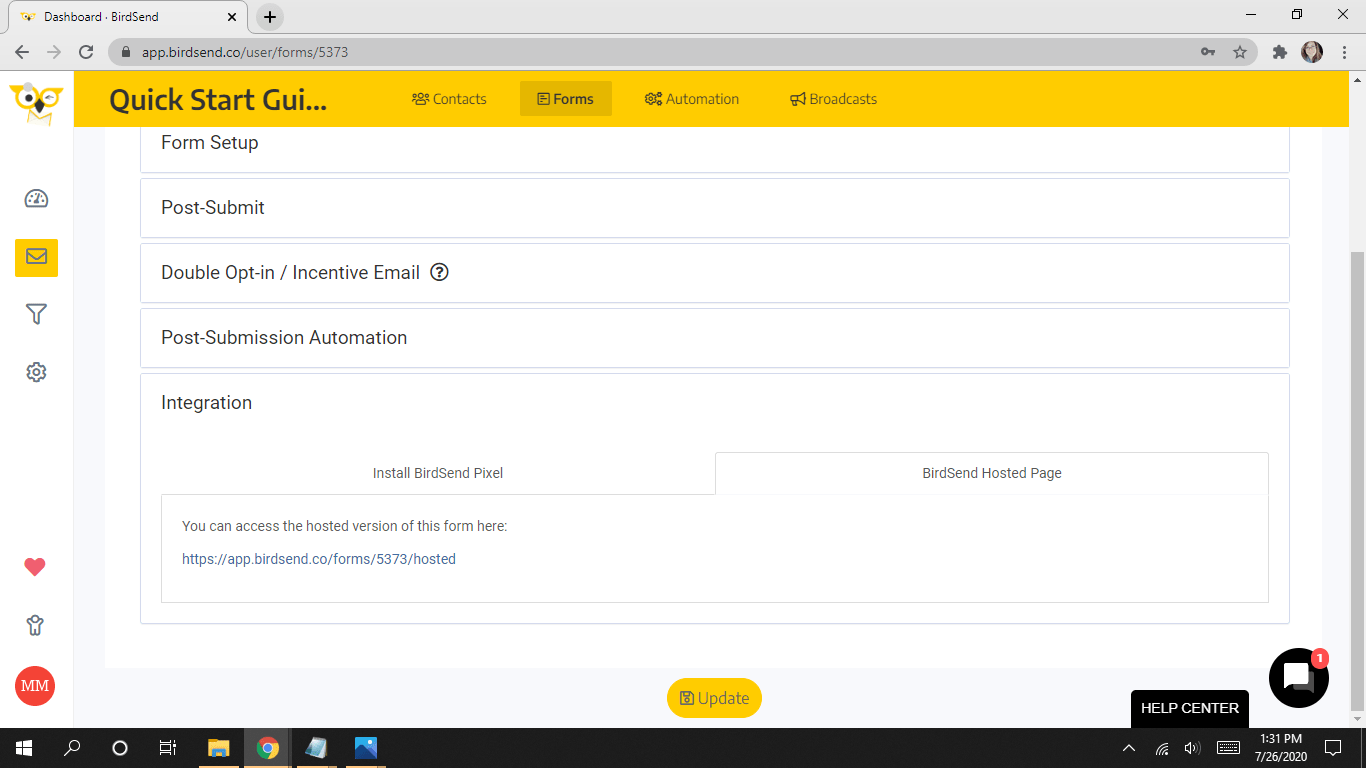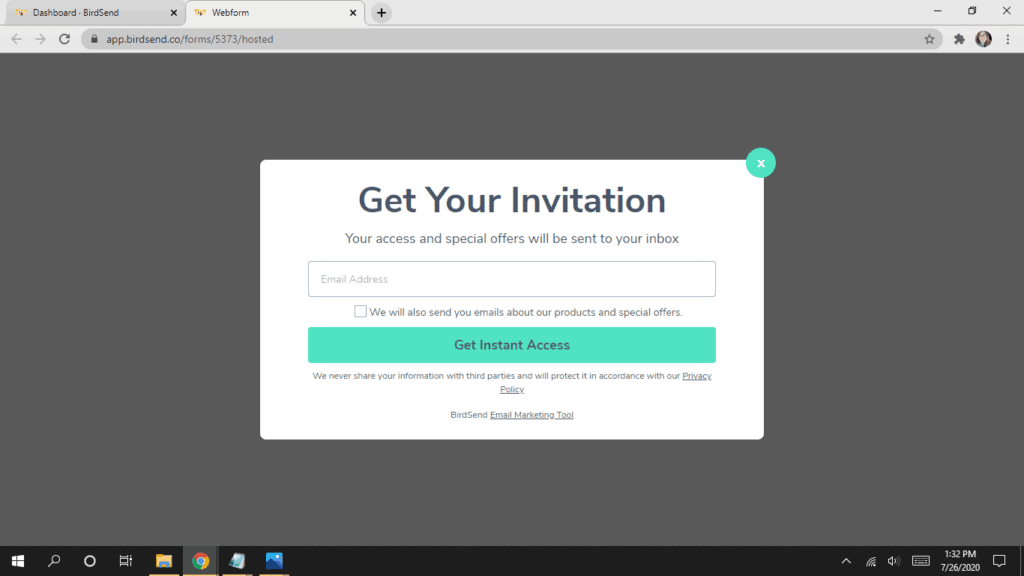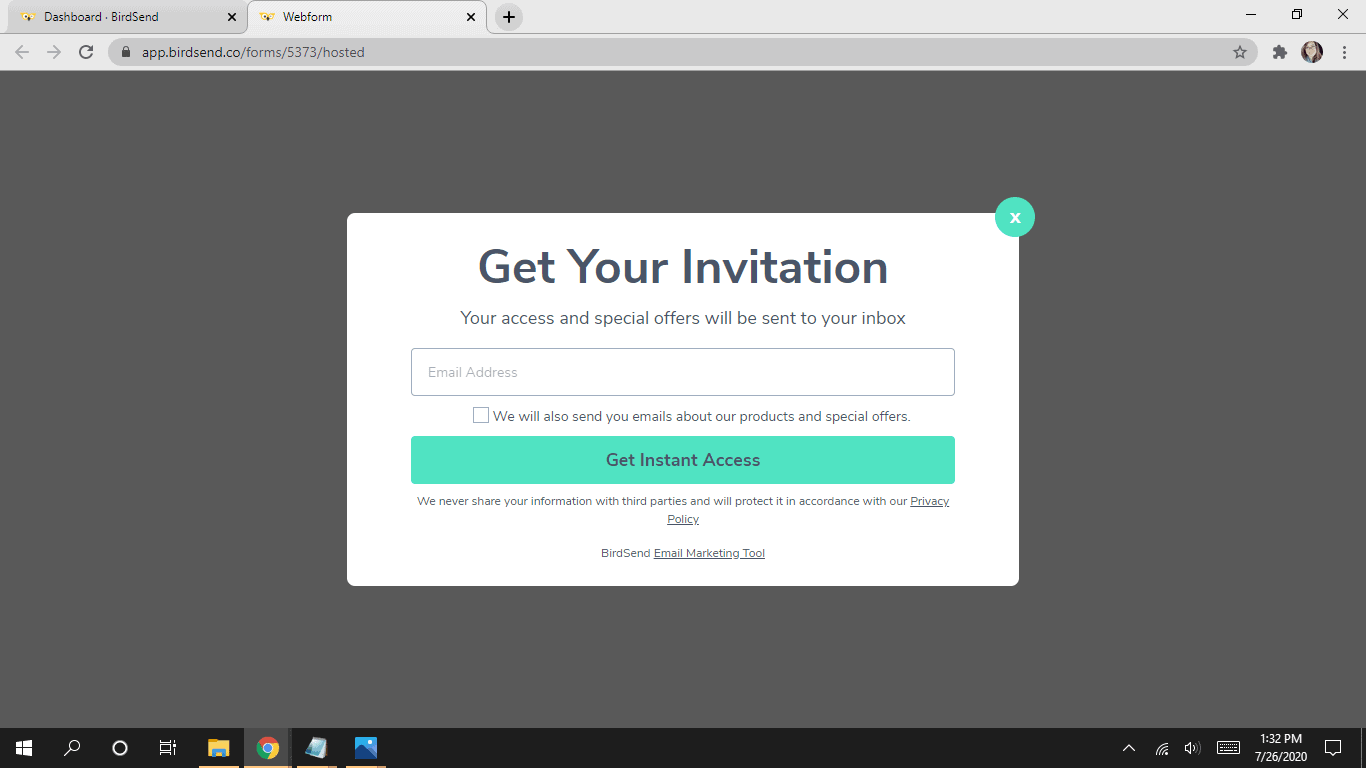 ---
BirdSend Email Templates
BirdSend doesn't not provide email templates or CSS customizations. You can edit the source code for each email using inline HTML only.
However, they do offer the ability to clone an email. So if you have a broadcast layout you love, you can clone the email and use it "like" a template.
If you need more email templates, CSS customization options, or ready-to-use email templates, BirdSend is probably not for you.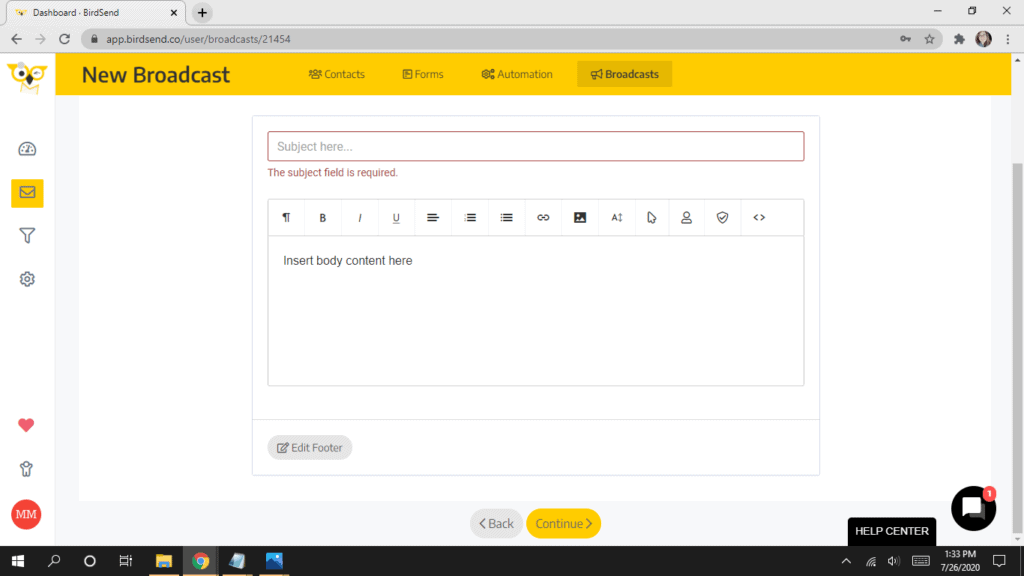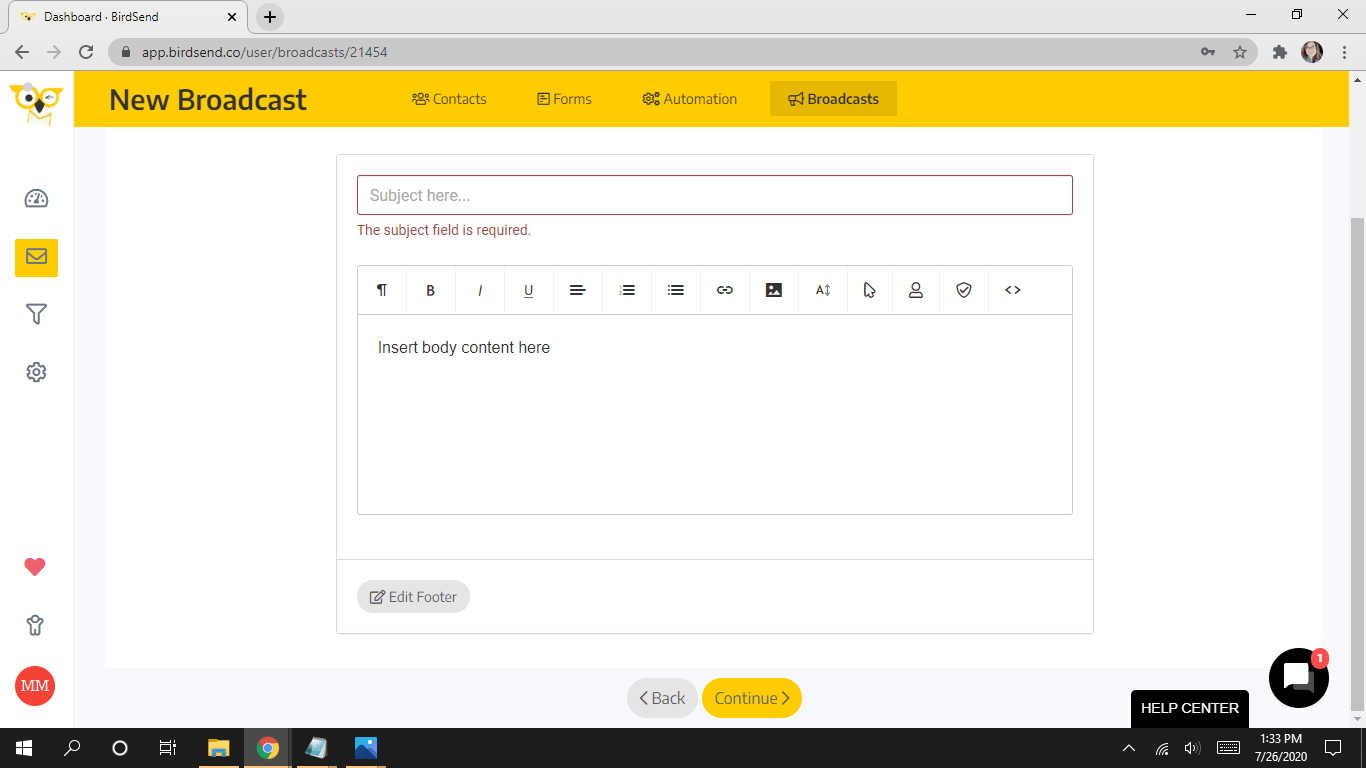 ---
BirdSend Segmentation
BirdSend offers a number of ways to segment your email list for more personalized email marketing. Segmentation is especially important if you have more than one type of reader.
What is a segment?
A segment is a group of contacts sharing one or more similar behaviors or traits.
Segments in BirdSend are dynamic. When you set up a segment, it automatically updates all subscribers inside the segment with the conditions you set for the specific segment. This means that your contacts will be automatically removed and/ or added to the segment as time goes on. So, you don't have to worry about updating the segment each time you use it.
What types of segments can you make?
You can make any combination of segments based on different filters:
Email
Name
Tag
Sequence
Joined date
Has opened
Has clicked
Unsubscribed date
Unconfirmed date
#Conversion
$Lifetime Value
Perhaps you want to group together your contacts based on who has opened your emails in the last 14 days. You can filter your subscribers and find those who have opened your emails in the last 14 days. Then, name the segment Opened Email Last 14 Days.
Since BirdSend allows you to easily track conversions (see BirdSend Pixel section), you can create a segment based on subscribers' lifetime value. Based on conversion rates, you can see which contacts spend the most money on your products and target them with a specific campaign.
---
BirdSend Forms and Popups
BirdSend offers a few form options to choose from.
Two styles of popup forms
Two styles of inline forms
Two styles of welcome mat forms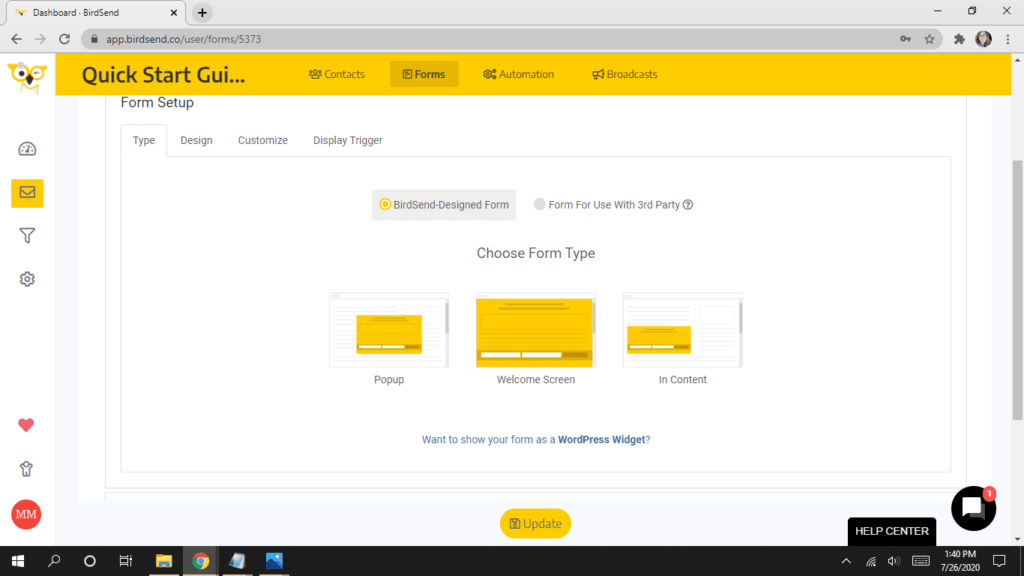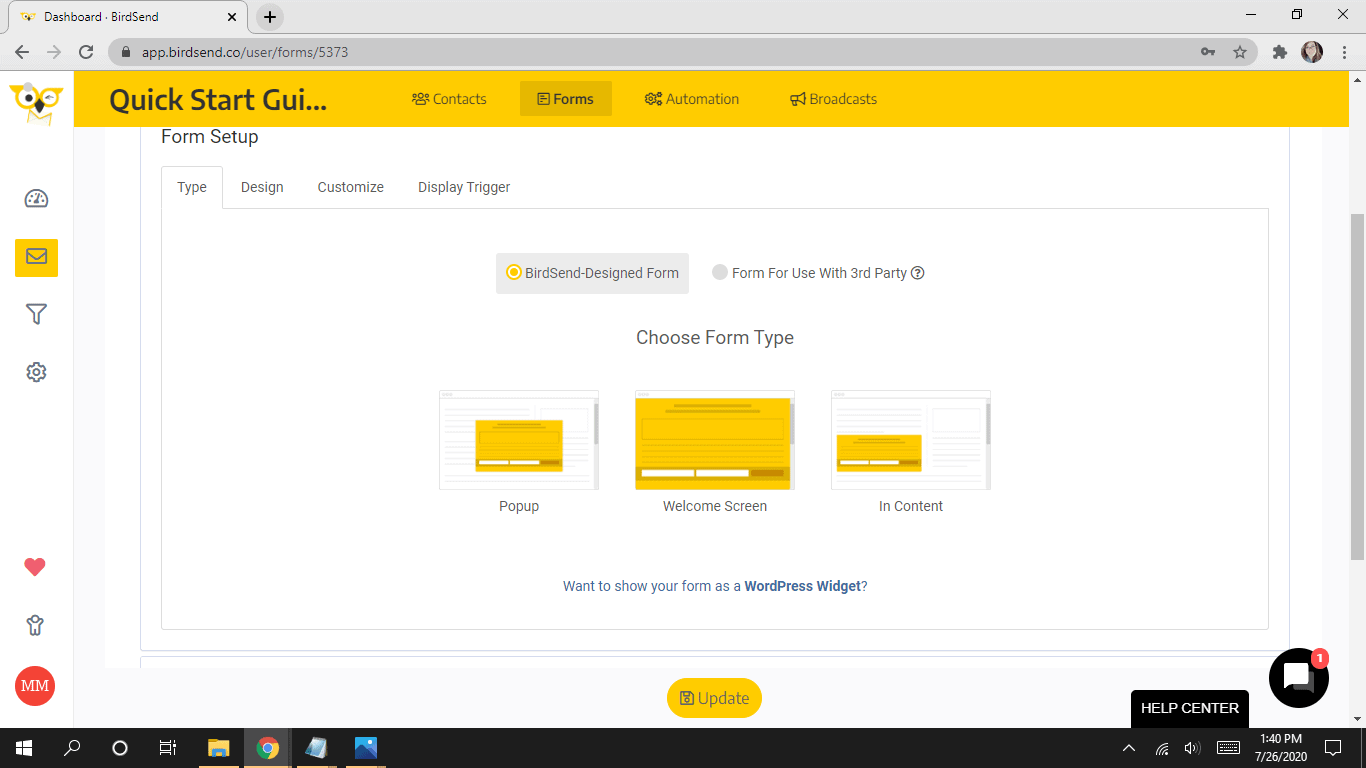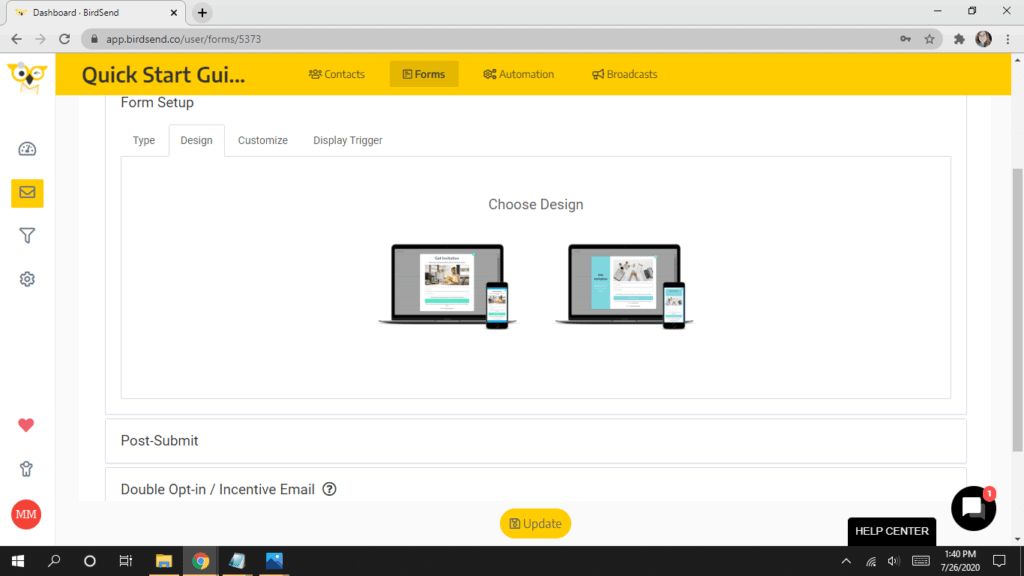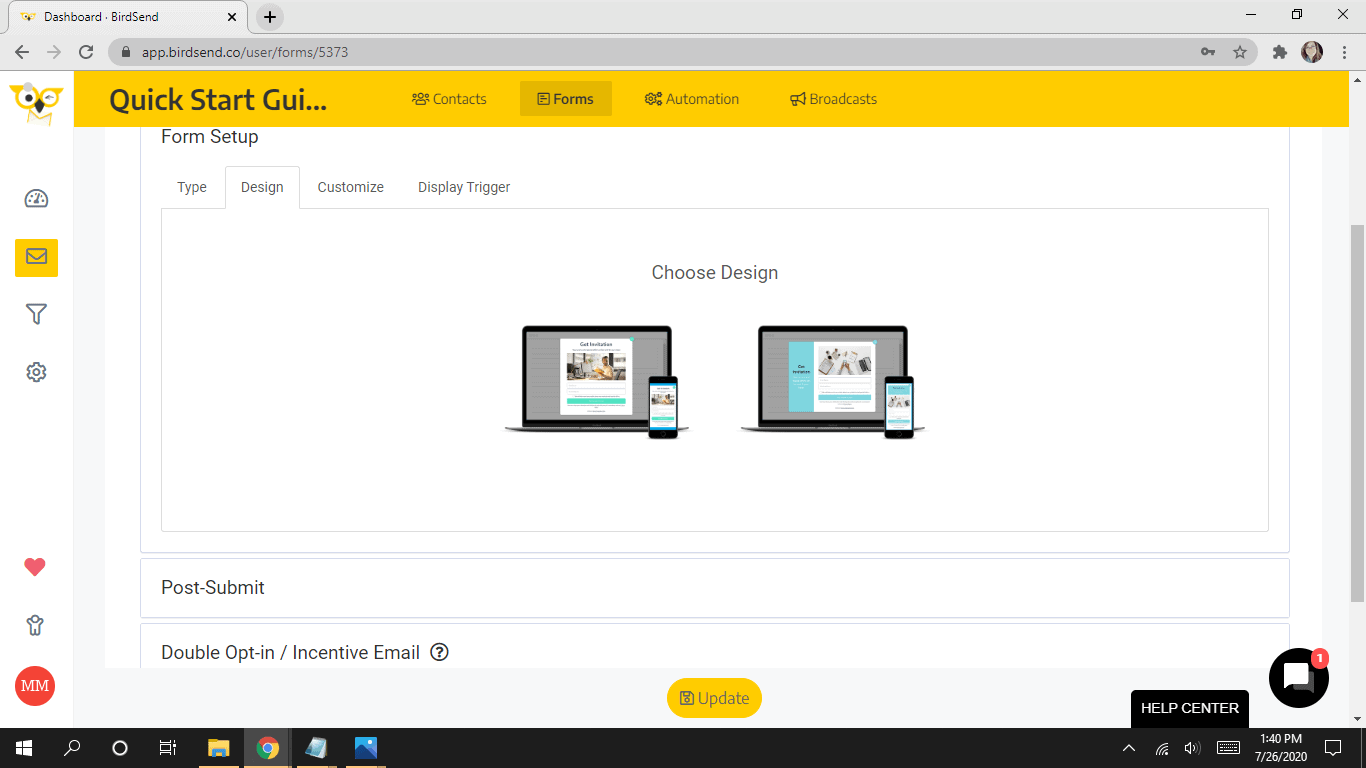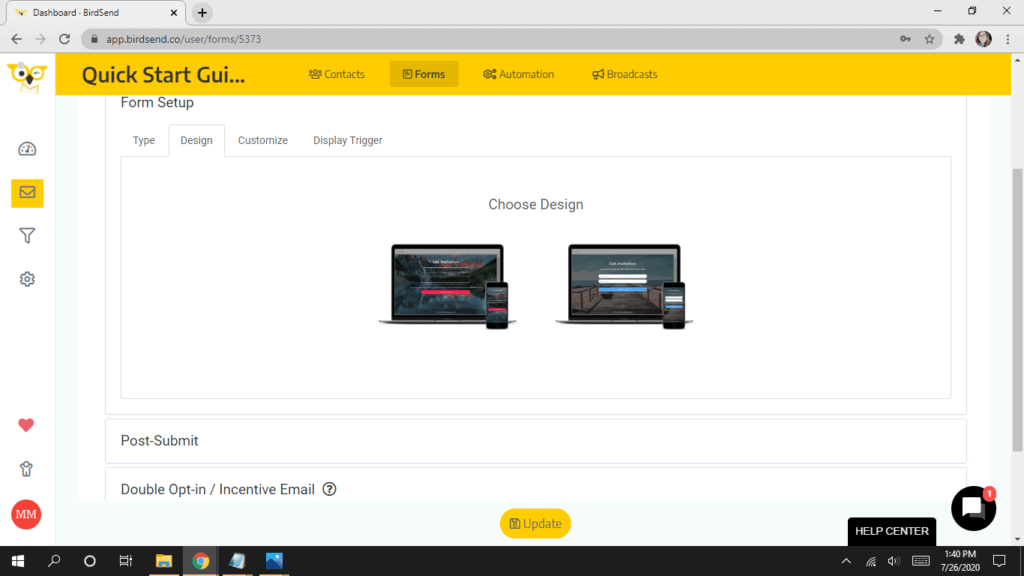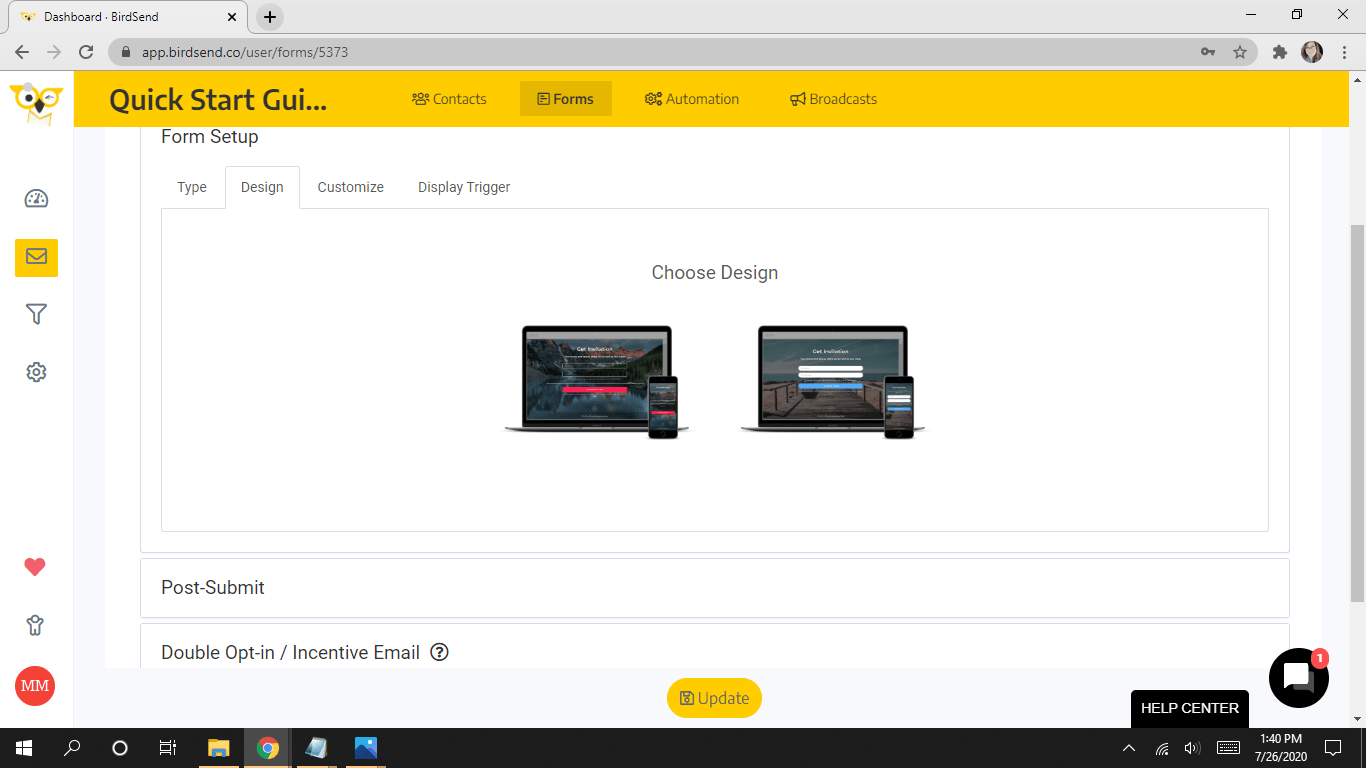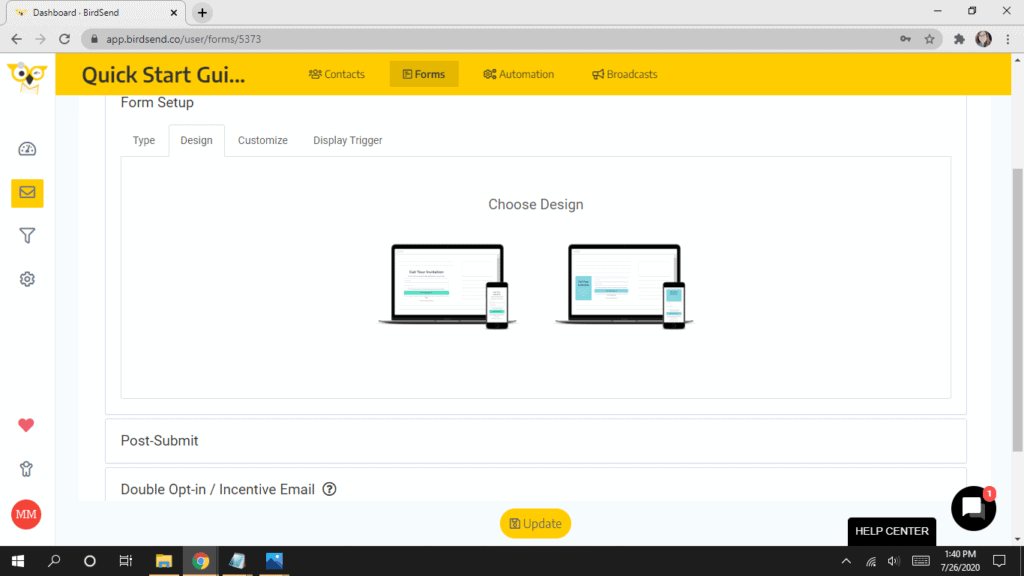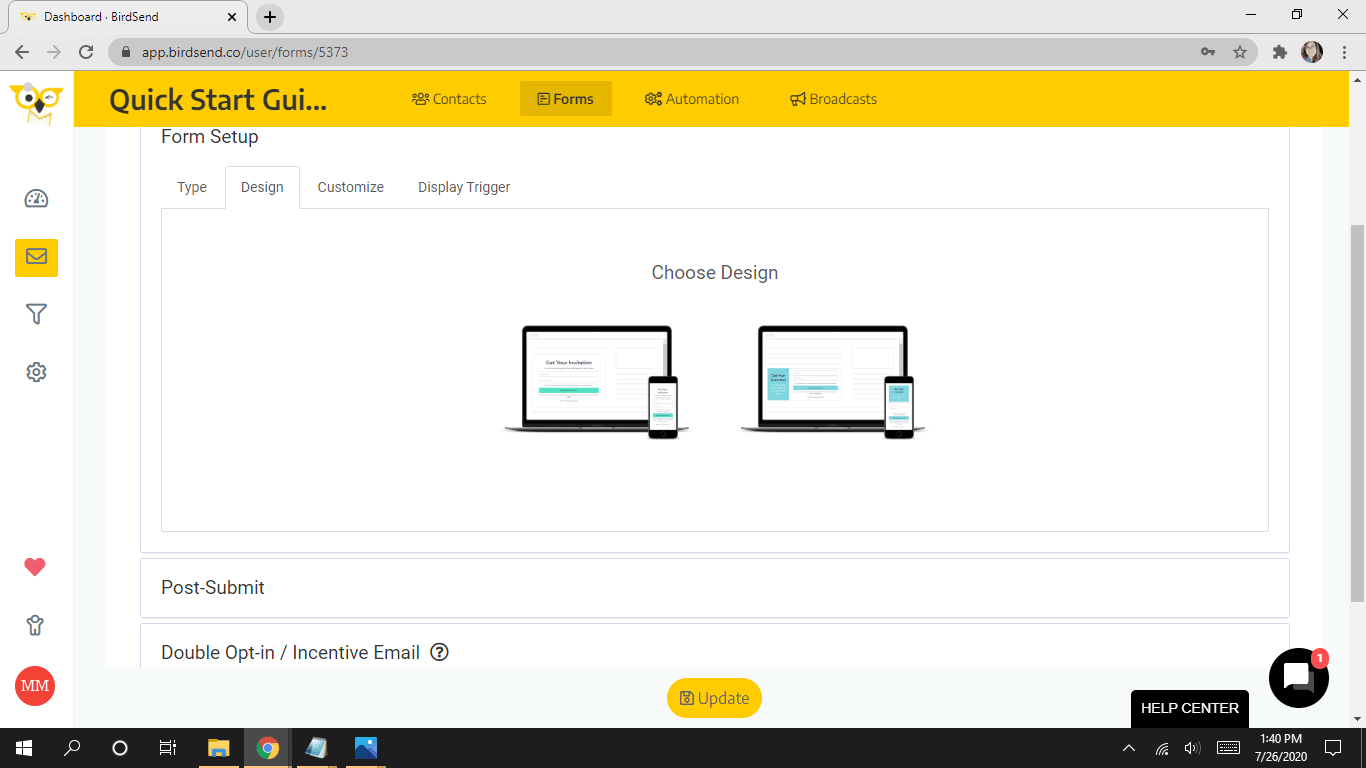 After selecting the type of form you want to create, you can customize it in a variety of ways by adding or taking away different elements and fields.
Available elements:
Headline
Body
Featured image
GDPR compliant checkbox
Privacy text (and link)
Fields:
First name
Last name
Create New (if you want something different like a birthday)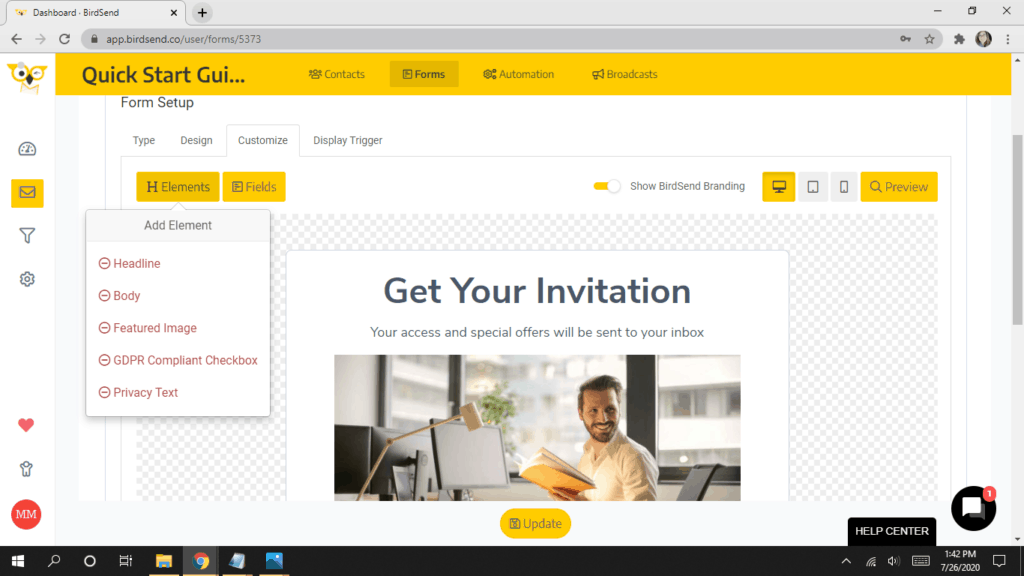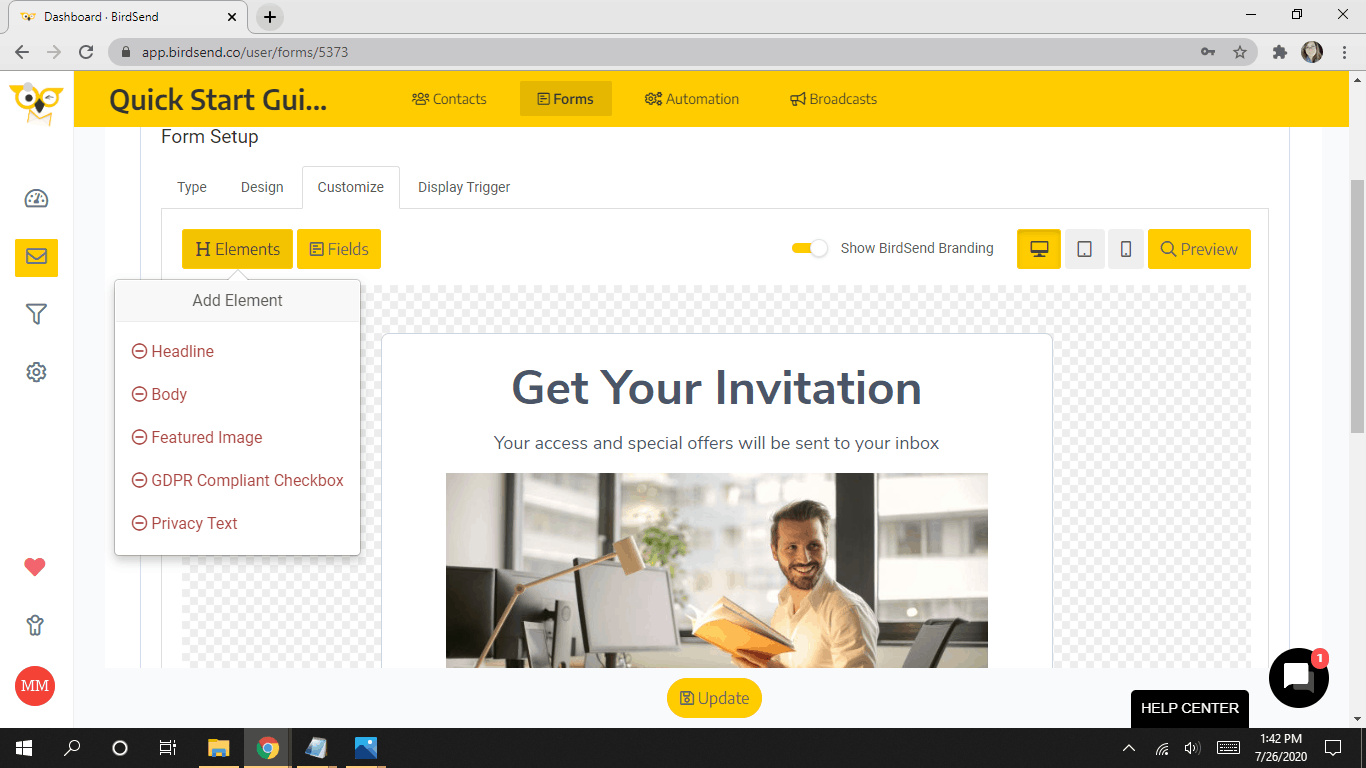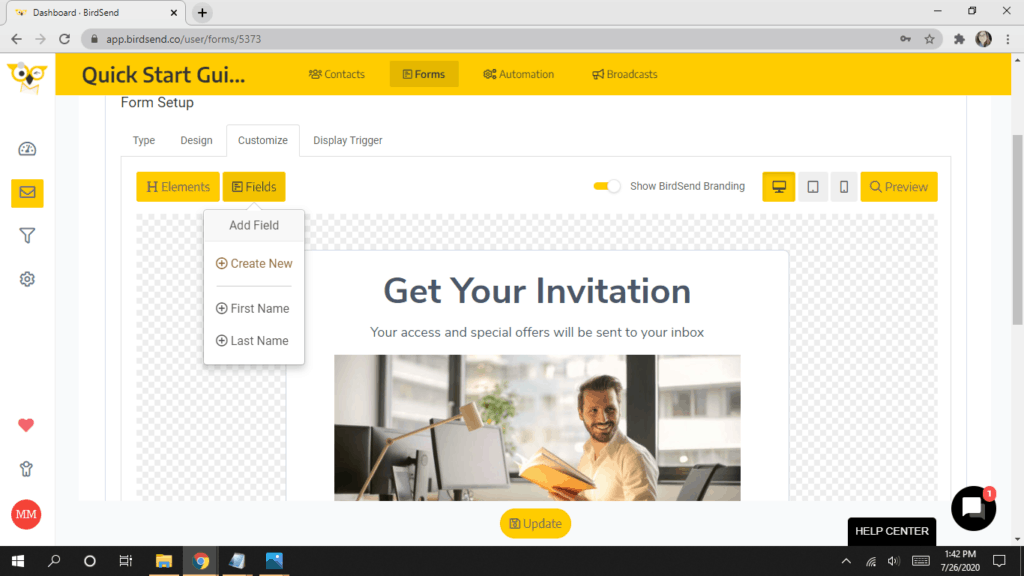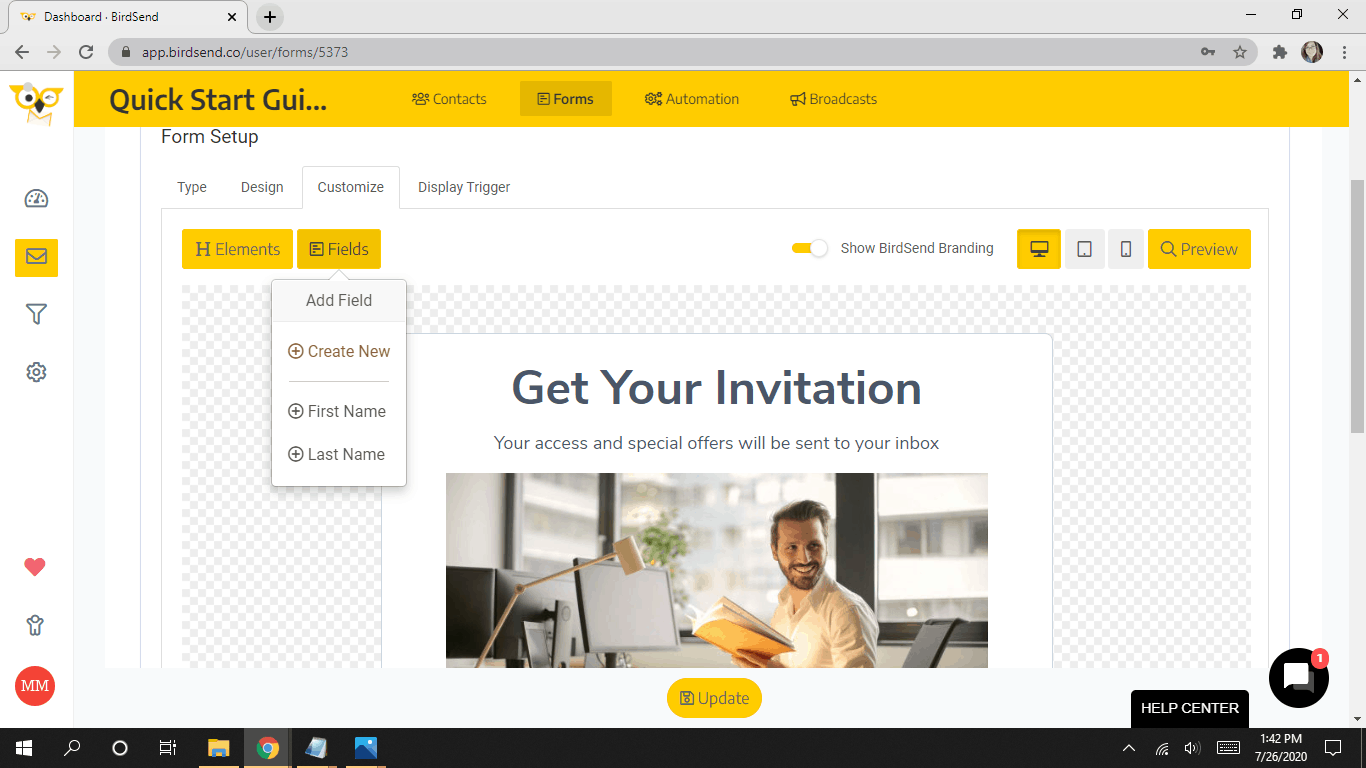 All forms can be customized to change text size and color, button colors, images, etc. You can choose to make all fields required. And you can add text and links within the text boxes as needed – for instance, adding a link to your privacy policy.
---
BirdSend Reports, Stats & Analytics
BirdSend offers reports for tracking the stats of you can easily track the stats for every email.
Broadcasts
When you look at the Broadcasts you've already sent, you'll see a few initial stats:
Subject Line
Date
Number sent
Open rate
Click rate
Earnings (total amount of earnings from that broadcast)
Earnings / Contact (average amount of earnings per contacts from that broadcast)
When you click on a Broadcast or Automation / Sequence Email, you'll see a few more stats:
All of the above
Unsubscribes
Bounces
Emails blocked
Emails marked spam
You can click on any of the stats to see a more detailed view. In the detailed view, you have the ability to see a summary of stats or look at all of the subscribers in that stat. You can also tag those emails to segment them later.
For instance:
Let's say you want to tag all of those subscribers who clicked the link because they showed the most interest. You can then follow up with a campaign directly targeted to those subscribers by sending a sequence or broadcast to subscribers with that tag.
---
How Do You Log Into BirdSend?
Logging into your BirdSend account is easy. Visit BirdSend's home page. Simply use the email address you registered your account with and the password you chose when you signed up.
---
Who is BirdSend Right For?
BirdSend is good for content creators who:
Don't want to fuss with email design
Want tags & segments at lower price than Mailchimp or ConvertKit
Want to easily track sales conversions and lifetime value using the BirdSend pixel
It's also perfect for those who want to crank out emails super fast. Once you decide to write an email, you can easily type out your amazing content, add images if desired, and even edit the HTML source if you really want to.
However, the beauty of sending out emails using the BirdSend platform is that you don't have to do anything other than write a great piece of content, implement your call to action, and hit send.
---
Who is BirdSend NOT Right For?
BirdSend is NOT right for you if you want:
Email templates & CSS customization
Landing pages
Sophisticated integrations
---
How Content Creators Would Use BirdSend
Bloggers and content creators are a unique bunch. Unlike big corporations who send out promotion after promotion to their mailing list, content creators aren't looking to simply sell to their readers. Content creators want to connect to their readers.
One of the reasons readers love their favorite bloggers so much is because of the relationship that is built between them.
Because BirdSend was designed with content creators in mind – without the fancy design templates and complicated software that big corporations use – creating emails that resonate with your ideal reader is simple. You don't need to worry that the design is overdone, too busy, or worse – generic.
Let's face it. We've all received those emails from our favorite companies and department stores that are basically just pretty sales flyers.
With BirdSend, it's your content that gets to shine.
You get to focus on connecting to your reader through words that mean something. You get to help your readers tell their story by coming alongside them with the solution to their problem – whatever that problem may be.
---
How to Use BirdSend with Ecommerce
There are several ways to use BirdSend as part of your ecommerce marketing plan.
Using BirdSend to Turn Readers into Customers
Build your list via a lead magnet or other irresistible opt-in offer.
Use BirdSend forms to deliver your lead magnet and add them to your list.
In the form builder, you can:
Add or remove tags
Add subscribers to sequences
Unsubscribe subscribers from sequences
Move from one sequence to another
Record a conversion
Add a new subscriber to a sales funnel sequence, leading them to eventually make a purchase.
Use BirdSend to Track Sales Conversions
As a content creator, it's important to know what's working and what's not working. Being able to track sales conversions from your email list is a great way to level up your marketing game.
As of this writing, BirdSend offers automatic set up of tracking conversions for these platforms:
You can read about how to manually set up a sales tracking / conversion with other cart / payment systems here.
Using the BirdSend pixel, all conversions and sales tracking are automatic once they've been set up.
That means that once you've set up your tracking whether automatically (for Teachable or Woocommerce) or manually (with other cart/ payment systems) all conversions / sales will be automatically recorded in your BirdSend account.
Only sales that result from a subscriber clicking a link in your email will be recorded. BirdSend uses the "last touch" method of recording – sales are attributed to the last email link clicked before the sale happened.
Using BirdSend to Set Up Tripwires
BirdSend allows you to easily set up a tripwire leading to increased sales.
What's a tripwire?
A tripwire is a low price offer that's so irresistible to your reader that they take action immediately, converting into a customer.
It's a small offer that helps accelerate your buyer's journey so they eventually make a bigger purchase.
When a reader makes a transaction they feel good about, they are more likely to spend money with you again.
Using a tripwire is a great way to add extra income without much extra work.
Think of it like this: You create the tripwire offer once, add the product to a landing page, and then direct your new subscriber to that page once they fill out the email form.
When they click the email form button expressing their desire to subscribe, they are taken directly to your tripwire landing page.
In BirdSend, when you are setting up your form, you can add a "Post Submit" URL. In the "Post Submit" section of your email form set up, you'll find two options:
Redirect to Submit Success Page
Post a custom message on current page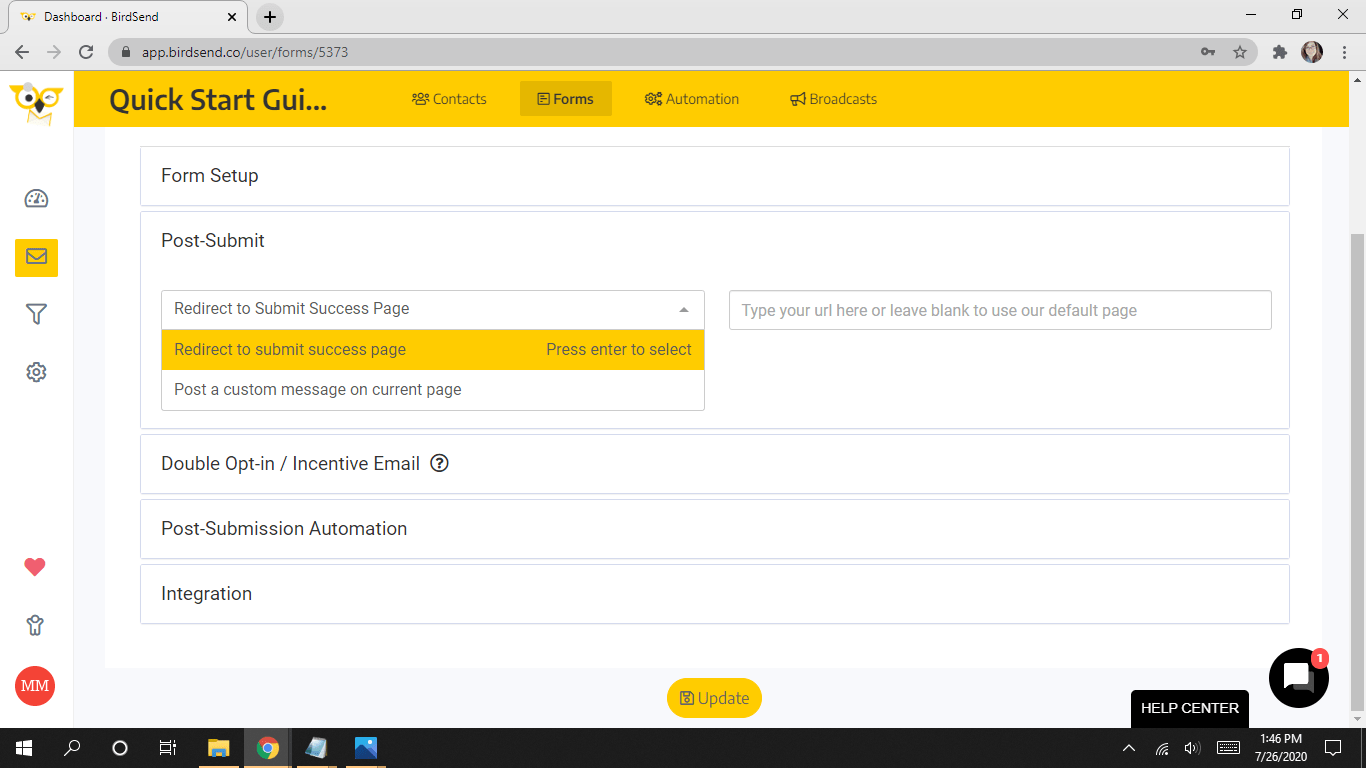 To set up a tripwire, you'll choose the "Redirect to Submit Success Page" and add the URL of your landing page.
Note: BirdSend does not offer the ability to build landing pages so you will need to host the tripwire landing page on your own website or use a third party app like LeadPages.
---
How to Use BirdSend for a Service Business
Some ways BirdSend can help you in your service industry with email marketing are:
Ability to segment your list
Collect other information like first and last name, birthdays, addresses, or any other field you'd like to create
Tag your list based on customer interactions, birthdays, hobbies, etc.
See how to create optional fields in your BirdSend forms here:
---
BirdSend Alternatives
Other alternatives to BirdSend:
---
BirdSend Integrations
Despite the fact that BirdSend is a newcomer to the game of email marketing, the platform already boasts a good number of integrations you are probably familiar with and may be currently using.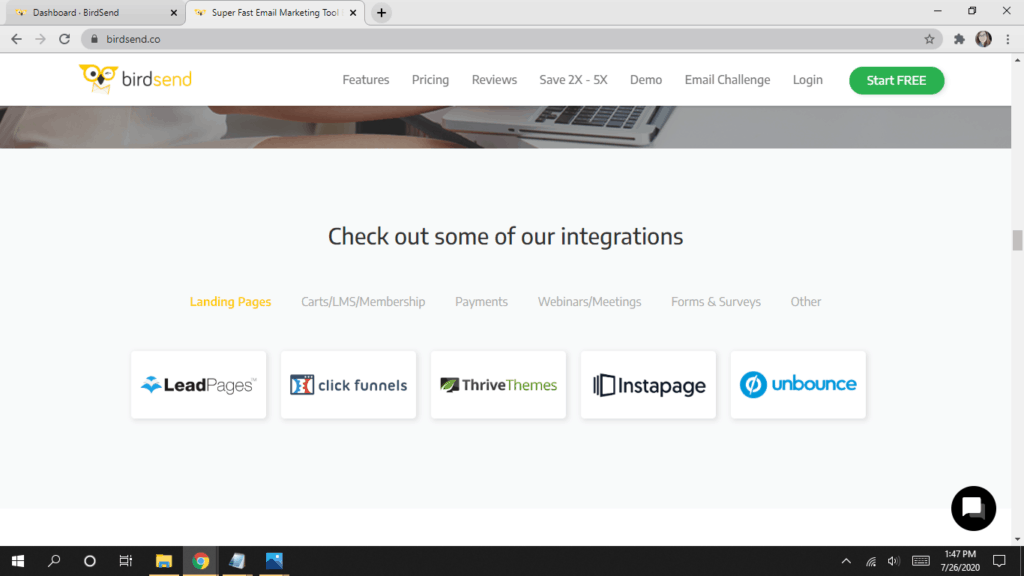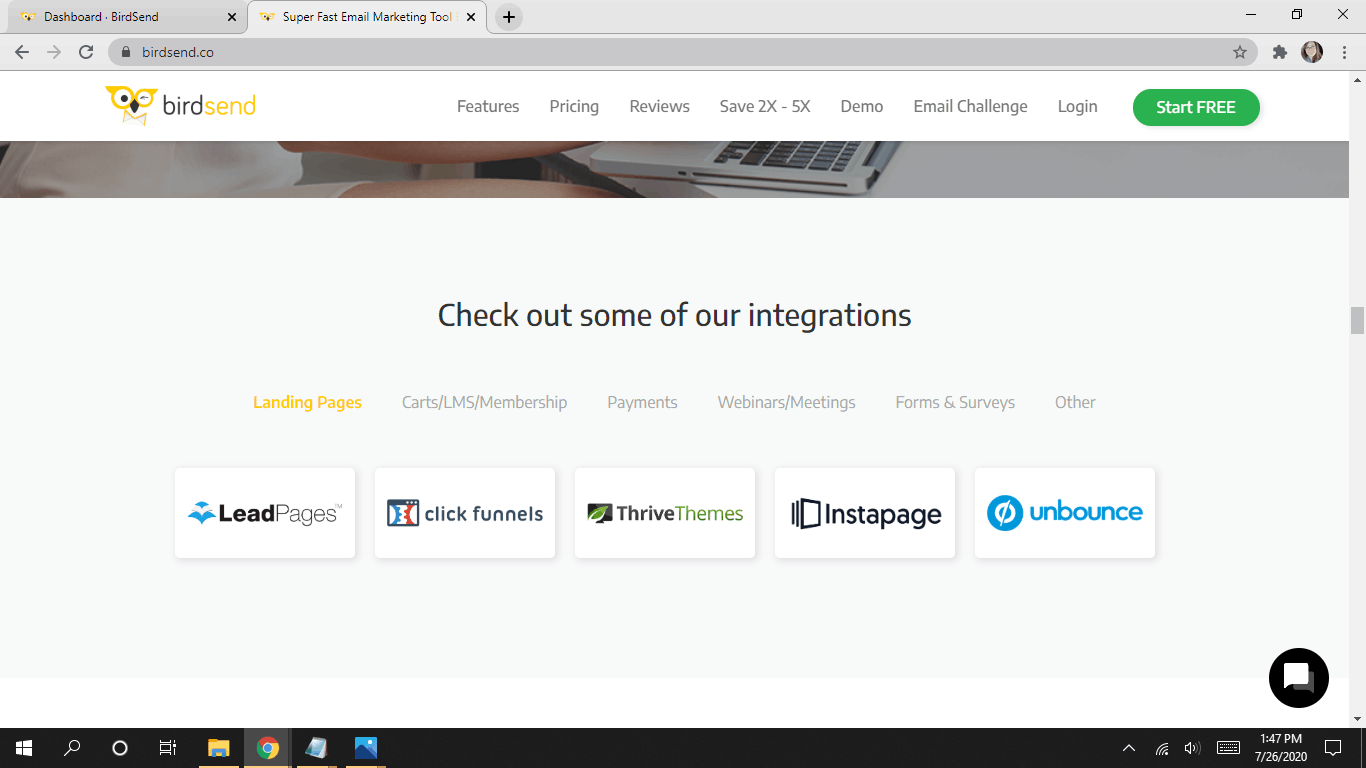 As of this writing, here is the full list of BirdSend Integrations:
Opt In Forms Creators and Landing Pages:
ClickFunnels
Thrive Themes / Architect / Leads
LeadPages
InstaPage
Unbounce
Kyvio
OptimizePress
OptinMonster
Convertri
MailMunch
Squarespace
Sumo
InstaBuilder
Integration with other landing page / opt-in form creators
Genesis Enews Extended
Cart / Payment / LMS / Membership:
WooCommerce
Shopify
SendOwl
MemberPress
ThriveCart
Thinkific
aMember
SamCart
Automatically add your customers from these accounts:
Zaxaa
Kajabi
Gumroad
Infusionsoft
Stripe
PayPal
Ontraport
Chargify
Recurly
HubSpot
SalesForce
ClickFunnels
PayKickstart
Ecwid
Regular Forms:
Google Sheets
Google Forms
Typeform
Wufoo
JotForm
SurveyMonkey
Eventbrite
Ninja Forms
Webinar / Meeting System:
GoToWebinar
WebinarJam
Demio
WebinarNinja
EasyWebinar
Zoom
Other Integrations:
Slack Integration
Gmail Integration
Google Calendar Integration
Google Drive Integration
Trello Integration
Dropbox Integration
Asana Integration
Evernote Integration
Facebook Leads Ads Integration
Facebook Custom Audiences Integration
Intercom Integration
Drift Integration
Crisp Integration
Calendly Integration
ScheduleOnce Integration
Basecamp Integration
BirdSend also offers a WordPress plugin to allow users to add forms to widgets, add forms automatically based on each form's display triggers, or by using shortcodes in any text box to place a form on your site.
Plugin Pain Points
Perhaps my least favorite feature of Birdsend is the WordPress plugin. The plugin works easily if you have one main opt-in. However, if you have multiple lead magnets and opt-ins, you may find that the plugin is complicated and cumbersome to use compared to other mailing list providers.
---
BirdSend and Zapier
With Zapier's BirdSend integration, you can integrate or connect BirdSend with more than 1000 third-party apps.
For example, with the Zapier integration you can connect:
Landing pages and opt-in form creators
Payment systems
Shopping carts
Membership software
LMS software
Webinars and Meeting software
Facebook
Google
---
Migration to BirdSend
Migrating your existing subscriber list to BirdSend is a painless process.
In fact, if you don't even want to deal with it, the BirdSend team will move it for you – for free.
BirdSend will move all of your subscribers, sequences, automations, and forms from your current mailing list provider.
To request a migration, create your new BirdSend account, then email their support.
It's hard to beat that offer.
If you want to move your contact list over to BirdSend without their help, you can download your current list into a .csv or .txt file and import the list into your new BirdSend account.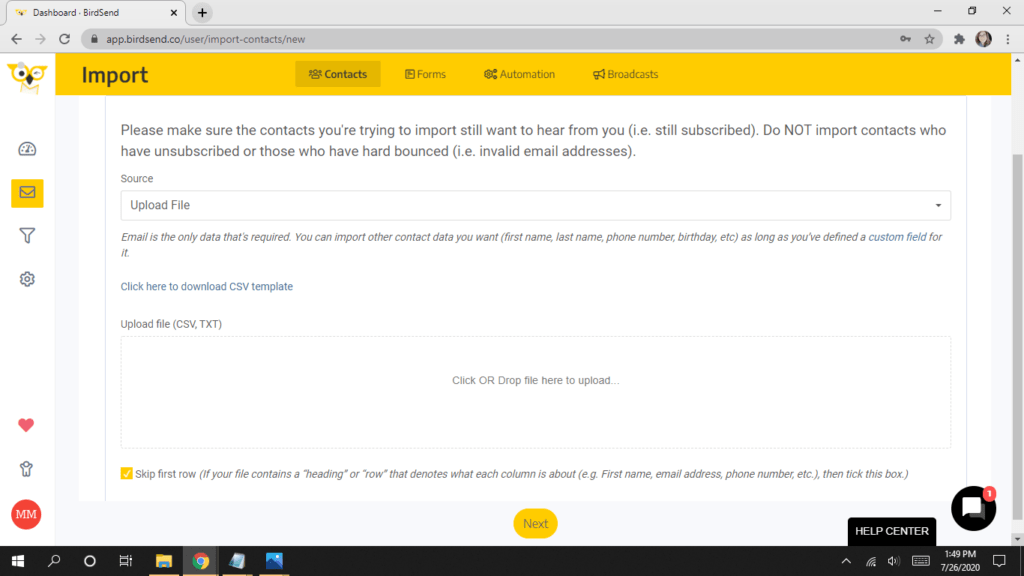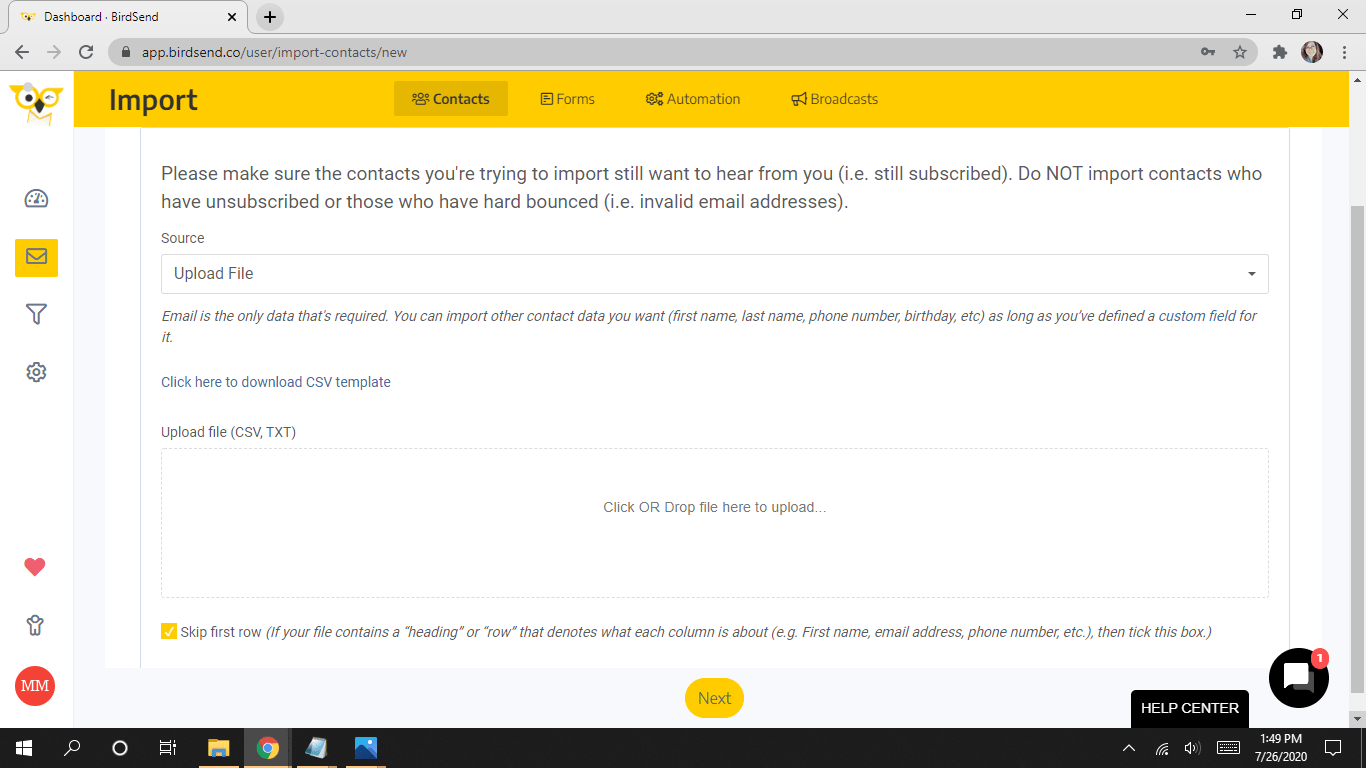 ---
25 BirdSend Tips, Secrets, Hacks & Tricks
A/B split test with one click
Send preview test emails
Spam checker – test each email with the built-in spam checker
Create VIP lists / segments with your most valuable subscribers
Stats at a glance
Resend emails with just a click
Filter forms by name, submission, or submission rate
Unlimited sequences and rules (automations)
See which emails are the most effective at a glance
Filter broadcasts by names, earnings, earnings per contact, sent date
Fully customize your email footer
Referrals earn 30% commissions plus you get 500 bonus contact and your referrals also get 500 bonus contacts
Customer support is top-notch
Join their Facebook group to talk email marketing with others using BirdSend
Automatically deliver lead magnets and content upgrades
Easily send your new subscribers to a tripwire after they fill out the form
Create drip campaigns or sequences to lead your reader in the direction you want them to go
Segment your list with tags and segments
Easily add a GDPR compliance checkbox to every email form
Easily subscribe existing contacts to a new sequence with just a couple clicks
Choose Double Opt-in or single opt-in for every form
Chose to send sequence emails at the same time as the subscriber initially subscribed or send sequence emails at a set time
Easily see stats like open rates and click rates for every sequence email at a glance
Exclude contacts from receiving certain sequence emails
BirdSend offers many popular integrations, including Zapier, allowing you to easily use third-party apps
---
Get Started With BirdSend
I hope you've found this comprehensive guide of BirdSend's features, uses and pricing useful.
READY TO GIVE IT A TRY?
Before committing to a subscription, you can try BirdSend at no cost through a 7-day free trial.
Start your BirdSend trial now.
RELATED RESOURCES: