This site contains affiliate links to products. We may receive a commission for purchases made through these links. However, this does not impact our reviews and comparisons.
Considering Constant Contact as the email platform for your online business?
In this guide, we will provide a detailed breakdown of Constant Contact's pricing plans and practices.
Constant Contact is an email marketing service that has a number of tools to help businesses become better at email marketing.
Additionally, the software features a number of email templates to help you become successful with your email marketing efforts without pulling your hair out while thinking working on the tech.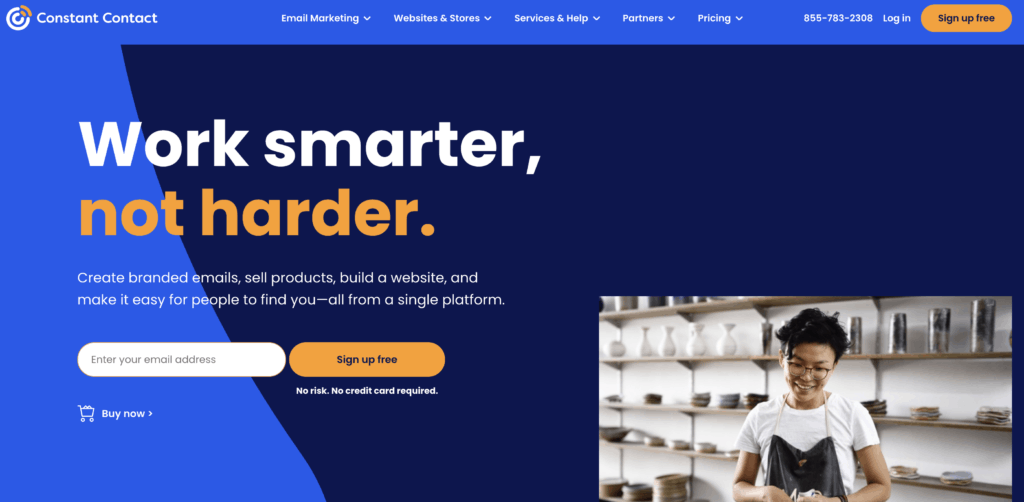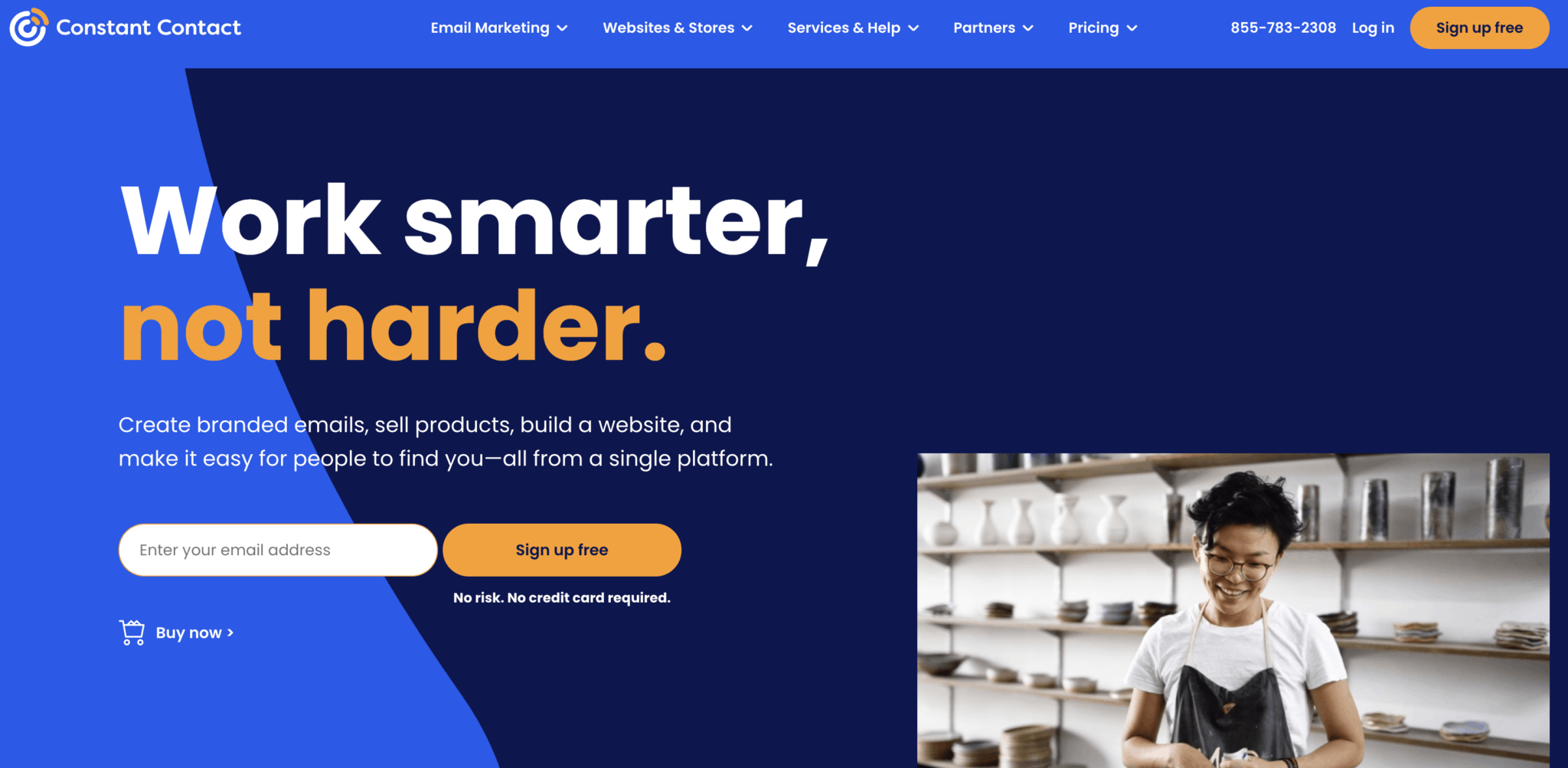 To engage customers, a good email marketing campaign is one of the best things to do and Constant Contact makes it easy for you.
Constant Contact is one of the largest email marketing software companies. Having recently refreshed their branding, Constant Contact boasts almost 600,000 people using their services.
RELATED: Read my full review of Constant Contact here.
---
Table of Contents
---
Constant Contact Pricing
Here is a view of different Constant Contact Pricing Tiers.
Like many other email tools, the Constant Contact Pricing plan starts with a free trial of 60 days.

During the free trial, you will be able to create different campaigns and test them with up to 100 contacts.
Once your free trial ends, you'll still be able access the contacts you've entered, your test campaigns, etc. You simply won't be able to deliver any campaigns.
Besides a free plan, the two premium Constant Contact plans are Email Plan and Email Plus Plan.
Constant Contact pricing tiers vary based on your number of contacts.
Check the table below to see how much Constant Contact will cost each month and learn about Constant Contact pricing per contact.
NUMBER OF CONTACTS
EMAIL
(cost per month)
EMAIL PLUS
(cost per month)
0 to 500
20 USD
45 USD
500 to 2500
45 USD
70 USD
2500 to 5000
65 USD
95 USD
5000 to 1000
95 USD
125 USD
10000 to 15000
195 USD
195 USD
15000 to 25000
225 USD
225 USD
Almost 50000
335 USD
335 USD
Needless to mention, the reason that the Email Plus plan starts at more US dollars than Email plan is because of the extra features it offers along with the basic ones.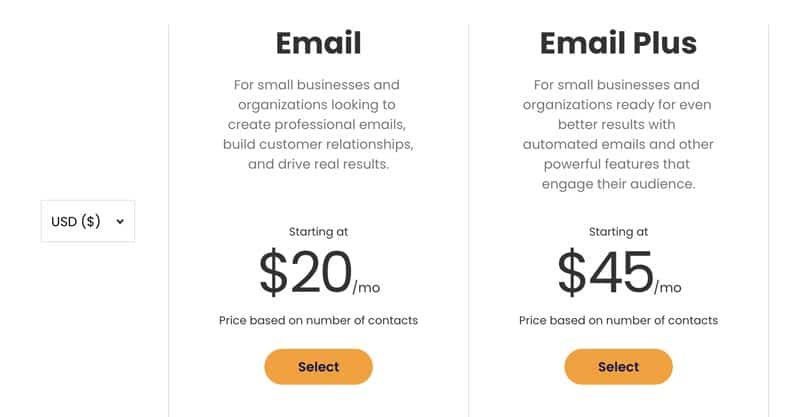 Let's see what both the Constant Contact packages have to offer to make your decision easier.
| | | |
| --- | --- | --- |
| SERVICES | EMAIL PLAN | EMAIL PLUS PLAN |
| Email Marketing (Sends) | Unlimited | Unlimited |
| Customized templates | Available | Available |
| Tracking and Reporting | Available | Available |
| Advanced E-commerce Marketing | Not Available | Available |
| Automated Welcome Emails | Not Available | Available |
| RSVP | Not Available | Available |
| Surveys | Not Available | Available |
| Polls | Not Available | Available |
| New Customer Consultation | Not Available | Available |
| Email Automation | Not Available | Available |
| Email Marketing | Not Available | Available |
| File Storage | 1 GB | 2 GB |
---
Constant Contact Add-on Services
Additionally, Constant Contact offers add-on services for businesses that need professional help to run their campaigns.
For example, one of the available add-on services will help you to get a customized email template design, starting at 79 USD.
Another add-on service is personalized consulting services from Constant Contact experts to help you delve deeper and make your email marketing game much stronger.
You can hire someone to review your campaign or help you develop effective campaigns. The pricing starts at 50 USD per month.
---
Constant Contact Pricing vs Mailchimp
Mailchimp and Constant Contact are two of the leading email marketing software in the present in the market.
And the first and foremost thing you as a business owner will compare between the two is obviously the pricing packages.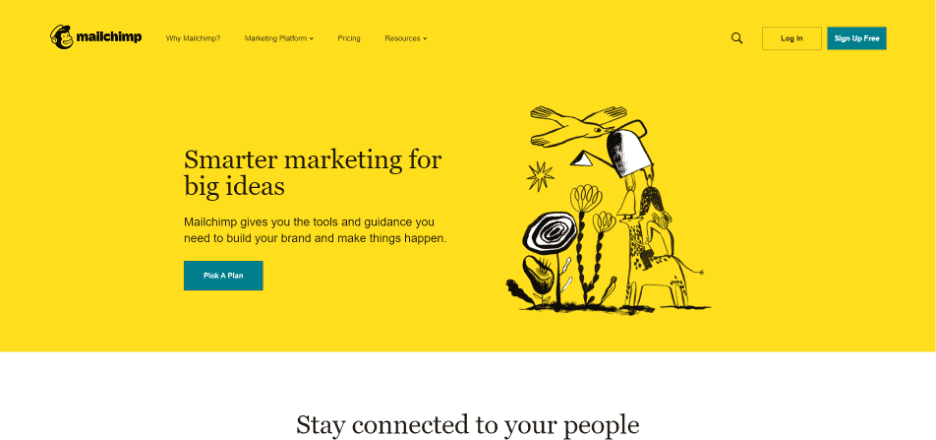 Here is a comparison between Constant Contact pricing vs Mailchimp.
| | | |
| --- | --- | --- |
| SERVICES | MAILCHIMP PRICING | CONSTANT CONTACT PRICING |
| Free trial | Up to 2000 Subscribers | 60 days trial |
| Paid Email Marketing Service | Starts at 20 USD up to 1500 subscribers | Starts at 9.99 USD for just up to 500 contacts |
| 5000 Subscribers | 50 USD/Month | 55 USD/Month |
| 10,000 Subscribers | 75 USD/Month | 105 USD/Month |
| 15,000 Subscribers | 135 USD/Month | 130 USD/Month |
| 25,000 Subscribers | 200 USD/Month | 180 USD/Month |
When it comes to comparing Constant Contact pricing with Mailchimp, the winner depends on what your business requirements are.
READ: Full review of Mailchimp features here.
My objective is to help you understand that different business types and different business sizes have different requirements – therefore, going through all of my other email marketing reviews could be extremely beneficial for you.
---
Constant Contact Pricing for Non-Profits
If you are a nonprofit organization, donations are the major factor to help you achieve your goals.
Email Marketing helps you as the most efficient and cost-effective ways to promote your campaigns to your audience and Constant Contact Pricing plans for nonprofits help you with it!
Constant Contact gives a 20% discount off the standard prices to the non-profit organizations when you prepay for 6 months or 30% discount when you prepay for 12 months.
With that, it provides easy to use features and the right combination of tools to convert your nonprofit marketing strategies into successes through member recruitment, fundraising and event management.
---
Is Constant Contact Best?
"Is Constant Contact best" is what you as a business owner will first put your thoughts into. Investing in the best is obviously the first and foremost concern.
Constant Contact has become one of the widely accepted email tools in recent years, across industries.
What makes it one of the best email marketing tools are the special features it offers that not many of its competitors offer – especially at this price point.
They offer one of the highest deliverability of emails in the market. Also, some interesting niche features such as event management makes it stand out among the competitors and comes handy to some small businesses.
Constant Contact could be the best option for you as one of the few tools that allow you to manage event invitations, tickets and registrations all together. Also, it is quite easy to use and you can get to most places with one click.
Also, it gives access to a number of email types such as basic automations, event registrations, coupons, surveys, polls and autoresponders.
---
Constant Contact Pricing FAQs
Does Constant Contact have a free plan?
Constant Contact comes with a free 60 day trial so that you can get used to the software. After that, there is option to choose from two Constant Contact paid plans.
How long is the Constant Contact Free Trial?
Constant Contact offers a 60 day free trial to explore its features and get to know the software better.
What is Constant Contact used for?
Constant Contact helps small business to create professional campaigns so that they can increase their customer engagement through email marketing.
Is Constant Contact worth it?
Constant Contact is a tool for small businesses and they definitely have the basics properly covered for small businesses to be satisfied. So, if additional features are needed by the small businesses, Constant Contact is definitely worth it.
---
Conclusion
Constant Contact comes with two pricing plans, starting with a 60-day free trial. The Email plan starts at 9.99 USD for up to 500 contacts and the Email Plus plan starts with 45 USD for up to 500 contacts.
The reason that the price considerably increases for the Email Plus Plan is because it has some additional features as compared to the Email Plan. You can choose the best for yourself from the two Constant Contact Pricing Tiers that suits your requirements the most.
Constant Contact is a great tool to help make your email marketing journey more successful.
---
OTHER RESOURCES