This site contains affiliate links to products. We may receive a commission for purchases made through these links. However, this does not impact our reviews and comparisons.
In a search for the best email marketing tool for your business?
You'll come across tons of options, and it's hard to pick one. Today, I'll help you narrow down your decision-making with a side-by-side breakdown of two powerful email marketing tools in this MailerLite vs. ConvertKit comparison.
READ THESE FIRST:
– MailerLite Review & Guide
– ConvertKit Review & Guide
Whether you're a start-up or a business that is starting to scale, email marketing is an incredible investment.
Email marketing is still one of the most profitable ways to market your business or website online.
MailerLite and ConvertKit are both simple email marketing tools with a wide range of features to help you stay in touch with your subscribers at all times.
The Quest to Find the Best: MailerLite vs. ConvertKit
Let's face it – you're in search of the 'complete' package.
Your email service should be something that can cover all your mass emailing needs while making it easier for you to dispatch emails quickly. Not to mention, the pricing of the email marketing tool should match your requirements as well.
I've compiled a list of some of the most critical factors which can make or break the decision for you in between MailerLite or ConvertKit.
---
Table of Contents
---
Initial Setup
Let's start off how you'd usually start with your email marketing tool: by setting it up.
Personally speaking, I'd like to spend the least amount of time on setup and quickly get to the real thing – sending out emails.
This brings me to my first contender, MailerLite.
MailerLite will keep you waiting for a while, as their setup is a three-step process. As I said before, it's justified as the platform would like to keep its platform far away from spammers.
MailerLite gives you 500 contacts (and limited features) to send out emails while your application is under review.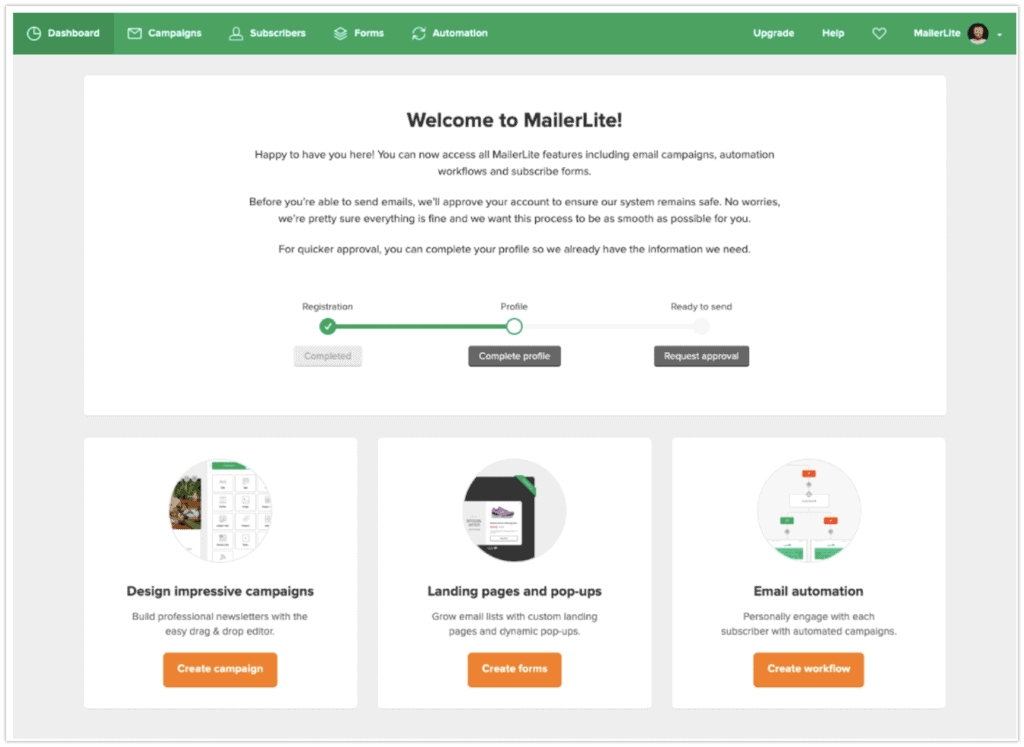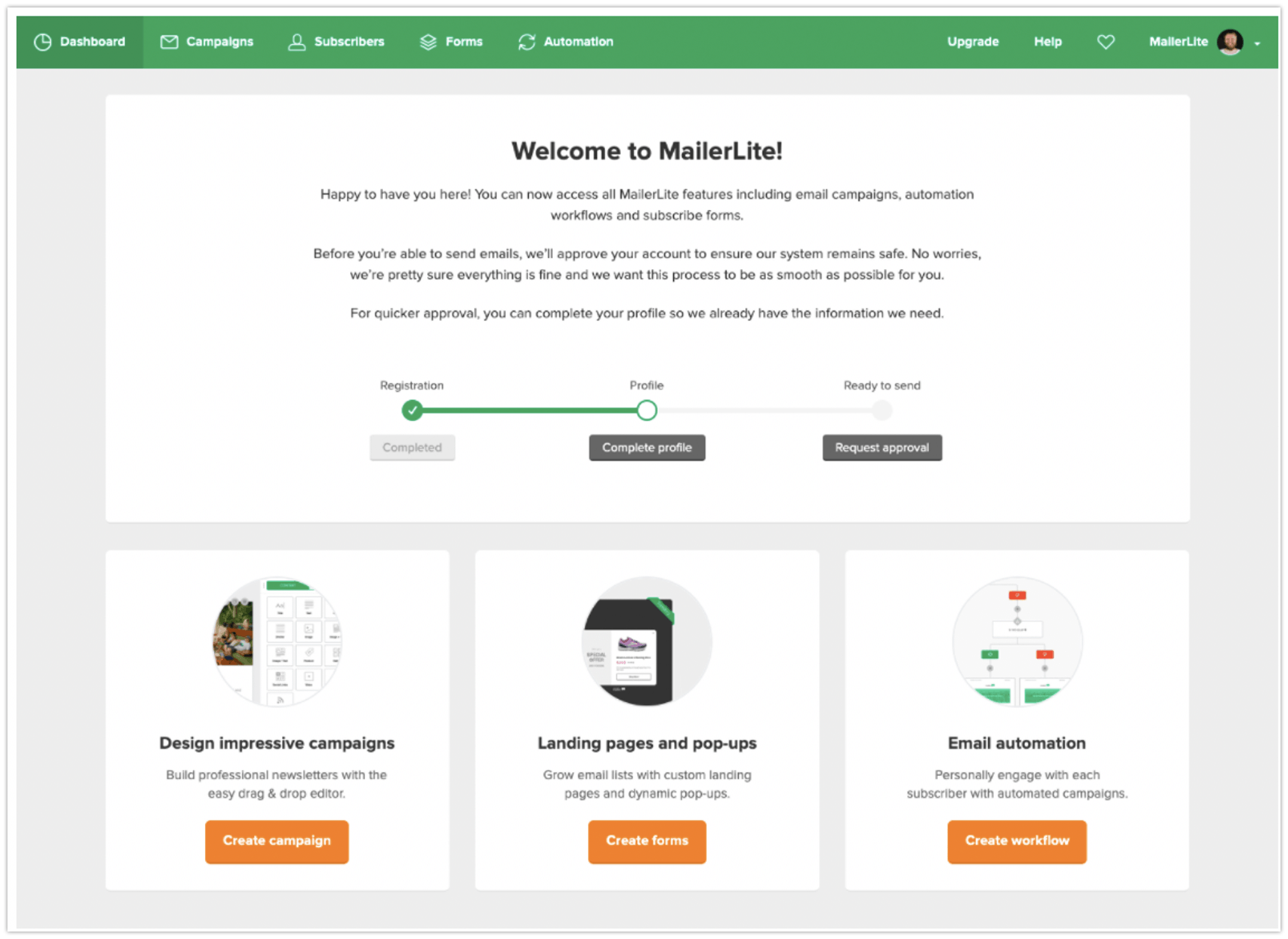 With a 30-day free trial, ConvertKit's setup simply requires an email address and you can put a credit card on file later.
Upon sign-up, you can request free migration from another platform (such as Mailchimp).
If you migrate your list on your own (very easy to do) from another provider, you will be asked by ConvertKit to verify ownership of this list. You will likely be asked to supply a screenshot of a report from your previous provider. This is quite normal; the email provider simply wants to make sure you are a legitimate user with legitimately obtained subscribers.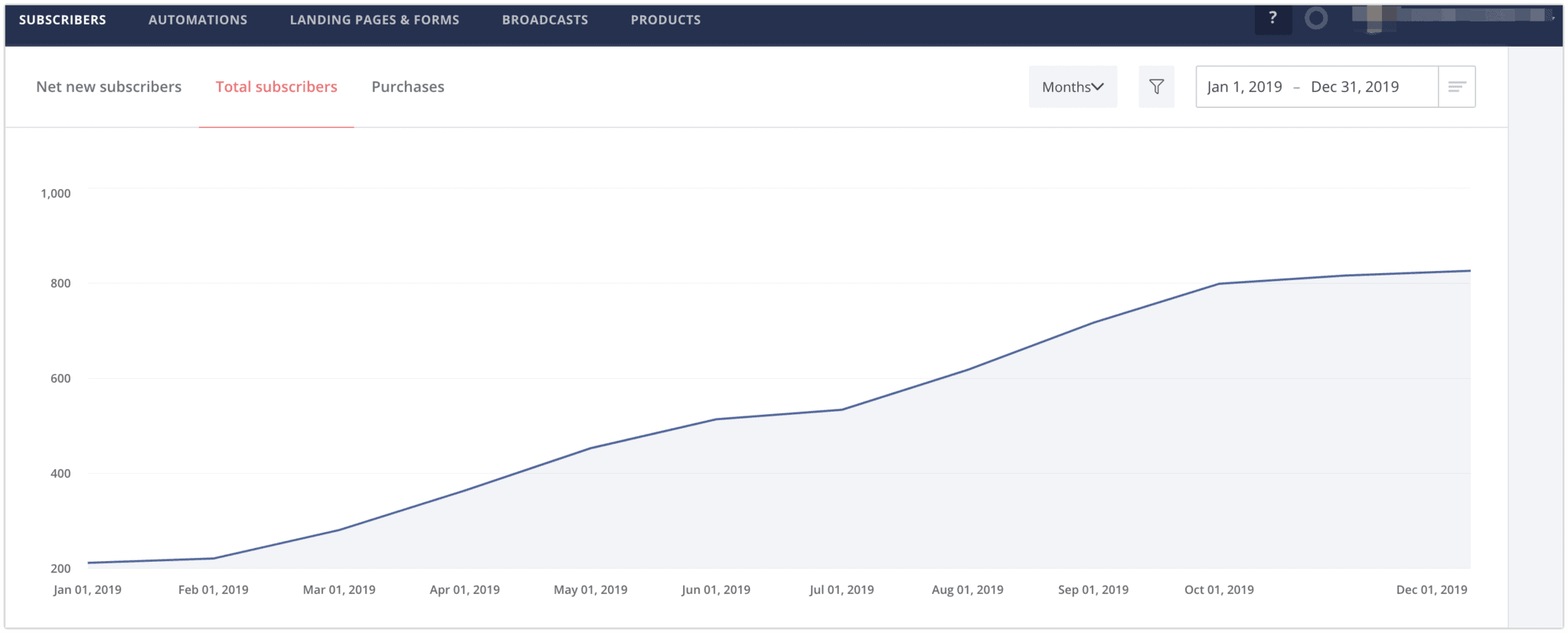 ---
Subscriber Management
How does your preferred email tool take care of your subscribers, and is it easy to manage or send emails to them?
MailerLite creates a list of your contacts or subscribers.
You can then select a list to send out a particular email to. You can further divide this list on the basis of interests and rules using 'Groups and Segments'.
For example, a group of users expressed interest in computers, while others only like mobile phones. Using groups, you can send out relevant emails to users.
If you'd like to know more about MailerLite's Groups and Segments, have a look here:
ConvertKit, on the other hand, does things differently.
It uses a subscriber-based management style where all your contacts are thrown in a single list. But you can separate one from another using the concept of 'tags' (which are basically groups and segments from MailerLite).
Here's how you can import subscribers in ConvertKit:
---
Ease of Use
MailerLite has one of the cleanest interfaces available for its users. All main features are available to you from the get-go on the main dashboard. Clear labeling on each feature can help you identify what's in a particular category – allowing you to explore it out.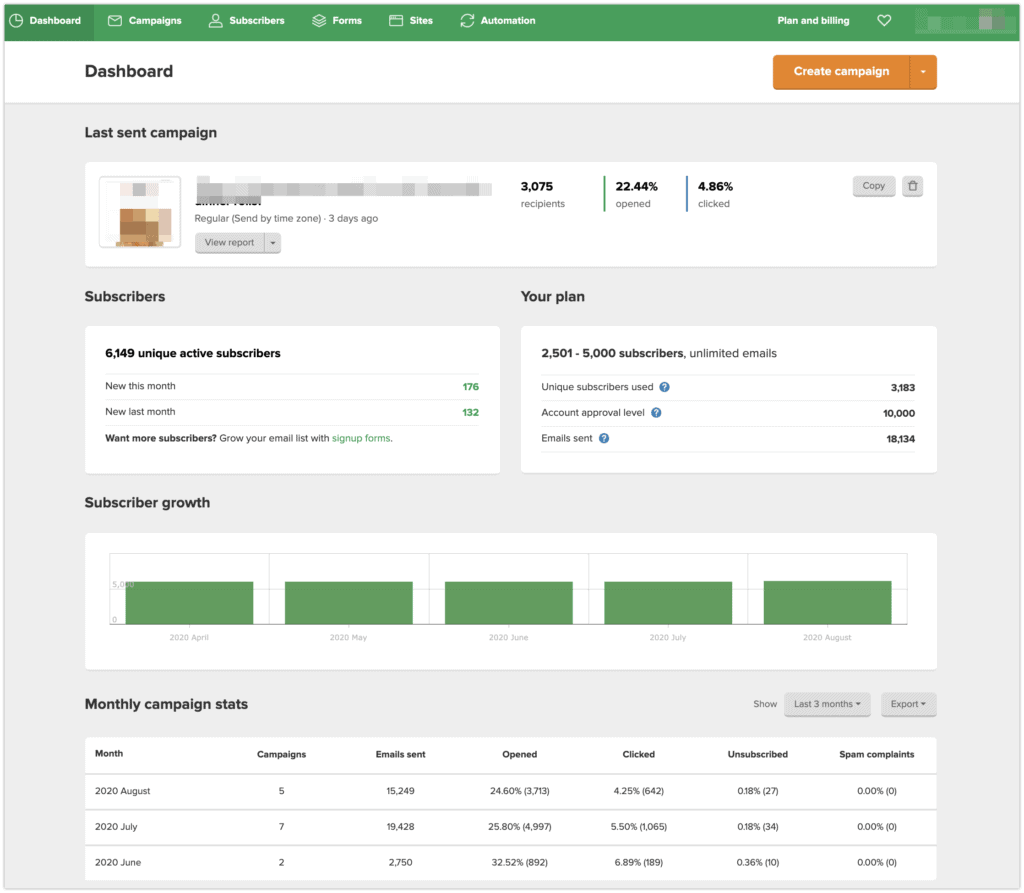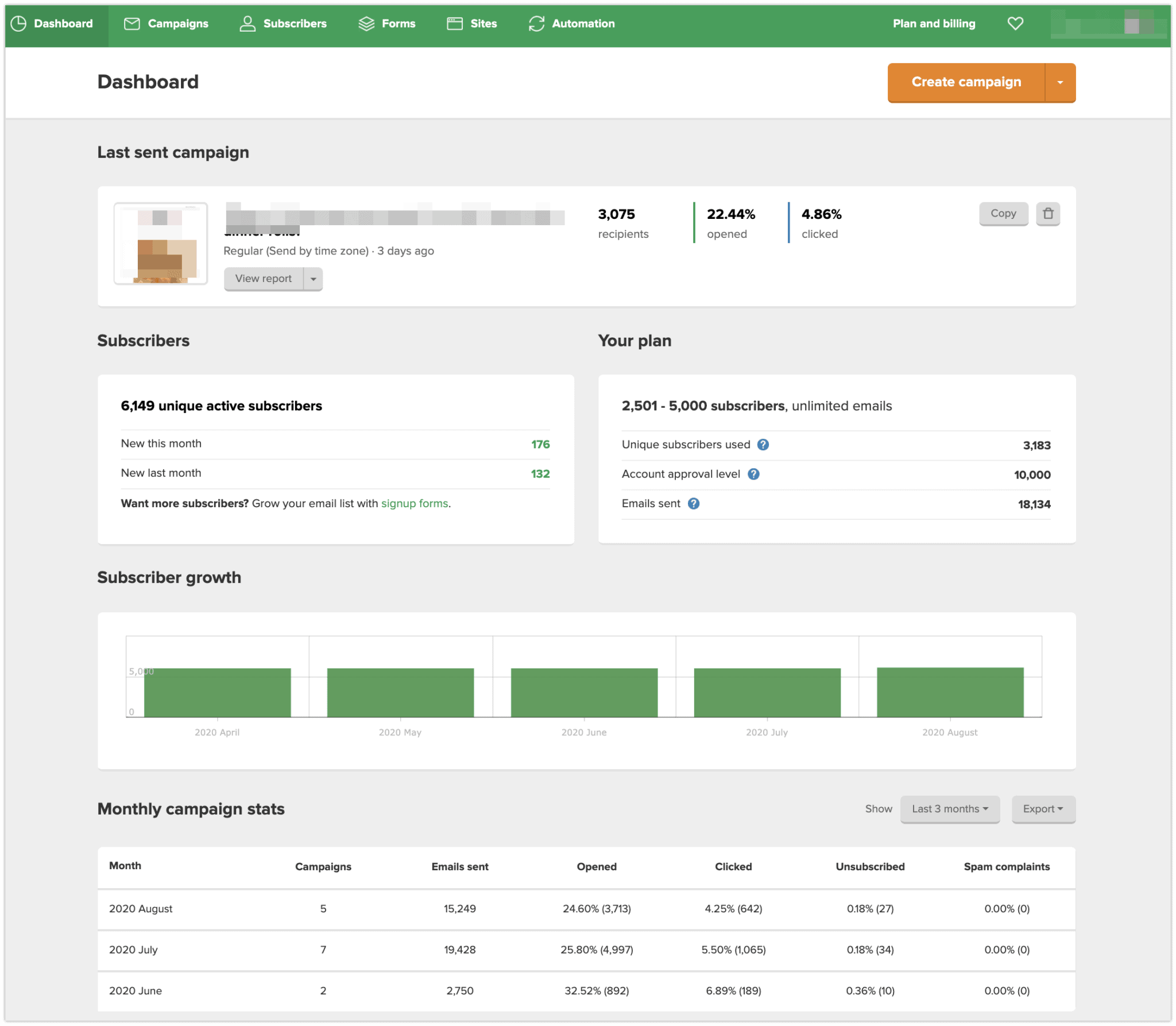 The visual editor provided by MailerLite is perhaps the most important feature for non-designers to make visually appealing emails, and it's just as easy to utilize.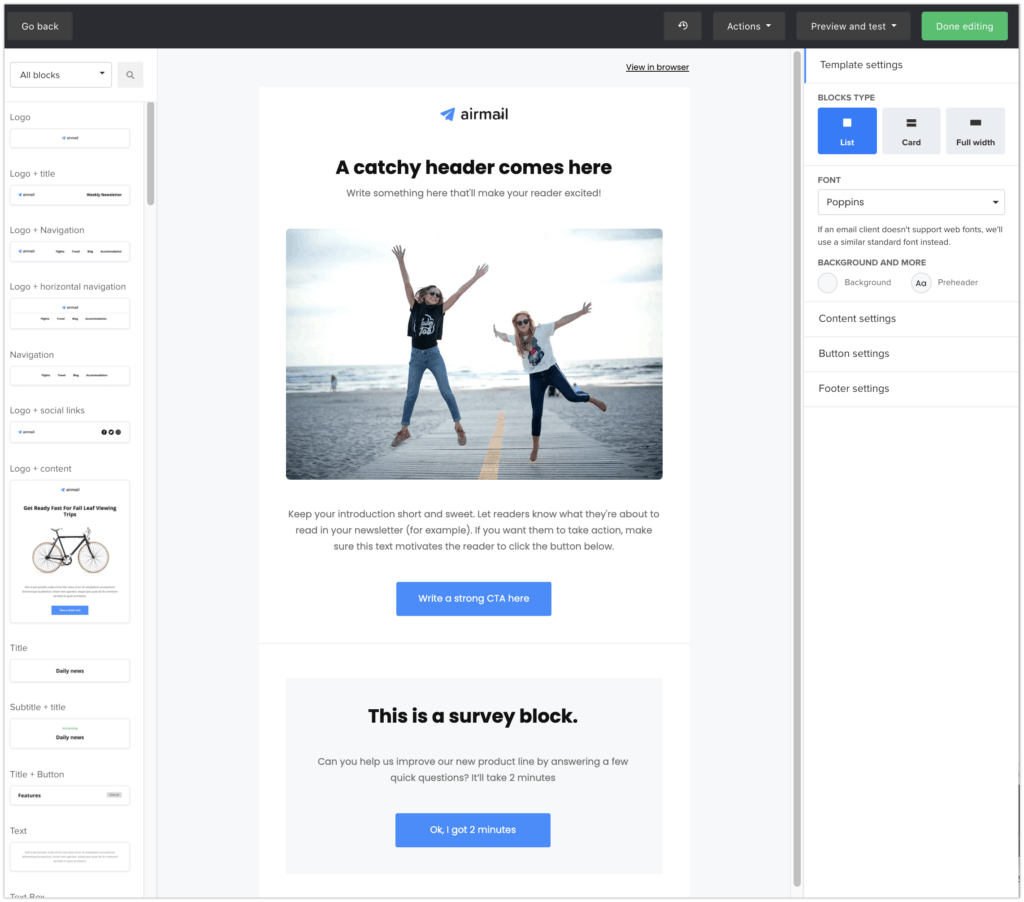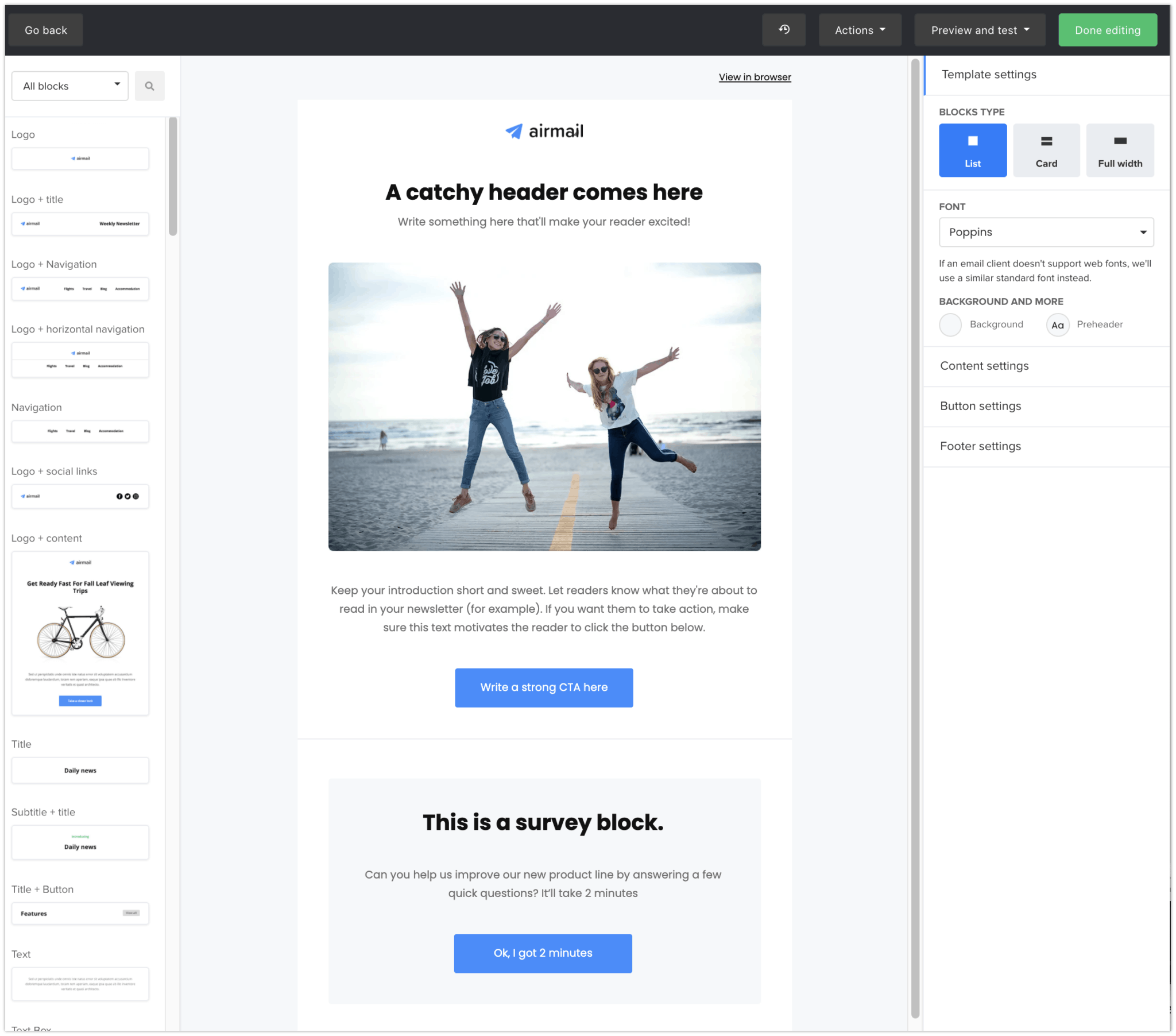 ConvertKit also has a simple and well laid-out interface that is quite easy to get around.
Unlike MailerLite, ConvertKit has fewer options and an even less cluttered navigation bar. It's pretty straightforward with clear labels like broadcasts, automation, subscribers, and others.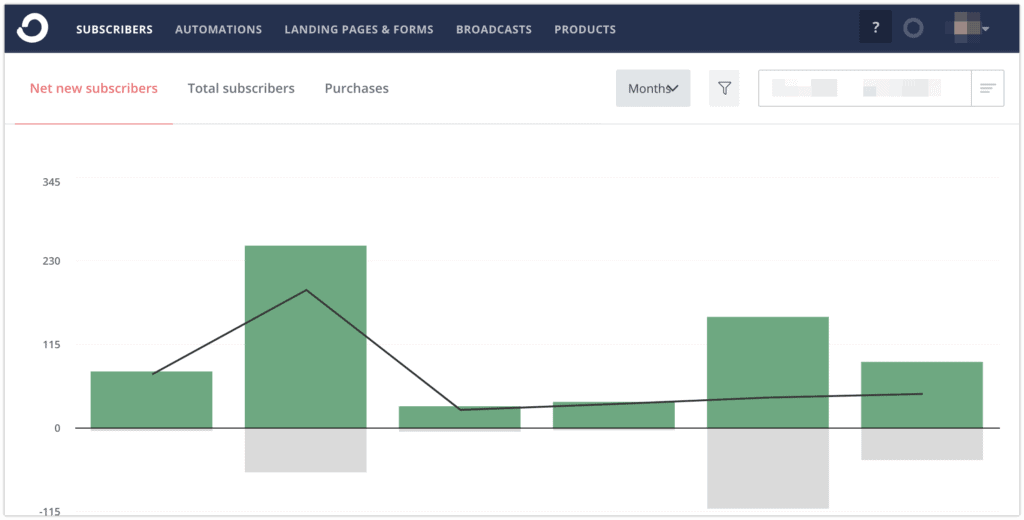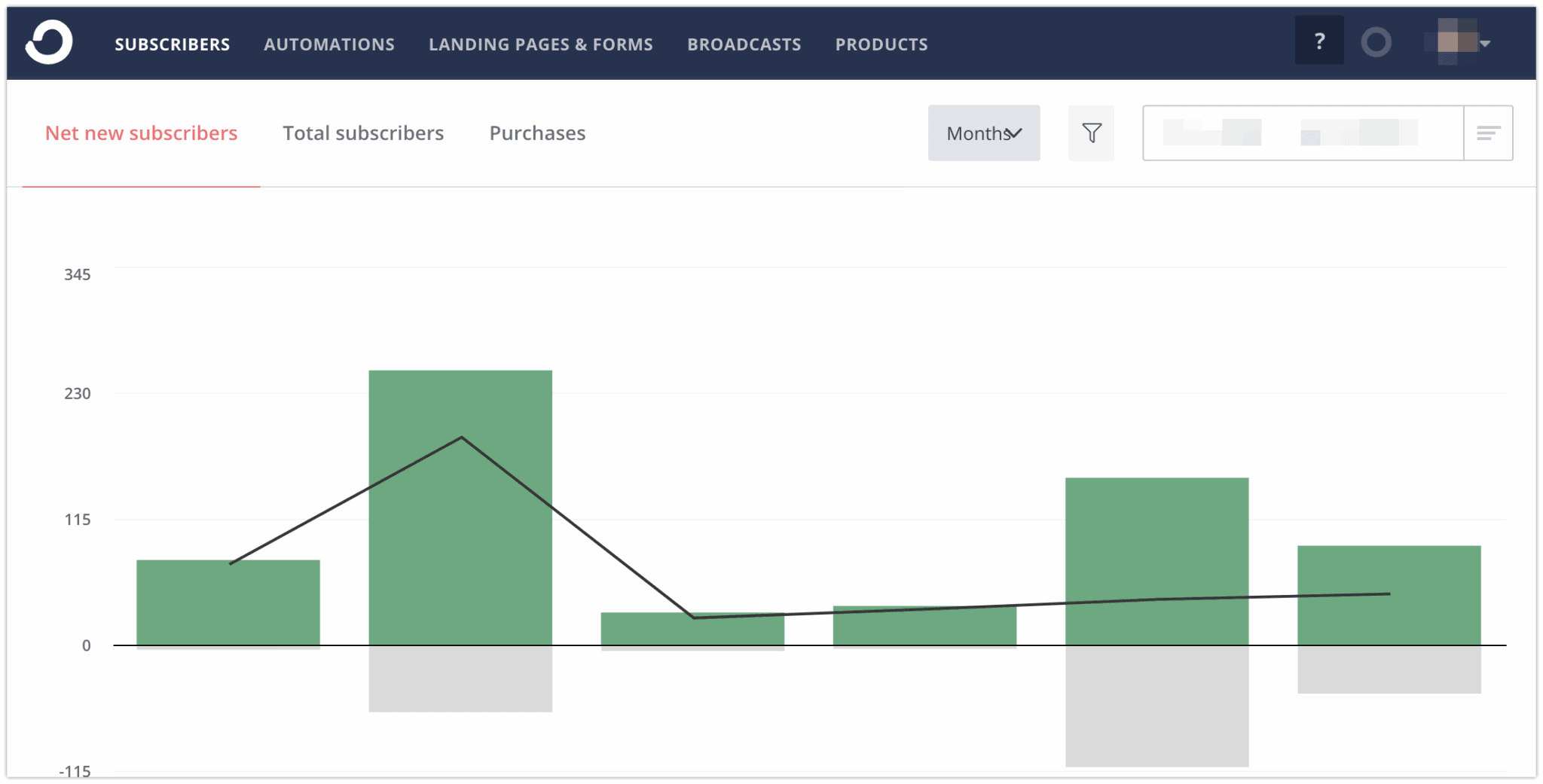 ---
Designs, Templates, and Flexibility
MailerLite offers you the chance to ramp up your email's visuals by using its themed templates.
Some of these templates are beautiful, while others can be a bit dull. The one thing which you'll definitely love across these themes is how easy it is to make use of these flexible themes.
The Drag and Drop editor allows you to experiment with what your final email will look like, and you can go anywhere from subtle to full jazz – it's up to you.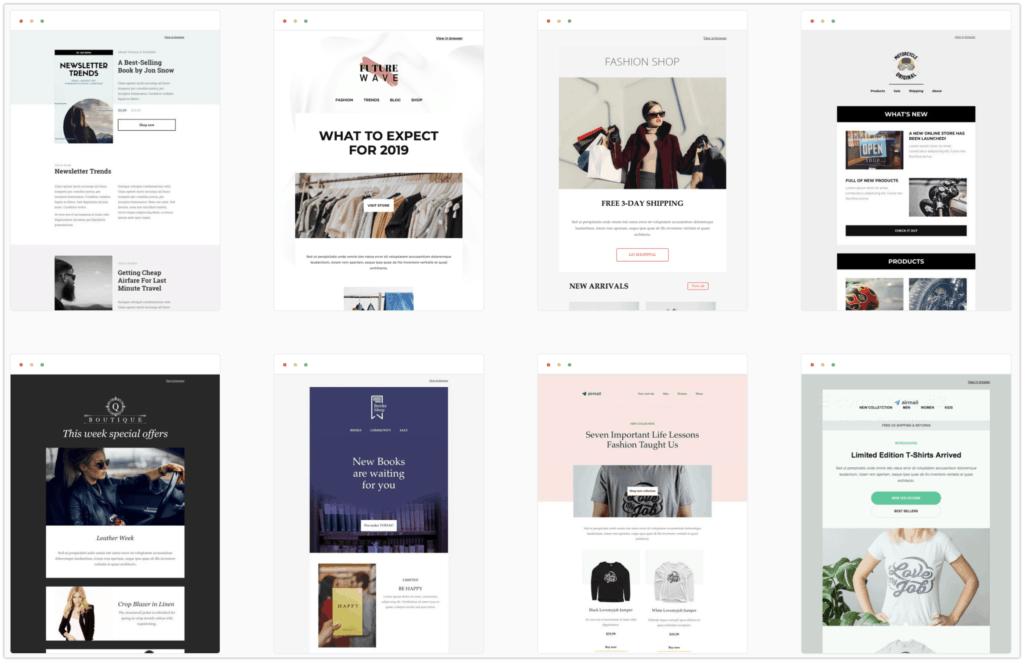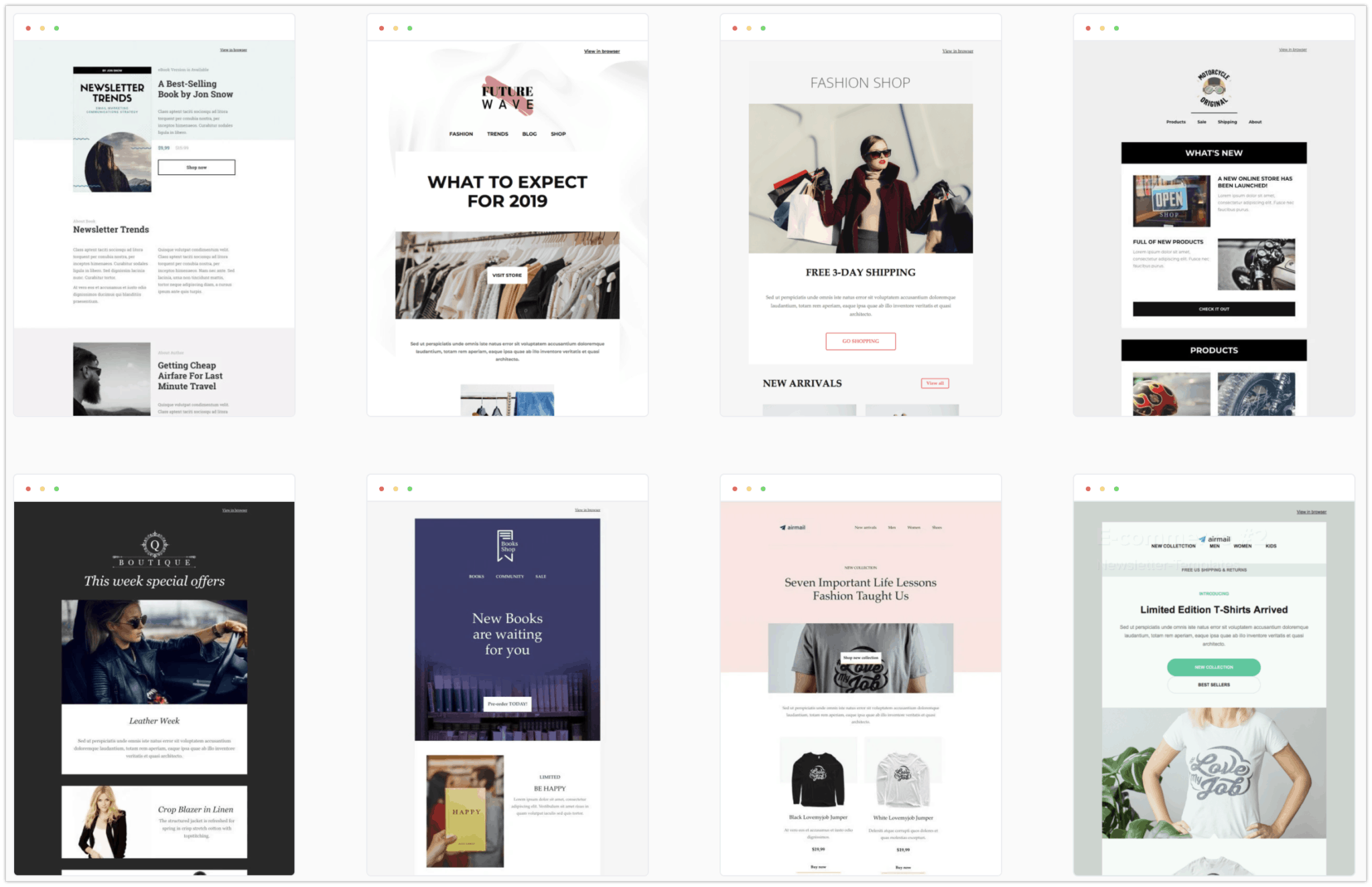 ConvertKit, on the other hand, vehemently believes "less is more" in email template design.
They have three email designs ready to use with different fonts in each option, images, and text formatting.
This video shows how to do some simple edits to ConvertKit email templates:
You can, also, create your own email templates. I have made my own templates (or hired an outside designer) to create a template.
Once you have your email template CSS/HTML code, you can add it to your ConvertKit account for immediate use.
Here's how that works:
For creating individual emails, ConvertKit's email builder allows you to add your own images or select images from Unsplash (the direct integration is nice).
Via ConvertKit's editor, you can change the font, color, alignment, or add a link to your contents in an interface that reminds me very much of WordPress Gutenberg.
Both email marketing tools also have extensive support for registration forms; customized unsubscribe pages, landing pages, and more!
Here's how you can create and manage landing pages using MailerLite:
---
Deliverability
Contacts? Ready.
Designs? Ready.
It's time to send – but did it really send your email?
Deliverability of your email from your platform to your customer's inbox is what's most important about the whole ConvertKit vs. MailerLite debate.
An email can drop by your customer's spam, inbox, promotion inbox, or bounce right out.
Both platforms allow you to authenticate your emails, using strict protocols like SPF and DKIM (fairly technical stuff). It's also important that you follow the best guidelines to make the best of your email marketing tool and delivering your emails to the inbox directly.
MailerLite offers Sender Policy (SPF) & Domain Keys Identified Mail (DKIM) authentication. Here's how to set that up on MailerLite:
As of this writing, ConvertKit claims a deliverability rate of 99%. (See the full report here.)
In this training, ConvertKit shows you how to set up domain authenication:
---
Integrations and API Support
Whether it's a CRM you'd like to integrate your email marketing tool with or an e-commerce plugin – it's not a dream anymore.
Integrations are great to pair several tools together. For some tools, an API can also be used to integrate third-party platforms.
Luckily, both MailerLite and ConvertKit have integrations with leading tools and applications of the digital marketing world.
Wix, WordPress, Facebook, and Zapier are some of the big-shot names on the list. The integration of e-commerce stores and email marketing tool is an excellent technique to add your customers to your email newsletters directly.
For example, this video shows you how to add Facebook leads to your ConvertKit account using Zapier integration:
In this example, you can see how one customer uses Zapier to create automatic backups of his MailerLite list:
---
Automation
Want to take a day or two off to head out to the beaches?
Luckily, email marketing automation tools can completely take over your marketing needs and fulfill them all for you.
Both MailerLite and ConvertKit provide strong features for automating workflows.
ConvertKit has two main features to automate your emails – sequences and visual automation.
Sequences are a list of emails that are sent out in order.
These are pretty important if you'd like to welcome a new user to your platform, and then send out a helpful guide a couple of days later.
Similarly, the 'Visual Automation' section is ConvertKit's workflow-based editor, where you can visually specify how sequences are called. It also allows you to add multiple sequences and use events to determine which sequence it should go into.
ConvertKit does not offer automations or sequences in its Free Plan.
MailerLite is also an excellent option if you wish to automate your email workflows.
Be it subscribing your user to a particular list or the ability to automate the workflow on user clicks – you can do it all. MailerLite's automation is quite simple, and you can quickly wrap your head around it as most of it is drag and drop to manage your workflow.
Workflow automation is available in both MailerLite's free and paid plans.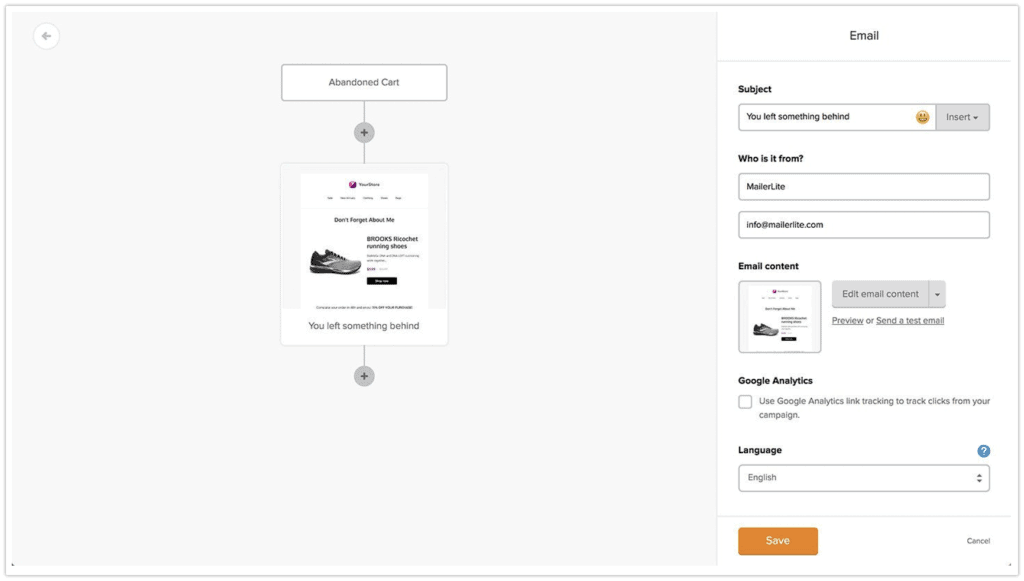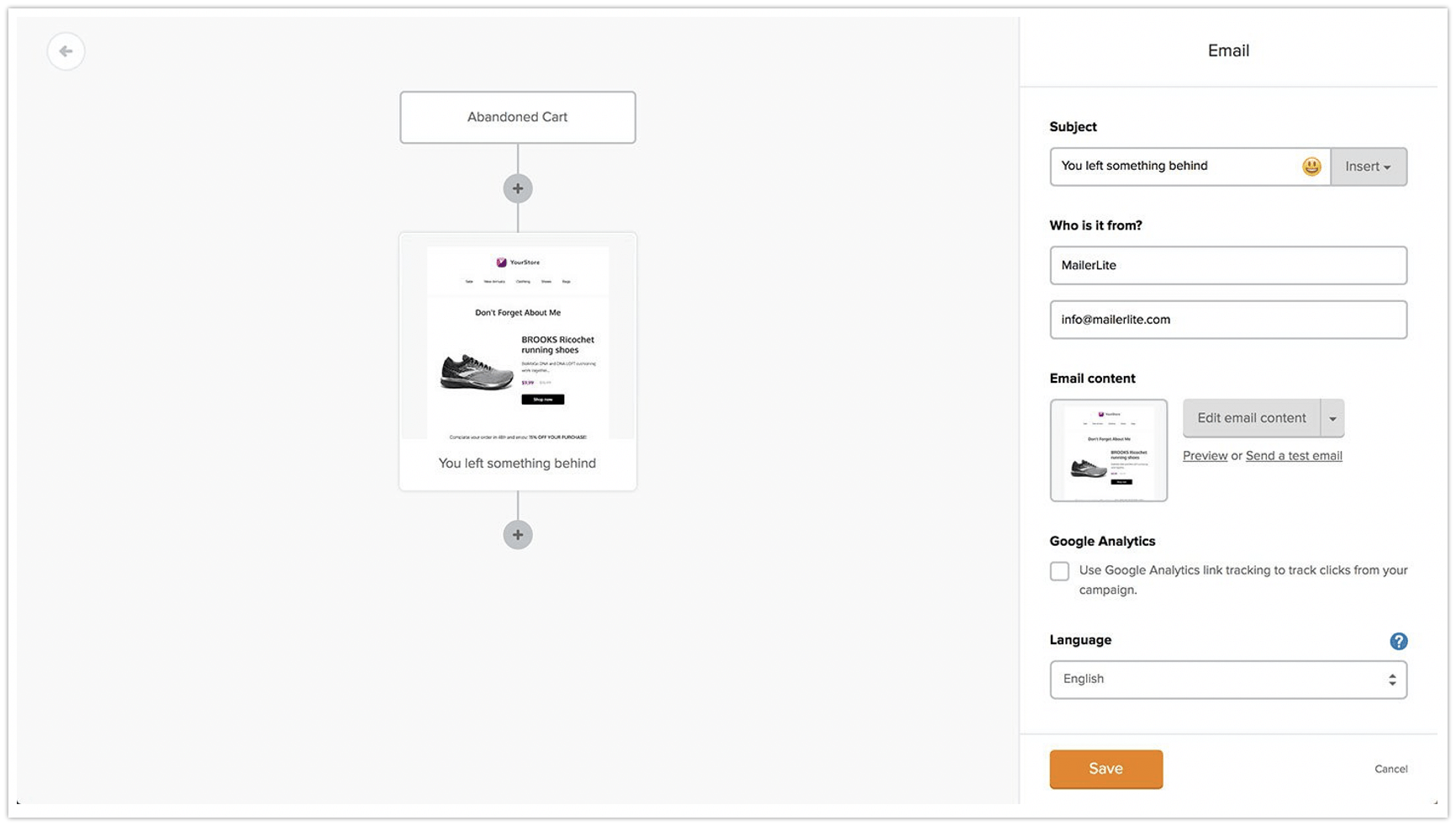 ---
Technical Support and Expertise
It's quite alright to stumble upon a few steps every now and then. What's important is whether or not your preferred email marketing tool has technical support or not. Between ConvertKit and MailerLite, the situation is fairly neck-and-neck to decide a winner.
MailerLite gives you the option to refer to their documentation, email them, or talk to a live agent. The availability of these options depends on your plan, as talking to a live agent is only available to paid plan users.
Agent-based help can help you save ample time and send out important campaigns rather than wasting it on little mistakes.
ConvertKit does an excellent job of technical support as well. It's easy to contact them via email or chat, and quickly resolve a problem. You can also search for pre-written articles or FAQs on how to resolve commonly known problems with ConvertKit's features.
---
Reporting
Did the automated workflow send out emails as expected, or did the last email sequence go out as planned?
Reporting is your one-stop solution to find all statistics related to your email campaigns. It's definitely a must-have feature for me, and it definitely helps to have all that information on one single dashboard.
MailerLite offers a simple dashboard to include helpful metrics for individual email campaigns, engagements, clicks, user locations, and much more. You can easily plan out upcoming campaigns by looking at the effectiveness of the past ones.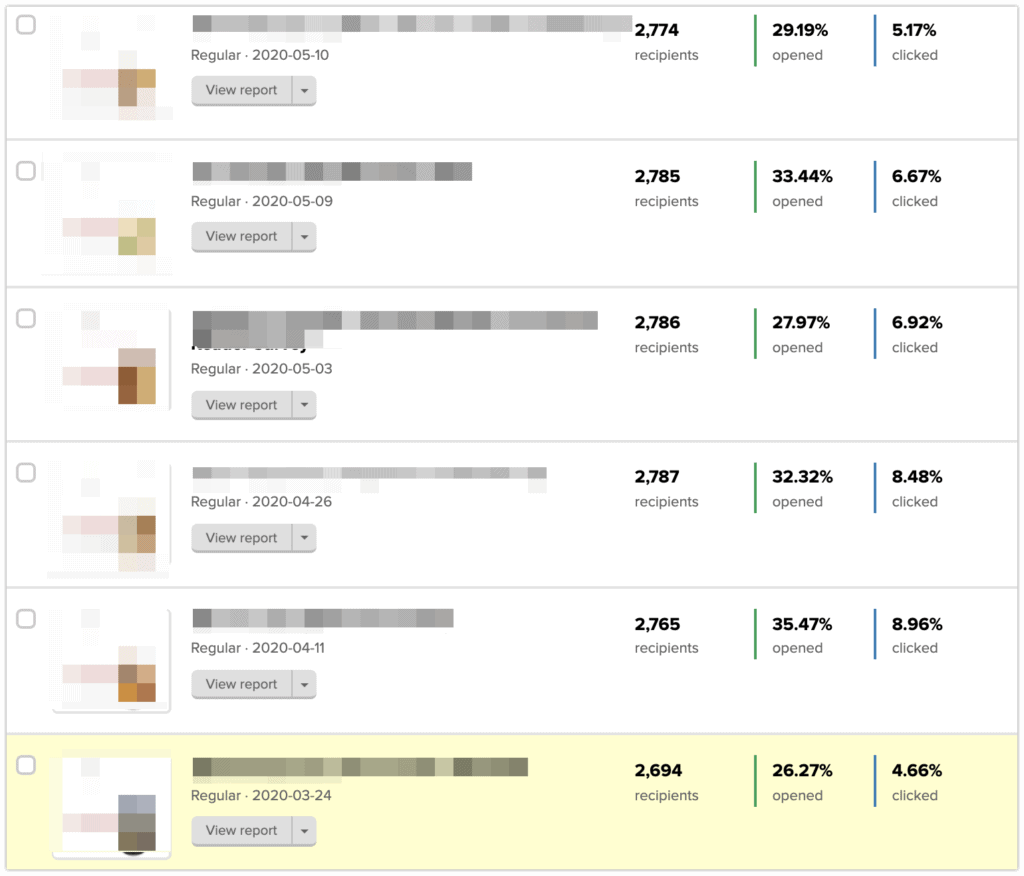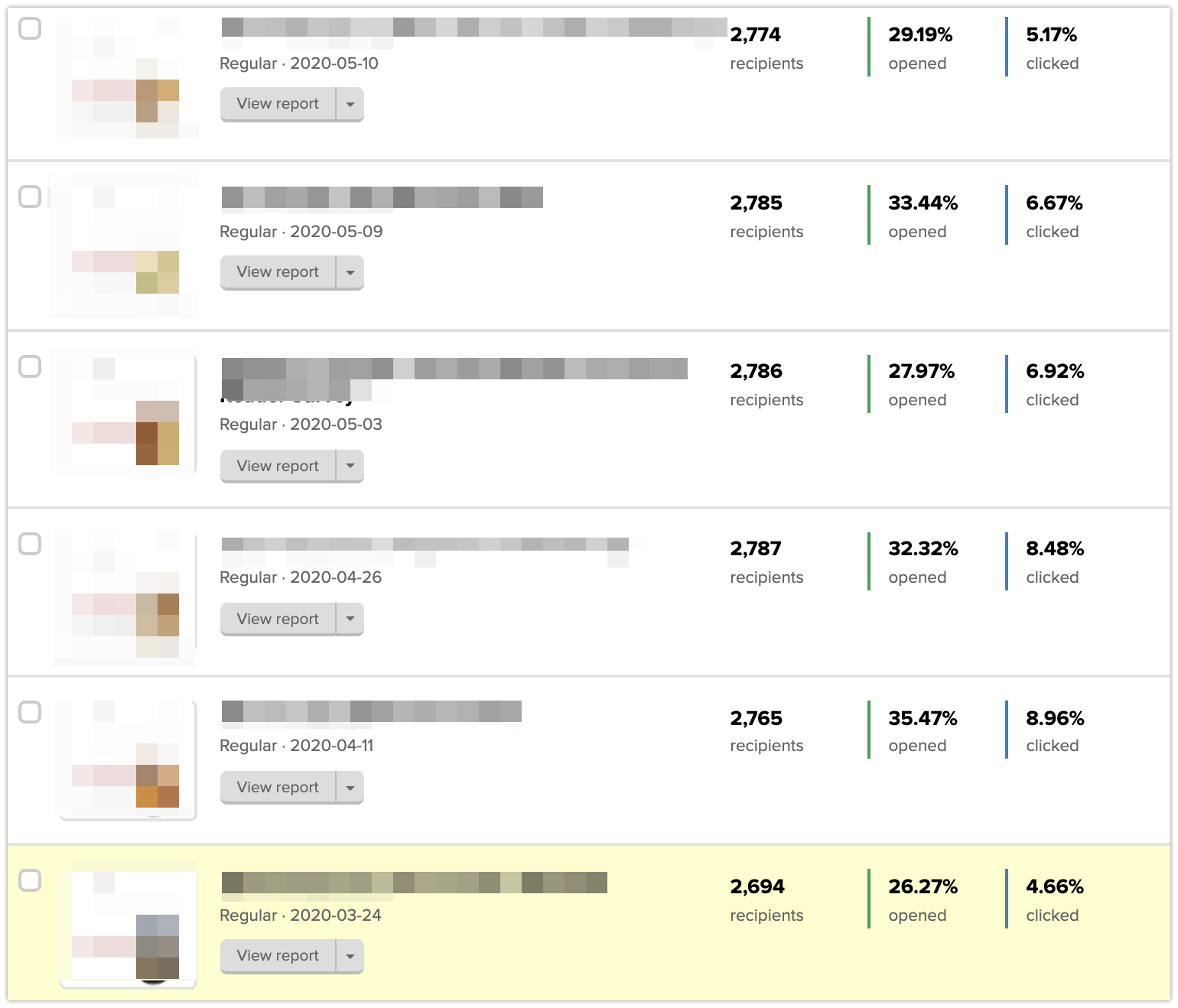 ConvertKit's reporting tool displays basic metrics like clicks, open rates, and the number of subscribers for a particular broadcast or sequence.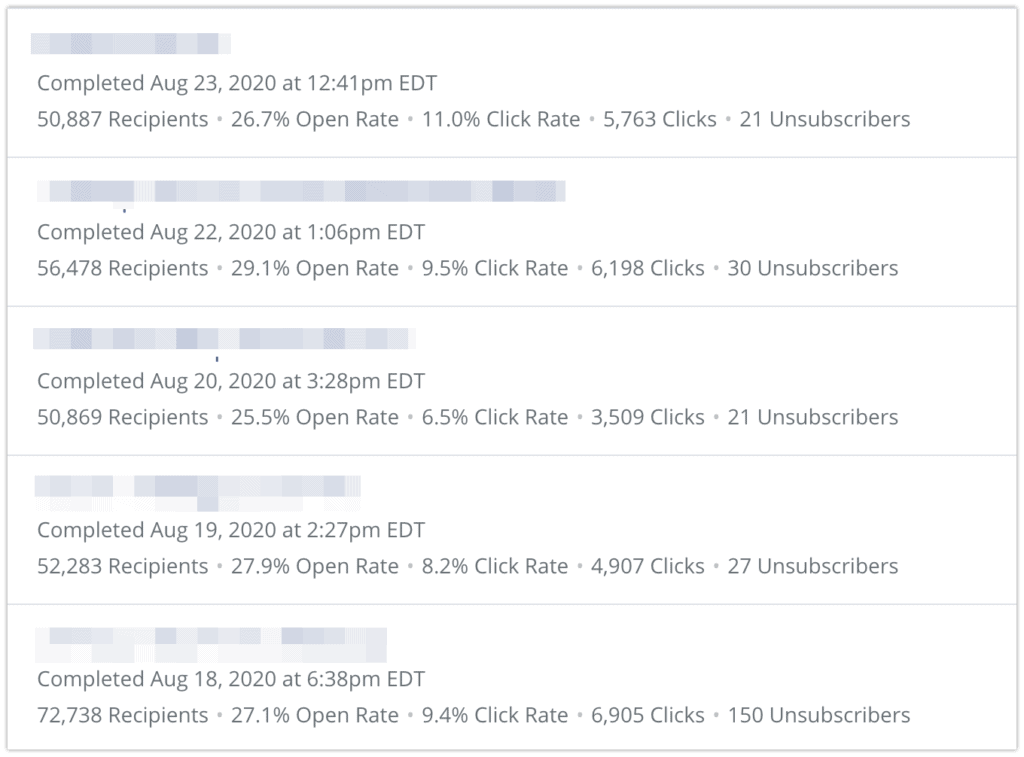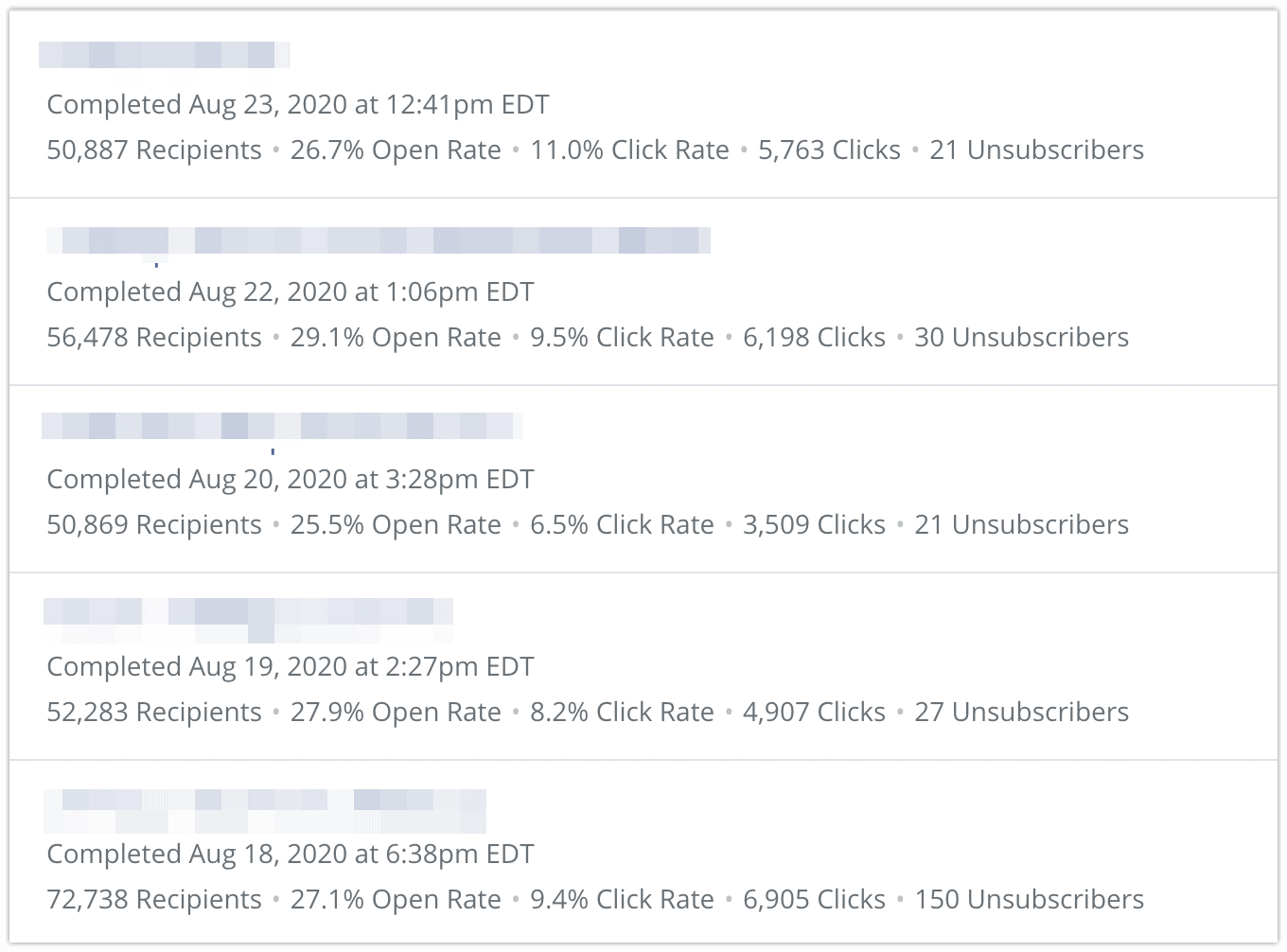 ---
Pricing and Plans
Pricing is the one factor that can be the ultimate deciding factor. If you're starting out, huge expenses can turn out to be a loss for you.
Let's have a look at which wins the ConvertKit vs. MailerLite pricing battle.
MailerLite is the cheaper option of the two.
RELATED:
– Read my full breakdown of MailerLite's pricing plans
– Read my full breakdown of ConvertKit's pricing plans
It's great for entrepreneurs and low-scale businesses looking to buy an email marketing suite without breaking their banks. MailerLite provides you 1,000 contacts or subscribers and 12,000 emails per month. You can also upgrade your plans to include more subscribers, email counts, and the live chat option.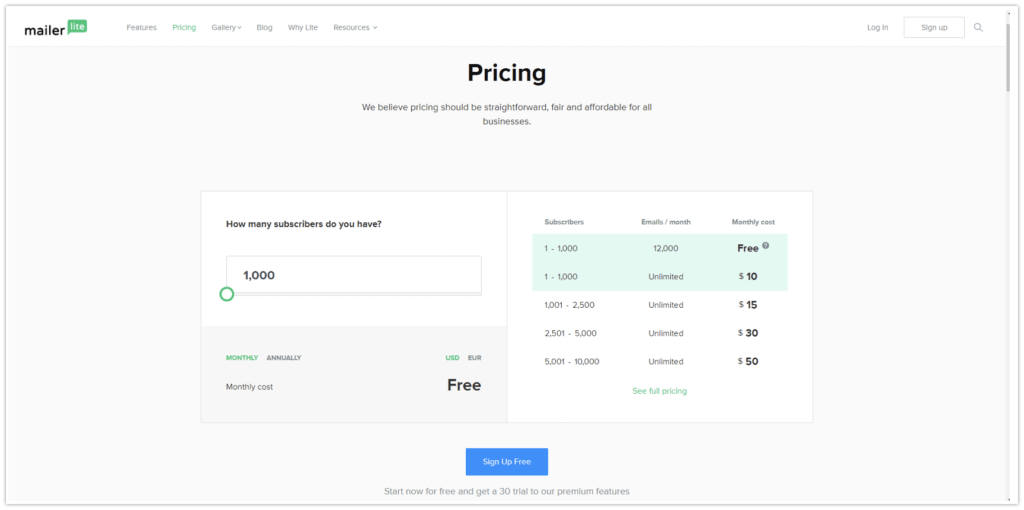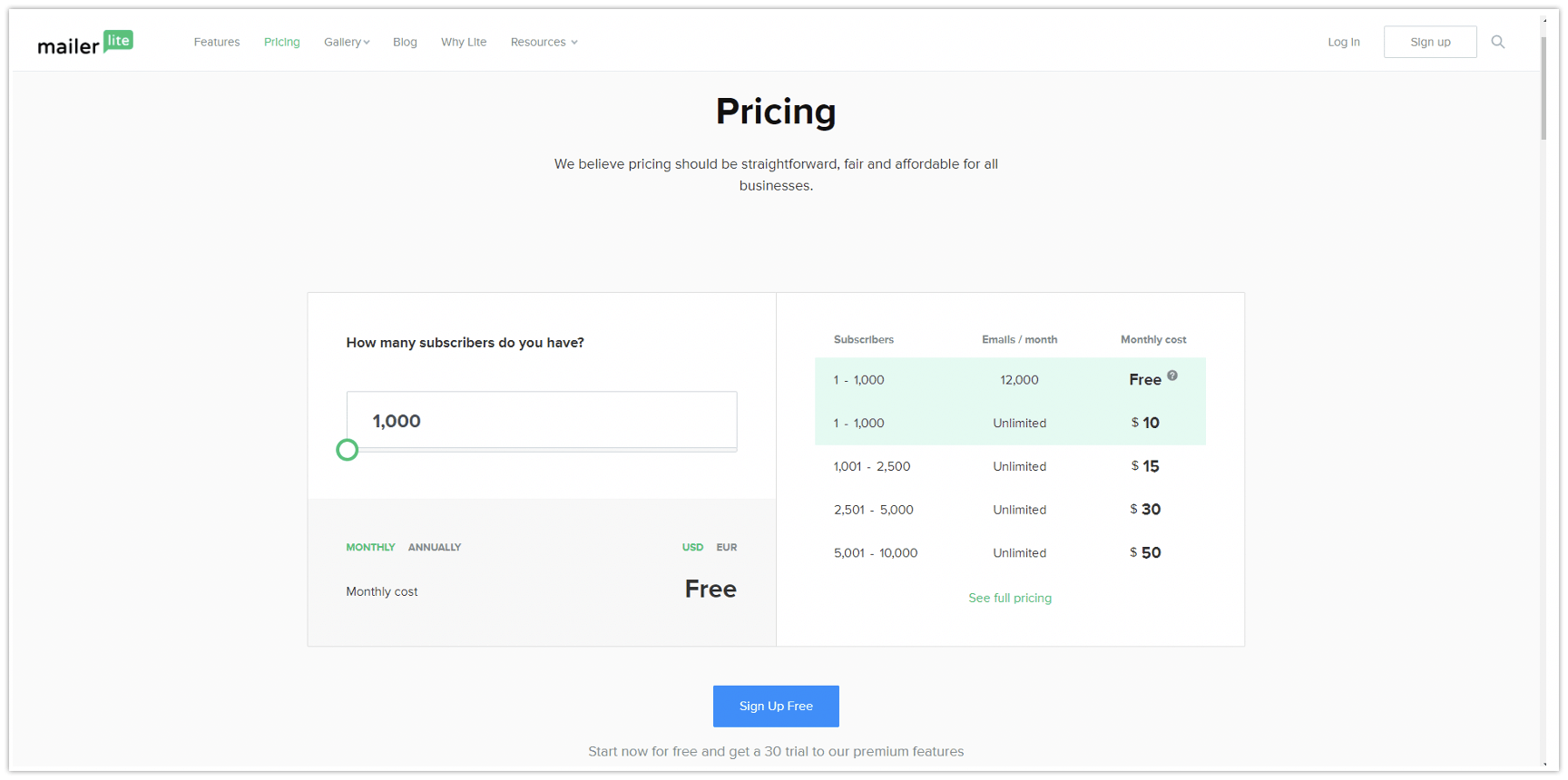 ConvertKit, on the other hand, also offers a free plan to manage 1000 subscribers. The plan can help you get started so you can evaluate the marketing tool.
If you'd like to upgrade your marketing plan, pricing starts at $29.
One good thing here is the 30-day trial, where you can check out their premium features as well. ConvertKit is great for content creators and is made for bloggers and entrepreneurs, especially.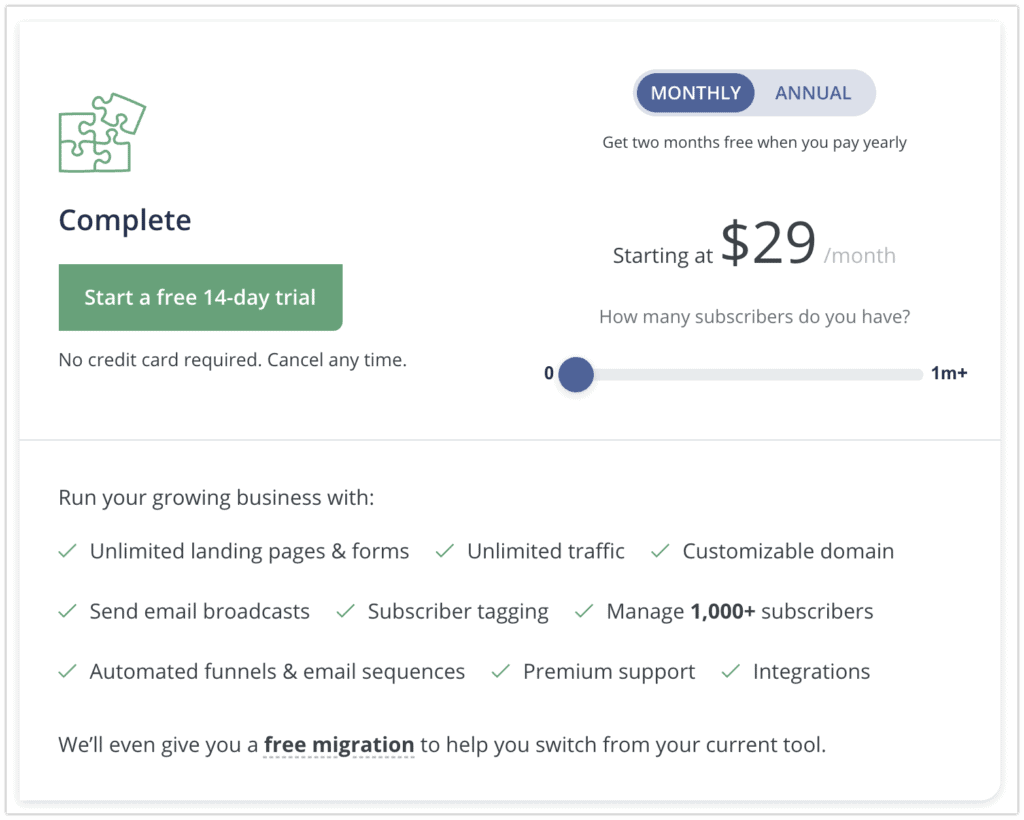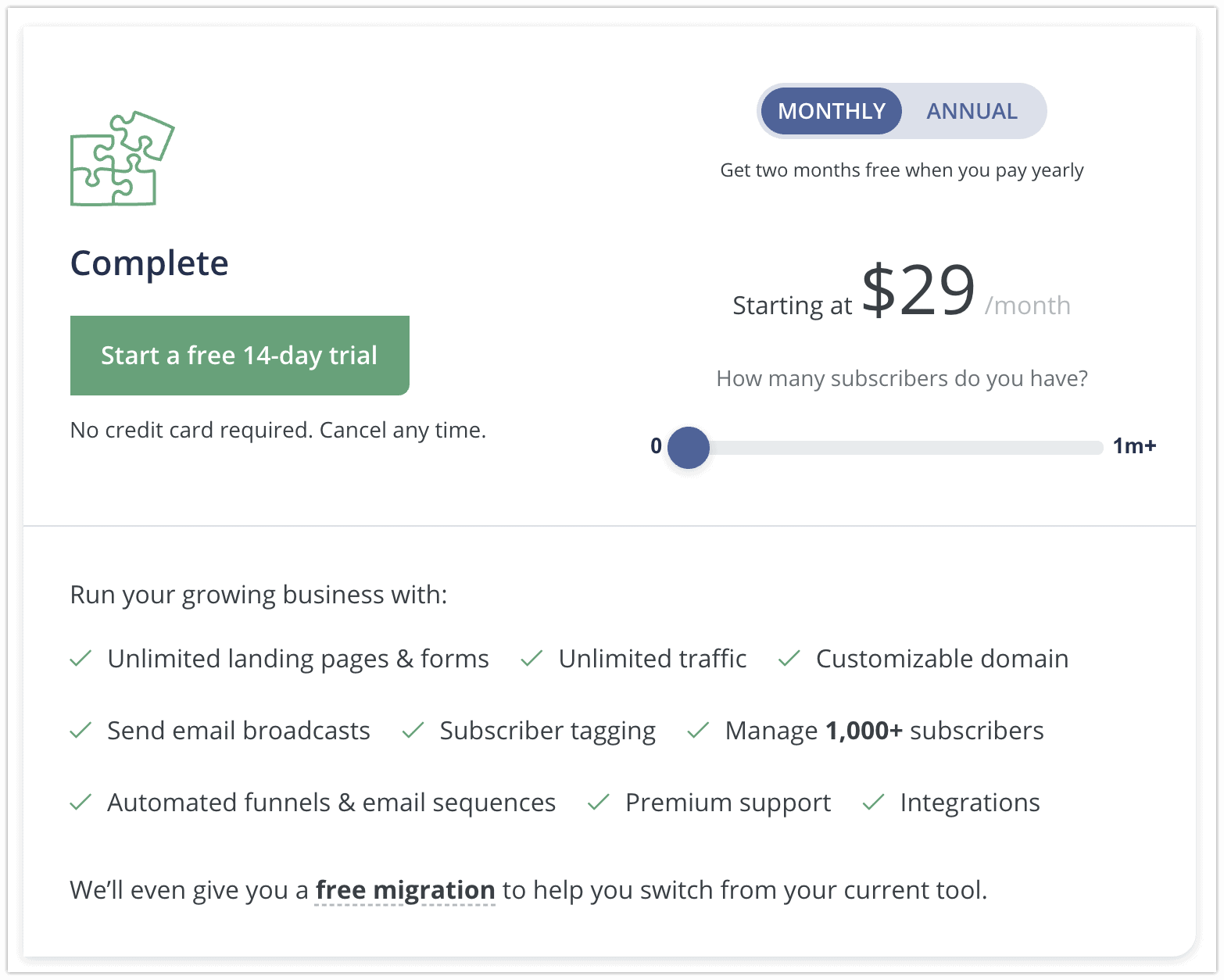 ---
E-Commerce
Both MailerLite and ConvertKit integrate nicely with third-party shopping cart software.
You'll find that each has integrations to common ecommerce applications such as:
Shopify
Woocommerce
Stripe
Sendowl
Each platform allows you to easily import information about each purchase so that you can send transactional emails such as thank you, order confirmation, and shipping notifications.
MailerLite has a nice drag-and-drop editor to build a newsletter template that nicely goes with your desired design aethestic.
ConvertKit has recently released a new feature, ConvertKit Commerce. This service is built into the ConvertKit platform and allows you to take digital sales without needing any third-party ecommerce software.
ConvertKit Commerce is free to use as part of the ConvertKit system.
READ: How ConvertKit Commerce Works
---
MailerLite vs. ConvertKit: Which One Should You Choose?
That wraps up our comparison of MailerLite vs. ConvertKit.
Both email marketing tools are innovative and offer great features to entrepreneurs and business owners to scale their businesses.
If you talk of pricing, MailerLite is definitely the winner. It also edges on email design templates.
However, ConvertKit wins out as the best tool for content creators and bloggers with stronger sequences, tags, triggers and automations. Its simplicity and automation are perhaps the best features!
---
RELATED RESOURCES